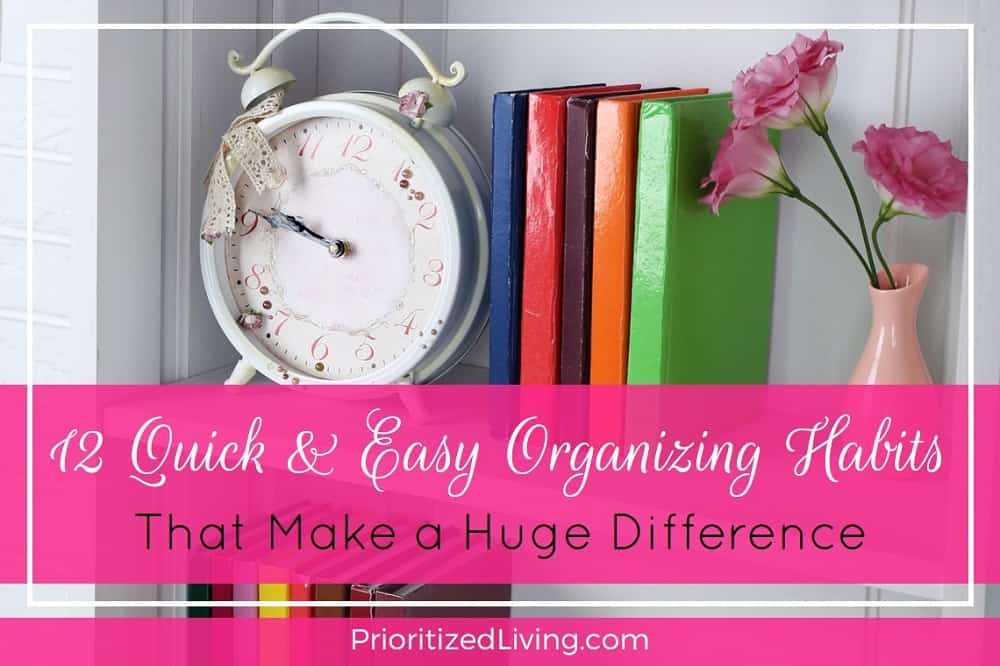 You've got the dream of getting organized. Of being an organized person!
Aaand it sounds impossible.
Surely organizing your space and your life takes tons of time you simply don't have. Tools and gizmos you need to buy. Super powers you desperately need to acquire.
But here's a secret: Getting yourself way more organized than you are is easy and fast.
And here's how you do it . . .
1. Have a trusted place for brain dumping.
Setting up a system to catch your brain clutter is paramount to getting yourself organized.
Consider all of those little things that clog up your thoughts — stuff you need to pick up from the grocery store, a paper you need to sign for your kid's field trip, a book that's due back at the library. It's stressful and it prevents you from being more productive — and relaxed! — with your thoughts.
So dump everything into a planner.
Then check your planner regularly throughout the day to keep your system functioning smoothly.
2. Set up a place to dump your physical stuff too.
Does this happen to you too? When I walk in the door of my home, I've got stuff plastered to me like barnacles.
Keys, purse, cell phone, umbrella, incoming mail, a jacket, my kid's day care supplies, his artwork du jour, and armfuls of who knows what. And I need somewhere to put it fast.
Preferably somewhere that I'll be able to find it the next day as I'm running out the door. And somewhere that's "away."
If you too need to unload a mountain of stuff the moment you get home, set up an easy-to-use but organized dumping ground. A no-thought-necessary system saves you from needing to wrangle your accessories later or search frantically for them in the morning.
3. Always take something with you.
There's never a time when everything in my home is where I want it to be. At any given moment, there is always at least one thing downstairs that needs to go upstairs, something upstairs that needs to go outside, some item in the car that needs to go in the basement . . . you get it.
And it can start to get ridiculously backlogged pretty quickly.
If your home starts accumulating things that are waiting to go somewhere else, start a new habit. Take (at least!) one thing with you whenever you're heading to a different part of the house. Without thinking about it, you'll organize your home one item at a time.
4. Make a place to put donations.
I always seem to find something I don't want to keep but it's too new or barely used to throw out.
I would love to have a chute in my house that takes those doodads away to a charity that can use them. Since I don't, I wind up collecting random things until I have enough to justify a trip to a donation center or a pick-up from a charity.
And since they're just passing through, those random things don't have a home.
So make one. Designate an out-of-the-way receptacle — maybe a big box tucked in a closet — to collect those items to be donated. When your box fills up, drop it off with your favorite charity and start a new box.
5. Create a mail processing center.
Years ago, I'd come home with mail — and a million other things — in hand. And I'd dump the mail on the dining room table.
Then I'd make dinner and go to set the table only to find mail on the table. Mail I still didn't have time to deal with just then! So I'd move it again.
It was inefficient, maddening, and an eyesore to boot.
If your mail doesn't have a home, it's time to set up a place to catch and sort your mail. You'll easily eliminate 90% of your paper clutter with a sorting system that makes sense to you!
6. Get the kitchen ready every night.
It's draining to start your day by coming downstairs to a mess. Last night's dirty dishes, crumbs on the table, and clutter on the counters.
Money Saving Mom founded Crystal Paine can't over-stress the importance of a clean kitchen as she starts her day. And FlyLady's rabid followers subscribe to her idea of the #1 chore — shining your sink.
So tackle your kitchen quickly before bed. Do some snappy wiping and tidying to get it all set for the morning.
7. Have the kids clean up their play area too.
Enjoying the feeling of a tidy kitchen in the morning won't last longer than a few seconds if you immediately trip over a mound of singing toys.
Enlist the aid of those little messy people in your home. Make your quick nightly clean-up a family affair and have your kids speed-clean their play area before bedtime.
8. Create a big-picture chore list.
They say the best way to eat an elephant is one bite at a time. So if you're staring down the task of keeping your whole house organized, conquer the overwhelm by chipping away it a little bit every day.
Make a big list of everything you want to organize or clean — either once or routintely — and pick a few tasks off that list (almost) every day. Be sure to give yourself a well-deserved break every once in a while!
9. Plan for tomorrow today.
Evening is an ideal time to settle down, review your day's achievements, see what didn't get done, and sketch out a plan for tomorrow.
Update your to-do list, draft up a a time map, eyeball your upcoming appointments, or do whatever prep you need to go to sleep without worry.
10. Be ruthless about filtering what comes in the door.
Once you let stuff in, you've got to go out of your way to get it out. So stop it at the threshold.
Chuck junk mail directly into your recycling bin instead of stuffing it in a drawer. Send electronic garbage to spam instead of letting it clutter up your inbox. And politely refuse your friends' second-hand stuff that you'll never use.
11. Stop junk at the source.
You'll save yourself a lot of time and hassle with your doorway filtering if you're able to curtail the flow of clutter into your home.
One great way to do that is to start canceling your subscriptions to communications you no longer want or never wanted in the first place.
Get off the mailing list for catalogs, magazines, and newspapers you don't need. Unsubscribe from E-mail newsletters you never read. Fill out your information on the national Do Not Call Registry to stop the incessant phone ringing and the voicemail hang-ups.
12. Write things on your shopping list while you still have one item left.
You know that sinking feeling you get when you reach for tissues during a cold and you're all out? Or when it's your baby's bedtime and you pull out the very last diaper?
Ugh.
Save yourself from the late-night store run for that empty item.
Instead, try this. When you open your last roll of aluminum foil or crack open your only remaining detergent bottle, use that moment to add that item to your shopping list. Then, when you do run out, you'll find a fresh supply waiting for you in your pantry.
What's your awesome, easy tip for getting more organized?