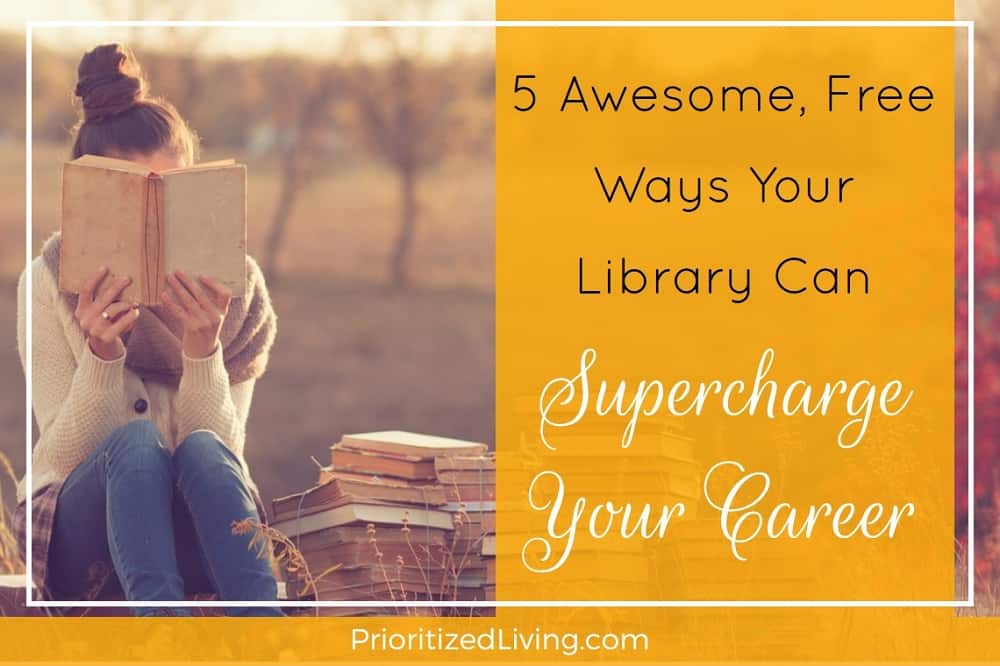 Landing your dream job doesn't come cheap.
You can spend a fortune buying books from respected gurus, taking classes, subscribing to industry magazines, nabbing training software, and getting access to specialized databases.
And think how much time it takes to craft an effective résumé, find valuable job listings, and research the requirements (and pay) for your chosen field.
Getting from where you are to where you want to be in your career can cost you a ton of time and money. But your library – yes, your library – can help you with all of these areas.
Here are five incredible and often overlooked resources that your unassuming, local library offers you absolutely free:
1. Books and More
Yes, your library has copies of all the classic literature you had to read in high school, but there's so much more to find. Track down time-honored references on marketing and business. Find new releases about business software, negotiating skills, time management, and more. You can also find both recent copies and archives full of industry-specific and trade magazines.
Plus, in this digital era, there's way more to your library than just the contents of that brick building. Get access online – even at home – to free digital magazines, e-books, and audiobooks that are specifically geared to your industry or the skills you want to enhance.
2. In-Library Classes
If you haven't checked out your library's calendar lately, you may be pleasantly surprised! You'll find free, adult education classes that are perfect for enhancing your marketable skills.
Local teachers may offer lessons on computer and software skills, techy subjects like cloud computing, professional social media use, career advancement, English language improvement, and even getting organized.
3. Online Career Resources
Before you start an onerous search of your own for online job information, check your local library's website.
Your friendly neighborhood librarian may have already done the hard work for you. Most libraries have diligently assembled an invaluable treasure trove of information that's just a click away. Just look for a link that references "Job resources" or "Career information."
You'll likely find a page full of incredibly useful links on résumé help, job listings, salary resources, interview questions, and detailed career data like job duties, skills needed, and salaries.
Plus, your library is a superb place to find local career resources and job boards specific to your area.
4. Free Access to Special Programs
Your library pays to subscribe to a bounty of information sources . . . and it passes that benefit along to you for free. All you typically need to access those resources is your library card number.
Looking to beef up your English or foreign language skills? Your library may offer access to Pronunciator or even Rosetta Stone.
Check out the super-useful databases to which your library has access. See if you have complimentary access to EBSCOHost databases, which offer a huge array of information on scientific research, big business, medical data, magazines, biographies, and more.
You might also get a free pass to the Small Business Reference Center or Learning Express' Job & Career Accelerator portal, which lets you read advice on interviewing, learn new electronic skills, look for jobs, and more.
5. All the Amenities
In addition to the resources and programs your library offers, it also makes for a stellar working environment.
Use library computers to look for jobs, create your résumé, order business cards, and more. Take advantage of the printers, copy machines, and FAX services to print and send résumés and cover letters. Tap into the free Wi-Fi if you bring along your own electronic device.
Your library offers you a clean, quiet, climate-controlled workspace to brainstorm, plan, read, research, and accomplish.
So what's your career ambition for this year? For your life?
Don't let your limited time and money cost you the job you crave. Your taxes fund your library, and your library is ready to help. Head over to its website or chat up your librarian to see exactly how you can use the tools and resources available to attain your professional dreams.
This article has been cross-published on Amendo.