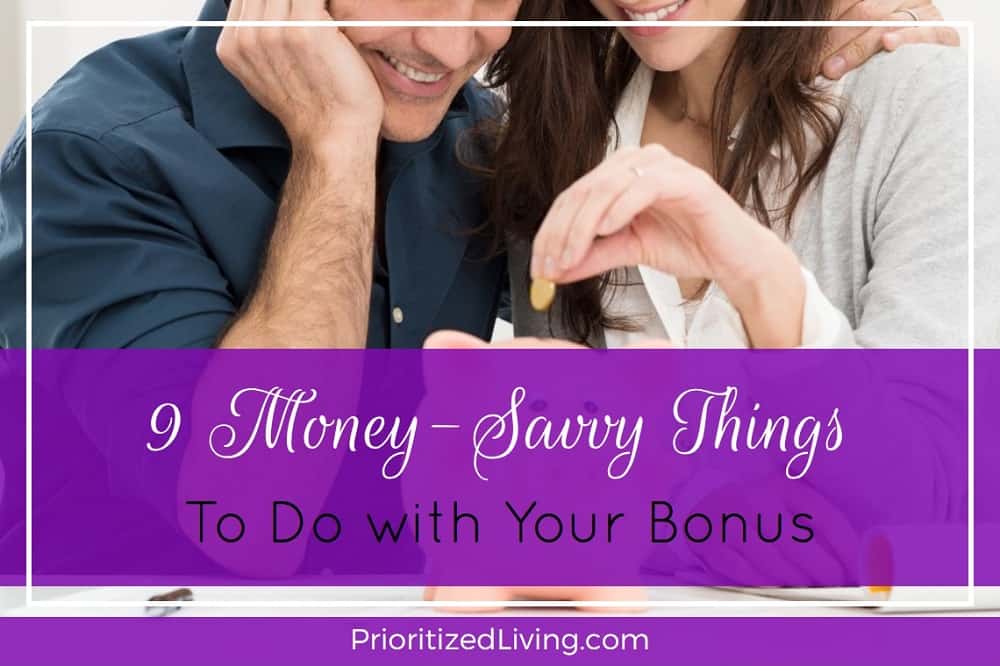 You've got yourself a mini windfall!
Yep, it's that time of the year again. The corporate wheels from last year have finally finished turning. And, at long last, you've been handed you annual bonus, your profit sharing payout, or the information on your raise.
Plus, maybe you've got a nice chunk of change in the form of a tax bonus.
You're in the money . . . so what now?
If you want to maximize the benefit of your new cash — without feeling like you're on a strict money diet — here are some smart steps you can take:
1. Beef up your emergency fund.
An emergency fund's value extends far, far beyond a dollar amount.
It represents peace of mind.
Experts typically recommend that you have anywhere from 3 – 8 months of money set aside in your emergency fund. If disaster strikes, you can pull from that fund to cover your basic living expenses (while cutting out the extras).
So if your emergency fund is looking a bit scrawny, plump it up! Pad it with your newfound finances, and breathe a sigh of relief.
2. Retire a little sooner.
Do you have a percentage of your paycheck that automatically gets funneled into retirement? Maybe a 401(k), a Roth 401(k), a 403(b), or similar type of account?
If you do, then your employer will likely funnel that same percentage of your bonus check into that same retirement account (unless you direct the company otherwise).
Bam! You're saving more toward retirement without even trying.
But take it a step further. If you're not already maxing out your Roth IRA, take some of that bonus check and plop it right into your Roth. Over time, the investments you've made will yield dividends you can enjoy in retirement.
It's like giving your future self a raise!
3. Contribute to a big savings goal.
Saving to buy a home? Finance your kids' education? Get away for a summer vacation?
Earmark your windfall for that special dream, and you'll reach your magic number that much sooner.
Online banks like Ally & Capital One 360 make opening multiple accounts a breeze. So open a new savings account alongside your existing one and label it "European Cruise," "Kitchen Remodel," or whatever's appropriate to you.
If college is your savings goal, open and invest in a 529 plan to start chipping away at Junior's future bill.
4. Pay off debt.
Got a mortgage? A car loan or personal loan? Maybe even some outstanding medical or credit card debt?
These days, the amount you're paying in interest on just about any kind of debt is likely way more than the amount of interest you'd get from dropping your cash in a savings account or CD.
So pay down that debt.
Sure, it doesn't sound like as much fun as that cruise along the Amalfi coast. But you'll feel powerful in being able to stomp down that loan!
Go online, pick up the phone, or pull out your checkbook if you're feeling old school. And make an extra payment toward the principal of your loan.
You'll chip away at it that much faster.
5. Invest in the market.
Maybe your emergency fund is ship-shape and you're already contributing well to your future savings goals. In that case, you should have some existing investments in place.
Resist the urge to stockpile money far beyond your near-term needs in a savings account. Even if you track down high interest rates in an online account or through a credit union, you'd be lucky to score an APY above 1.00% these days.
So get investing. Revisit your favorite, high-performing stock or trusty mutual fund. Pick up some additional shares, or round up your portfolio with something new.
Enjoy the rewards that come from the long-term yields of your investments.
6. Invest in yourself.
So far, this list has revolved around ways you can use your money to benefit your future self.
But what about improving your life right now?
Let's not go crazy. I'm not advocating that you throw everything on a new and unnecessary car or wardrobe. But invest in yourself and what's important to you is absolutely a smart money choice.
How about putting money toward . . .
A business you're building.
A seminar to enhance your professional skills.
A class at the local community college that contributes toward your personal development.
A date out on the town with your spouse (an investment in your marriage!).
Tuition for your kid to attend the school you love.
Take a look at your current goals and see how a little extra money can get you closer to achieving them.
7. Indulge a little.
On the latest Weight Watchers commercials, Oprah sings the praises of the program's flexibility in allowing her to lose weight while eating yummy bread.
Likewise, we all need some wiggle room in our budgets for a good time!
You worked hard for your money. So — if you're a proud penny pincher every other day of the year — loosen up and enjoy a little financial indulgence!
Take a weekend trip. Go out for lunch. Pick up a copy of your favorite artist's latest album. Get your hair styled just because.
Unless you're in dire straits, set aside at least a little bit of your new money to use for pure enjoyment.
8. DON'T spend it before you get it.
It's easy to jump the gun.
You find out you're getting a $5000 raise this year, so you go out and spend $5000.
Oops.
Problem #1: You haven't actually earned that money yet!
The full sum won't hit your paycheck for a solid year, so you're creating unnecessary debt for yourself.
Plus . . . things happen. Who's to say that you won't have to leave your job or won't incur some important expense that requires that money before a year goes by?
Problem #2: That dollar figure is deceptive.
After that 1st depressing paycheck at your high school summer job, you know this is true: a $5000 bonus doesn't mean that you actually pocket the full $5000.
Remember the federal government? Oh yeah, they take a nice big chunk of that. And your state government. your Your 401(k) will get a percentage if you have that set up. And who knows how many other deductions you'll see.
Just take a look at your paycheck.
Maybe you'll get half of that bonus in your account at the end of the day. Maybe less.
So wait before you spend.
9. DON'T contribute to "lifestyle creep."
Ahh, this one's a slippery slope. Here's how it works:
You get a big bonus or a nice raise. Score! So you upgrade your lifestyle — bigger house, nicer car, better clothes, fancier restaurants, whatever.
Now that's your new norm.
So when you burn through that new money, you don' t revert to your previous lifestyle when you had a second-hand couch or gave haircuts to your kids.
You've succumbed to lifestyle creep. It's what happens when you upgrade your quality of life instead of beefing up your savings with that extra money.
So live below your means whenever possible. If your income doubles, don't willfully double your expenses. Avoid taking this year's bonus and spending as though next year's bonus will be even bigger.
Enjoy your hard-earned money while taking pride in the smart financial decisions you're making for your family!
What are some of the smart ways (and the not-so-smart ways!) that you've spent a windfall?