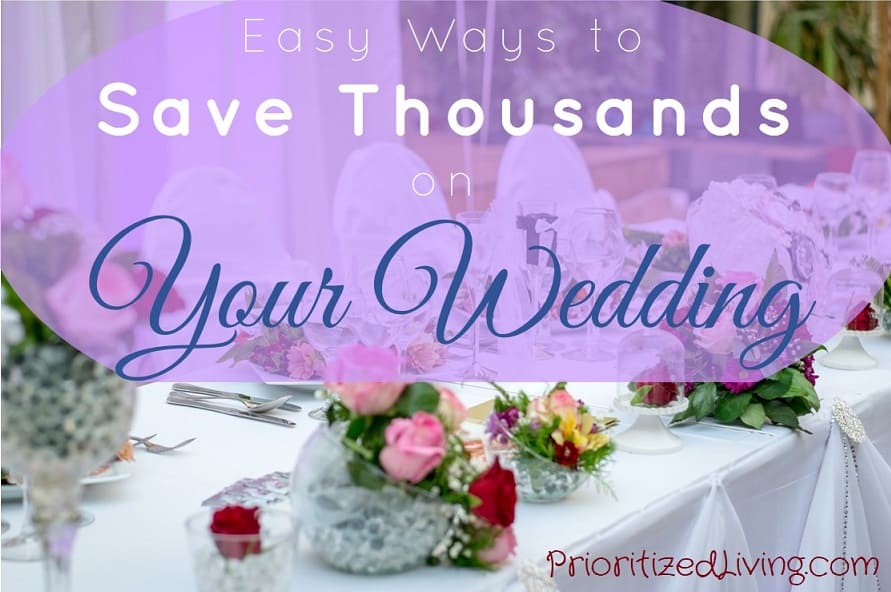 Note: This post contains affiliate links. Read my policy here.
Buy anything that's labeled "wedding" and you'll get the marital markup.
Weddings are not cheap. Some people save for years. Some hit up well-to-do relatives. Others solicit donations or even go into debt to pay for the nuptials of their dreams.
Before you elope in frustration though, consider these areas where you can save thousands of dollars on the final bill.
Flowers
Wedding flowers can easily run you $1000 or more!
Table centerpieces make up the bulk of this expense, so a quick way to slash the cost is to eliminate those. You don't need to have naked tables however.
There are beautiful, inexpensive, but expensive-looking centerpieces that you can buy or create using candles, water, shells, photos, and more. A little Googling or Pinterest searching will afford you loads of inspiration and step-by-step directions if you choose the DIY route.
I am the least crafty person I know . . . and my husband is hardly the scissors and glue type. However, we managed to create beautiful and personalized "photo lanterns" for our centerpieces using my color printer, some inexpensive vellum paper from Amazon, and a cart-load of white Ikea photo frames. Plus, we still have some of the "lanterns" on display in our house years later!
Reception Timing
The timing of your wedding reception can make a huge difference in the total cost.
Saturday nights are in high demand and cost top dollar, but just moving your wedding up to Saturday afternoon can easily halve your costs! When you explore reception locations and caterers, ask to see a price listing by day and time.
If you're flexible in your wedding date, consider an out-of-season wedding to save even more. A January date is far less in demand that one during the summer.
Alcohol
Booze is not cheap.
However, unless you and your intended have teetotaling family and friends, your guests will think you are cheap if you offer not a drop of alcohol or inflict a gauche cash bar on them.
It doesn't have to be all or nothing. Skip the top-shelf liquors and offer beer and wine throughout the cocktail hour and dinner service. Those selections will satisfy most palates . . . and still allow your guests to imbibe enough to embarrass you.
Photography
Wedding day photos are priceless, and photographers set their rates accordingly! Photos can run you thousands of dollars on your big day. Keep these tips in mind.
First, get a skilled photographer. Don't rely on disposable cameras and your guests to snap shots of this special day. It's your wedding day!
Second, slash the "extras" your photographer is pushing. Your camera guy or girl may offer you packages with pricey edits and expensive prints and albums. If you really want to save, consider paying only for a CD/DVD containing all of your photos stored as high-resolution images. With services like Shutterly, you can upload those shots and get prints or create professional-looking albums for a fraction of the photographer's cost!
Third, consider limiting the amount of time your photographer spends with you. Do you really need photos for three hours before the wedding and six hours after? Cut down on the time you'll be spending with your professional, and you'll limit the cost.
Videography
If a picture is worth a thousand words, a video is worth a billion.
Many people will tell you that their wedding days were a fast-moving blur. A video can capture the magic moments, allowing you to relive them and even experience ones you missed.
Obviously, the super-cheap route involves handing an iPhone or video camera to a trusted guest or hired college kid and hoping that you don't wind up with a shaky, out-of-focus video.
If you opt for a professional videographer, there are still plenty of ways to save!
First, as with the photographer, consider limiting your videographer's time. He/She probably doesn't need to be there for your pre-wedding photos or the hours and hours of dancing. Make sure that you cut your cake, throw your bouquet, and plan moments you want recorded so that they happen well before the reception's end. (Then you can send your videographer away with time to spare.)
Second, consider whether you really want to pay for expensive video edits like text, graphics, music, and cinematic effects. You save your videographer time (and you money) by limiting your edits or buying only the raw footage.
Other DIY Items
Looking to save even more? Try these ideas:
Buy favors online and and package them yourself.
Buy ceremony program covers, but print out the contents on own printer.
Assemble invitations on your own rather than paying for your supplier to do the work.
Print attractive address labels for your invitations at home.
Find chair/pew bows online instead of buying them through your florist at a markup.
You can have a beautiful and memorable wedding while saving thousands of dollars.
For an invaluable resource in choosing your merchants and identifying ways to save, I highly recommend that you pick up a copy of Bridal Bargains today.
The authors also have another priceless resource — Baby Bargains — for saving big on baby . . . but, at the risk of sounding like your grandchild-crazed mother, I'll let you put a pin in that one for now.
How did you save big on your wedding?
This post was republished by The Huffington Post on June 27, 2016.