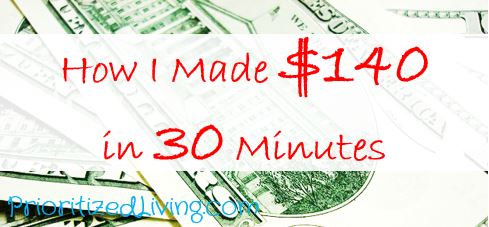 Note: This post contains affiliate links. Read my policy here.
The other night, I earned $140 online in 30 minutes. I even half-watched a T.V. show while doing it. Too good to be true? A scam? No way. I made legitimate cash without breaking a sweat. How'd I do it?

I sold unused gift cards online.
If you're anything like my family, you may have accumulated (and forgotten) some serious cash in the form of gift cards. If you frequent the businesses associated with those gift cards, great! You get to go on a shopping spree on someone else's dime. However, there are probably a number of gift cards you will never or probably never use. Your trash is another man's treasure, and you can both get a good deal.
If you're not using them and they're just gathering dust, your gift cards are worth absolutely nothing to you. Technically, any price you sell them for would be an improvement, but you can actually get great deals without the time-consuming hassle of listing individual gift cards for sale on eBay.
Sell your gift cards easily.
Enter Raise.com. Enter your gift card information (store, card number, PIN, and amount) along with the price at which you're willing to part with it. That's it. Raise will review and then post your listing on its site where customers looking for a deal will buy the discounted gift cards. You get an E-mail when your gift card sells, and you can get your cash via check, direct deposit, or PayPal.
The only catch is that Raise takes a 15% cut of the sale price . . . but you're still actually getting a great deal. First, Raise attracts mobs of people looking to nab gift cards, so there's no shortage of buyers. Second, unlike some other gift card sale sites, which offer you a low-ball deal you can take or leave, Raise lets you pick the price point at which you want to sell your gift card. Raise helpfully gives you information on the average discount at which a certain business' gift cards are currently listed, but don't let that deter you. I offered a 5% discount — or less in some cases — on all of my gift cards, and they all sold within several days. The $140 I made on my old gift cards wound up representing about 82% of the face value of my dusty gift cards.
Triple-check your gift cards' information.
Raise requires you to submit a credit card so that you reimburse Raise if the gift card it sells on your behalf is bogus. Before submitting it to Raise, make sure that your card's number, PIN, and balance are accurate. If you don't know the balance of your card, Google both the name of the business and "check balance", and you can find the appropriate site. (Doing the balance checks actually accounted for more than half of the 30 minutes it took me to list my gift cards.) I recommend copying and pasting the gift card number directly from the balance check website into Raise to ensure that you don't mistype this long ID number.
Save time by listing gift cards in bulk.
After logging in to Raise, click the "My Account" drop-down list in the top right corner of the page and select "Bulk Listing Form." In lieu of clicking around several times before listing each individual gift card, you can type (or import) the information for all of your gift cards directly into this form and submit them all at once for listing.
Enjoy your cash!
Savor your windfall. Maybe even consider picking up some discount gift cards for your favorite stores on Raise. Just don't let those cards languish away in a drawer!