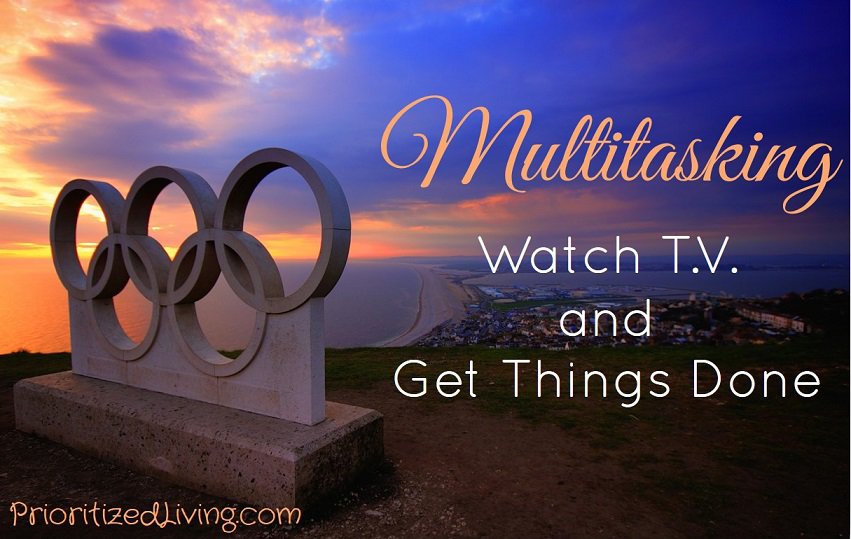 It's that time again.
Every night, NBC airs nearly four hours of the Olympic games. You know what's going to be shown that night — maybe swimming and gymnastics, for instance — but you don't know when. Bob Costas drifts in and out of your living room as he transitions back and froth from one sport to another with no pre-announced schedule. If there's an event you particularly don't want to miss, you may find that you need to keep your T.V. on for the entirety of those four annoyingly unpredictable hours. Ugh!
Even during non-Olympic season, there are plenty of times that you may find yourself only sort of watching T.V. You've got some downtime during commercials, your show briefly explores an uninteresting subplot, or your favorite team halts play during a time out or play review.
If you're not choosing to invest fully in what's airing on your T.V., you've got a grand opportunity to carve out some pockets of productivity. Here are 35 ideas for things you can accomplish with one eye on your task and one on the T.V.:
Organizing & Cleaning
Fold or iron clean laundry.
Load or unload the dishwasher.
Pick up clutter.
Wipe down surfaces.
Sort and file the paper you've accumulated.
Organize your E-mail inbox.
Organize a small space — your bag, a messy counter, your end table.
Delete unwanted texts and voicemails from your phone.
Flip your mattress.
Change your sheets or towels.
Throw out expired foods or medicines.
Finances
Pay bills.
Track or categorize your recent spending in your budget/accounting software.
Find, clip, and organize coupons.
Make online purchases.
Sell unwanted items on eBay or put ads on Craigslist.
Planning
Circle items you want to buy in your grocery ad.
Create a shopping list.
Create a meal plan.
Look for new recipes to try.
Create tomorrow's/this weekend's/next week's to-do list.
Google local events for the upcoming weekend.
Miscellaneous
Exercise — lift weights, stretch, do some push-ups.
Wrap gifts.
Scan social media.
Prep ingredients. (Warning: Give a knife your full attention!)

Run a virus scan or defragment your computer.

Style your hair or tend to your nails.

Water plants.
Create photo albums or scrapbooks.
Do some crafting.
Knit or crochet.
Work on a puzzle.
Give your significant other some cuddles or a massage.