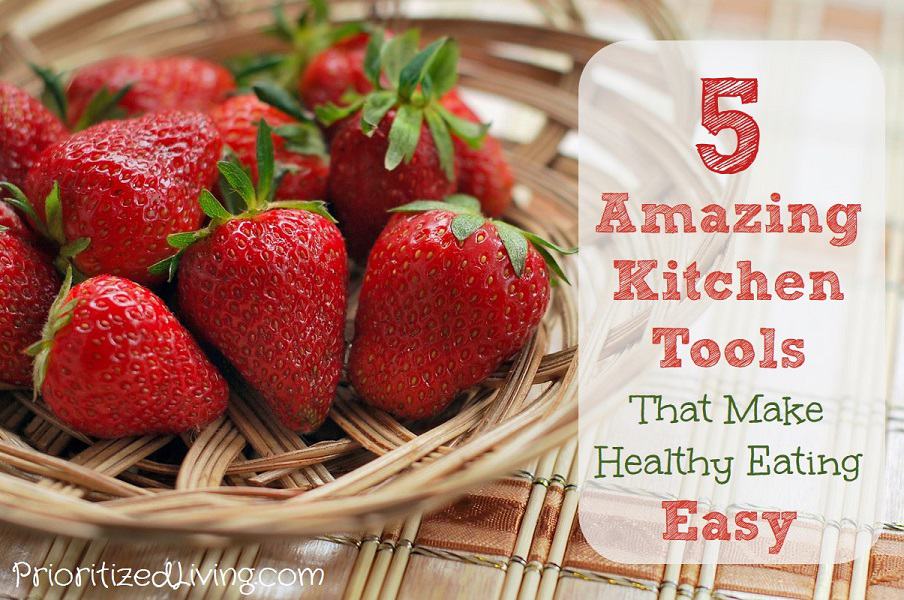 Note: This post contains affiliate links. Read my policy here.
Is your greatest obstacle to healthy eating the effort required to do it?
Washing, chopping, cooking fruits and vegetables . . . eating a healthy portion . . . keeping it all fresh — how do you do it?
These handy kitchen tools are just what you need to make storing, preparing, and eating healthy foods even easier:
1. Salad Spinner
Do you skip salads because you hate the hair-pulling hassle of drying leaves of lettuce in dish towels or rolls of paper towels?
Forget dabbing at every nook and cranny. A salad spinner does the work for you. (Plus, it's surprisingly fun.)
Toss in dripping wet greens, push button, stop the wild spinning, and dump out water. Repeat once or twice to get leaves extra dry.
Now you can enjoy salads in a jiffy!
2. Steamer Basket
One of the easiest, healthiest, and most nutrient-retentive methods of eat vegetables is to steam them.
Sounds fancy? It isn't.
It's the easiest possible way to prepare vegetables besides eating them raw.
You don't need anything fancy — just a basic, hard-working steamer. Opt for a tried-and-true metal steamer basket or get a snazzy silicone steamer. (Yes, it looks like a toy, but it really works . . . and you can't beat the easy roll-up storage.)
To get your steam on, choose a pot that fits your steamer basket — or really any pot if you're using the bendable silicone steamer. Place just enough water in the pot so that the food will sit above the water, then pop in your basket and your food. Pop a lid on your pot and cook on the stove until your veggies achieve the texture you want.
Bonus: This is an awesome way to cook all sorts of veggies when making your own baby food.
3. Food Scale
If you struggle with portion control or are obsessively counting calories, a food scale may be just what you need.
Place your food directly on the scale. Or pop a dish on the scale, zero out the weight, and put your food in or on the dish to get an accurate reading.
A food scale is also awesome for divvying up food before freezing it. Use the scale for making equal portions from a big haul of ground beef, portioning out soup, and more.
4. Food Processor
A food processor can make annoying or unwieldy tasks quick work in the kitchen. Whip up bread and pizza doughs, chop fruits & vegetables, slice and grate cheeses, make creamy nut butters, and soooo much more.
If your job (or your kitchen) is too tiny for a big machine, consider a powerful mini chopper that can handle almost any small chopping, blending, or pureeing job.
5. Produce Keepers
If you reach into your fridge only to pull out some brown, rotting produce, it might be time to boost your food preservation tricks.
Try produce keepers or green produce bags — both of which extend the life of your produce. (There's some snazzy science behind it.)
You'll be able to enjoy your berries, greens, pears, broccoli, and everything else for longer!
What kitchen gadgets are essential to your healthy eating plan?