Are you an avid fan of planners?
You might use yours to keep track of your calendar appointments, note daily to-do list tasks, plan goals, journal, and celebrate your progress.
More and more adults have discovered the empowerment that comes from capitalizing on a personal planner.
Now, consider how a specially designed planner might help your kids.

After all, kids these days are busy. They've got school, friends, extra-curricular clubs, sports, hobbies, and gigantic dreams for themselves.
Instead of trying to cram their lives into a planner made for an adult, you can use a kid's planner to capture everything your child has going on.
And a kid's planner can teach your child invaluable skills they can use now and as an adult.
Consider these 10 lifelong benefits they can reap from using their very own planner:
1. How to use a calendar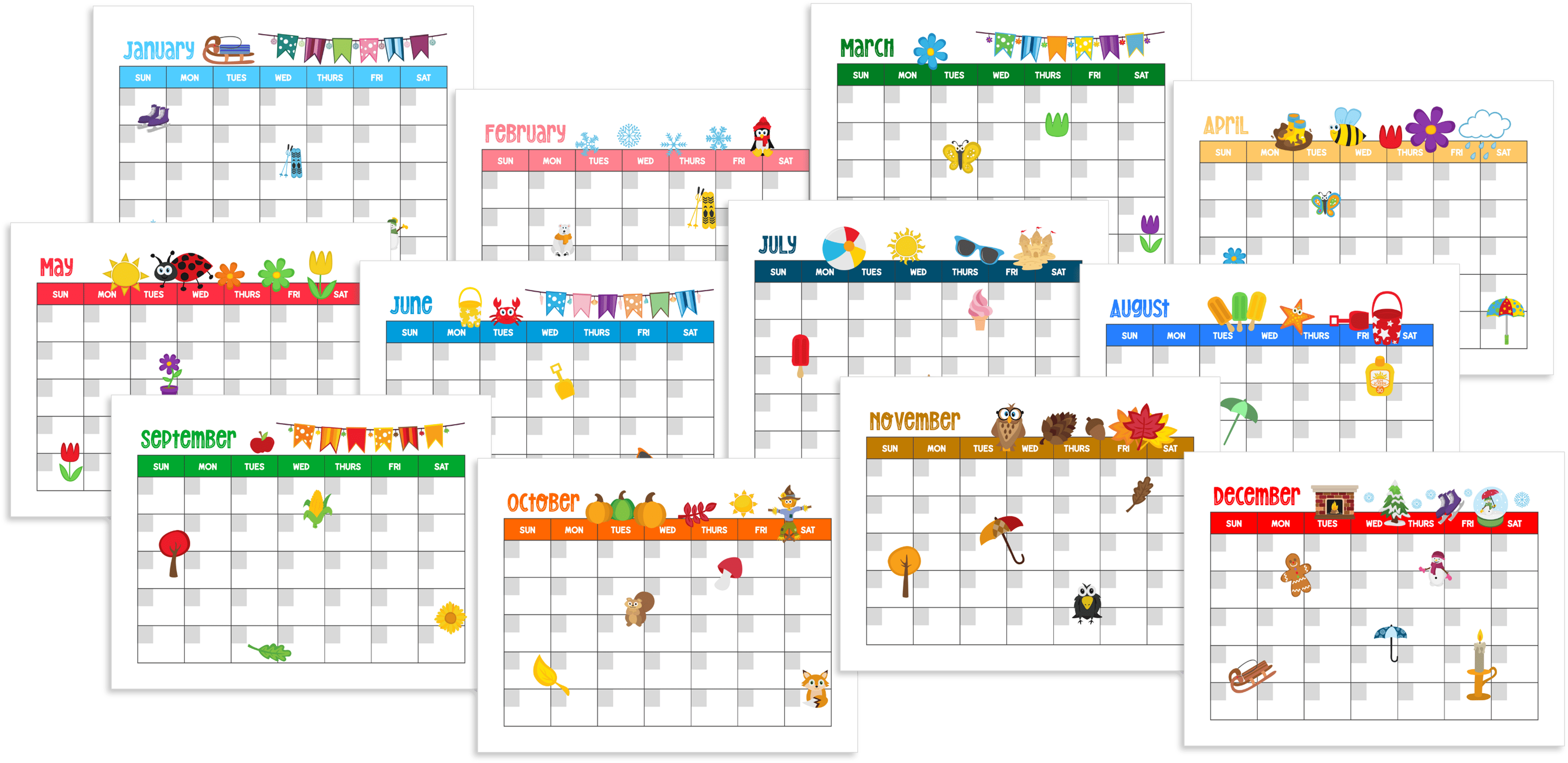 Get your kids excited about planning with fun, colorful calendars that reflect the excitement of each season.
Kids will love jotting down special dates associated with their family members and friends. Keep tabs on birthdays, anniversaries, and upcoming celebrations.
Show your children how to make note of project deadlines. Use calendars to identify conflicting appointments. And even add a countdown to a special event.
CLICK HERE to grab a comprehensive, printable KID'S PLANNER!
2. How to create a plan for their time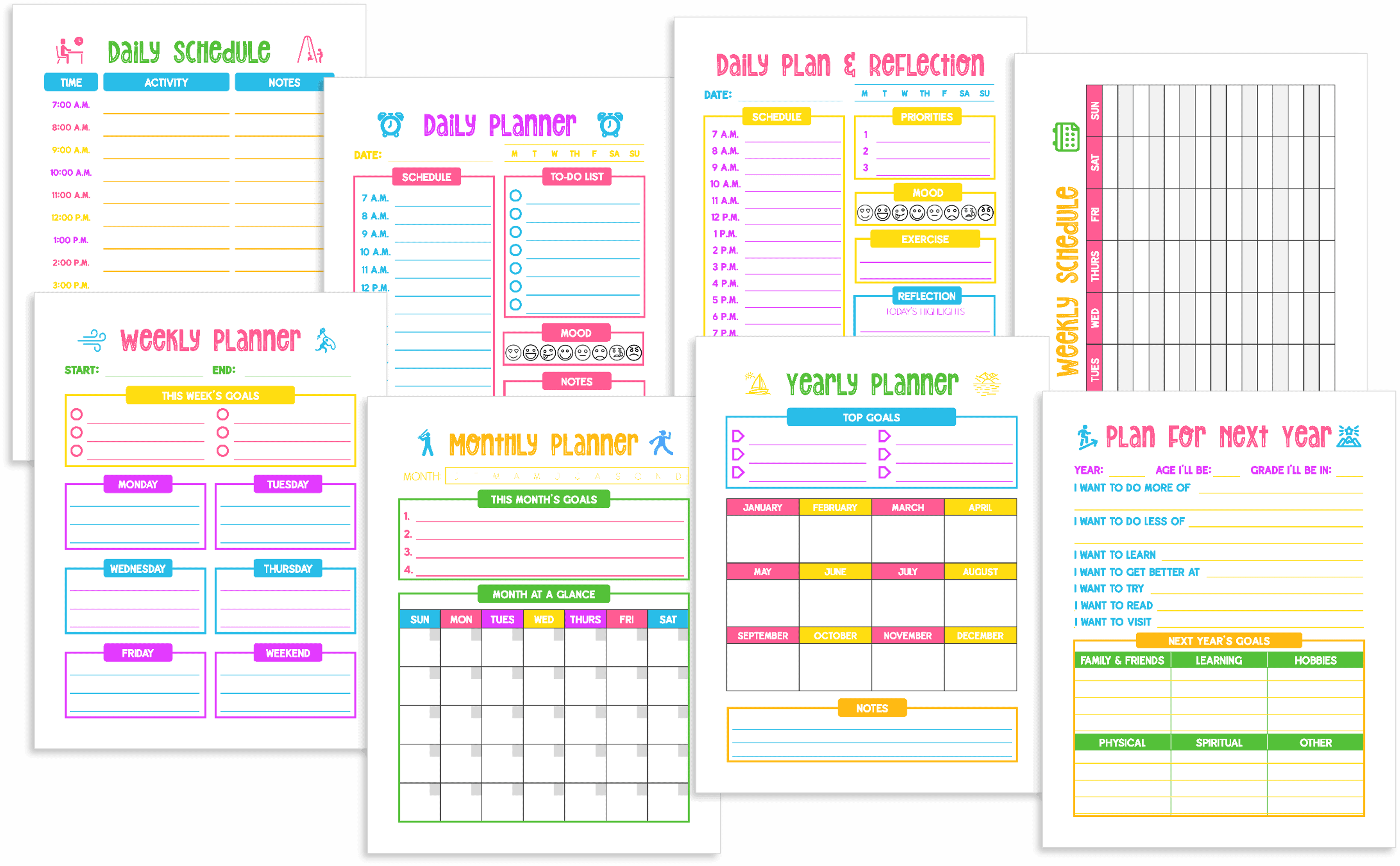 Long-term and short-term planning are invaluable skills. And it's not too early to teach even elementary school-aged kids.
Start on a daily level. Write down a schedule for the day, create a to-do list, and note your highest priorities.
Next, move up to weekly and monthly overviews. Use a single sheet to create an at-a-glance schedule. And capitalize on a weekly planner page to write down goals and must-do activities for each day — and for the week as a whole.
Get ready for the yearly planning page. Take notes on big goals. (Tip: Break them out by categories, like "learning," "hobbies," "family & friends," and more.) Have your kid consider what they want to do more of, do less of, and get better at in the coming year.
3. How to build strong school skills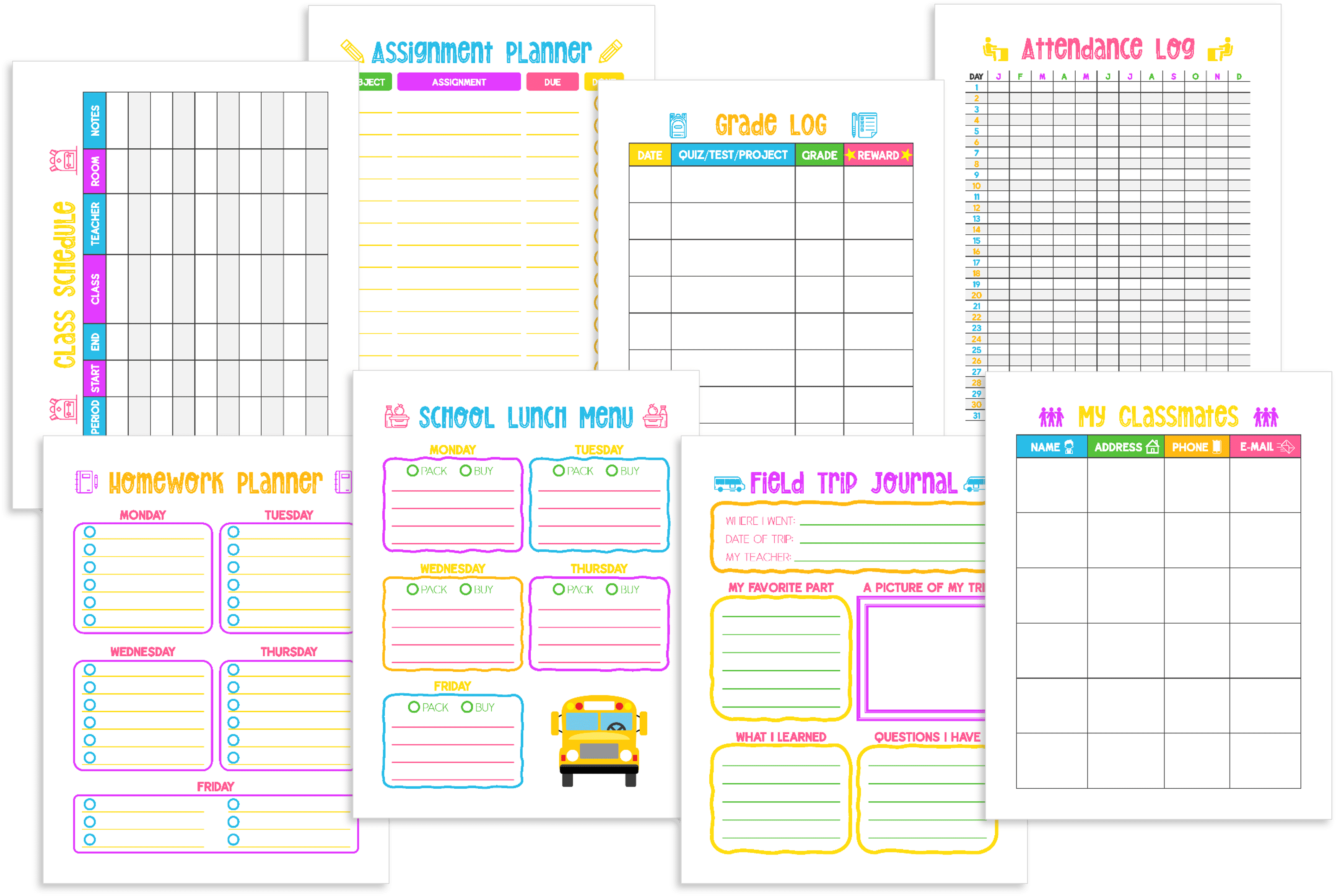 Strong study habits and a well-used planner can make school success more accessible and more fun.
Use planner pages to help your child keep track of their daily class schedule, assigned homework, and even their lunch plan for the week. Stay on top of long-term projects. Track grades. Even plan for rewards to motivate your kid in school.
4. How to set and achieve goals
Planning pages are ideal for kids learning to create and customize their very own goals.
Use these pages to brainstorm a big list of goals, set priorities, and explore the importance of each goal. Then, dive into identifying necessary resources and skills, spotting potential obstacles, and planning how to overcome those challenges.
Help your kid create a step-by-step action plan while setting mini goals and deadlines along the way.

5. How to create powerful habits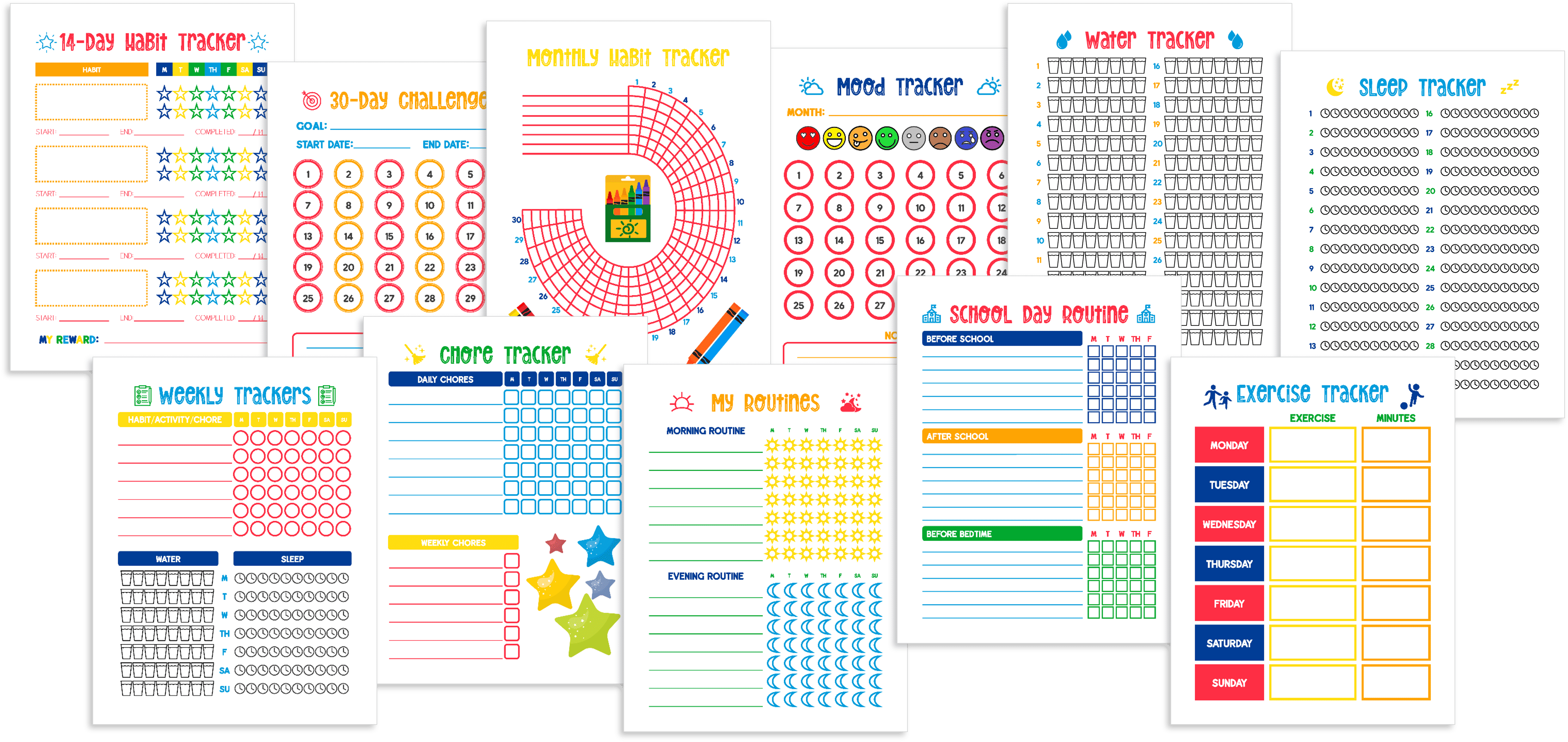 There are plenty of habits you want your kids to learn (or possibly unlearn). But habit-building takes time . . . which is why motivational habit trackers are ideal for keeping kids focused.
Use customized planner pages to help your child . . .
stick to a morning or bedtime routine,
get enough exercise,
drink more water,
get enough sleep at night,
focus tightly on just one goal at a time, or
work on several new habits simultaneously.
6. How to reflect, adjust, and grow

Socrates once famously condemned the unexamined life. And, indeed, reflecting on the past is a powerful skill you can teach your kids to help them learn to adjust and grow in the future.
Use planner reflection pages to take note of your kid's moods, successes, areas for improvement, challenges faced, lessons learned, big moments, future priorities, and moments of gratitude.
Download a fun & colorful KID'S PLANNER today!
7. How to love reading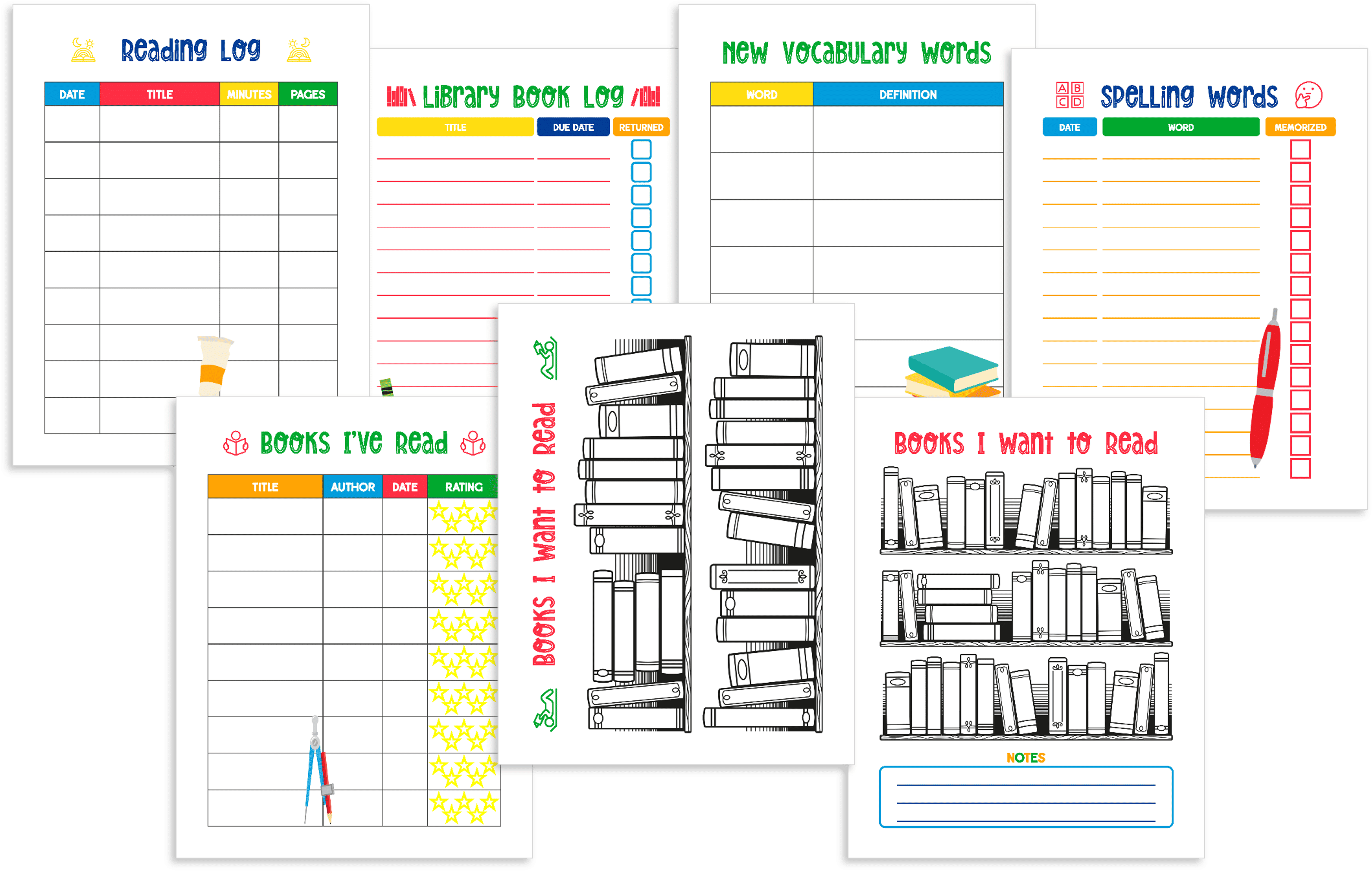 So many parents want to instill a love of reading in their children. And fun planner pages can make the process even more exciting.
Use the right pages to create and hit daily reading goals, keep track of books you want to read, and even rate the books your child has finished.
You can use additional pages to ensure library books are returned on time and record new vocabulary words your child encounters in their books.
8. How to manage their money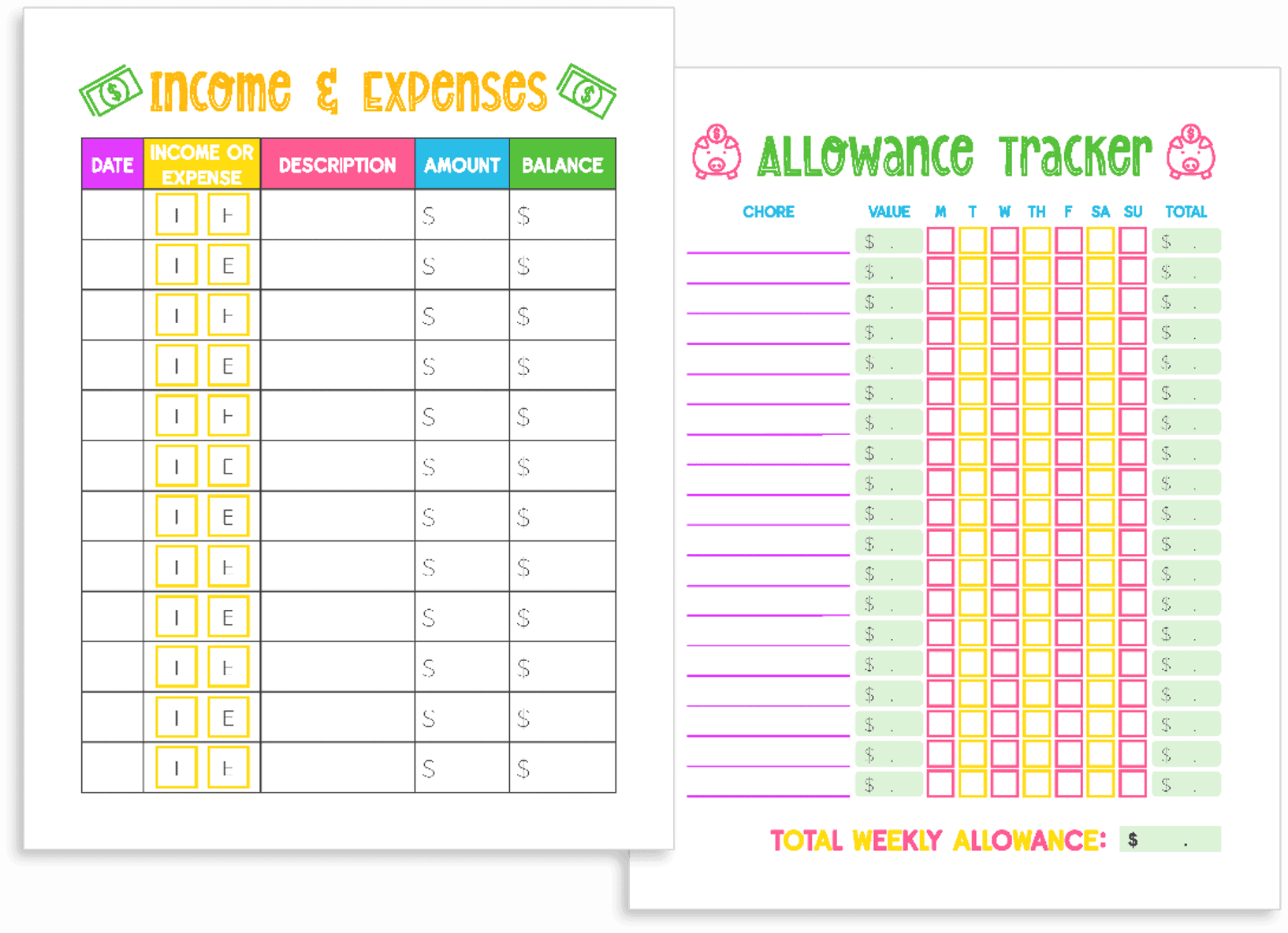 Even young kids can start to learn basic financial literacy skills that will yield big dividends in adulthood.
Help your child to track their income and expenses while keeping tabs on their overall balance.
Use your planner's handy worksheets if you have an allowance system in your household. Your kid can track which chores they do, note the amount they're owed for each, and practice calculating the total.
9. How to enhance their creativity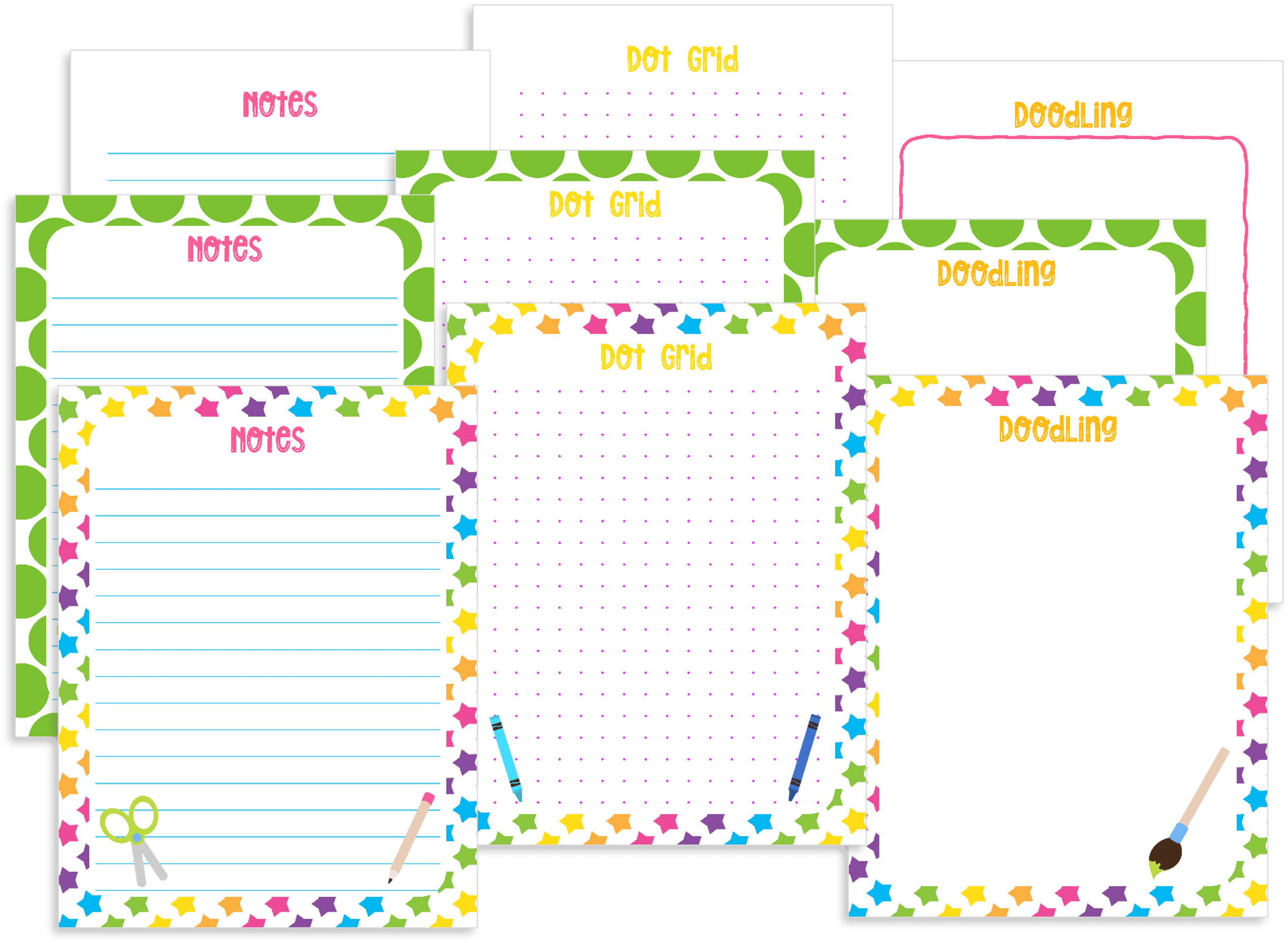 What's a planner without room to daydream, sketch, mindmap, and flex your creativity?
Give your kids a generous quantity of creativity-inspiring pages to make this planner their very own. Use pages designed specifically for lined note-taking, dot-grid work, and even doodling.
10. How to make planning personal and fun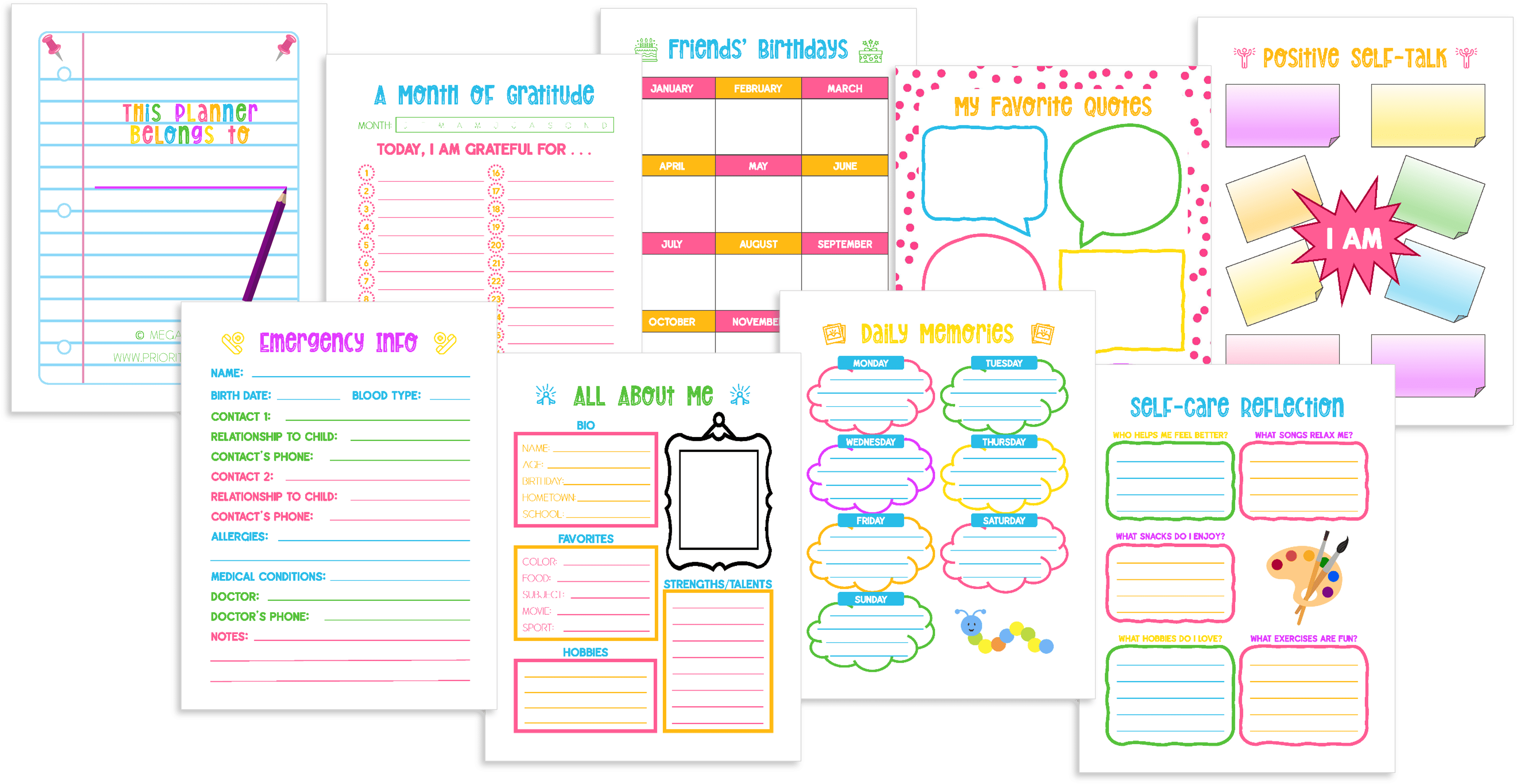 There's no such thing as a one-size-fits-all planner. After all, your child is unique! The way their brain works, the things that inspire them, the big dreams they have — no one else is exactly like that.
So grab a planner that lets your kid express themselves!
Write down positive self-talk messages (and keep them front and center).
Create a self-care plan that perfectly fits your child's personality and needs.
Have fun jotting down daily highlights.
Feel safer with a page that houses emergency information.
Fill in an "all about me" page, so they take pride in the features that make them unique!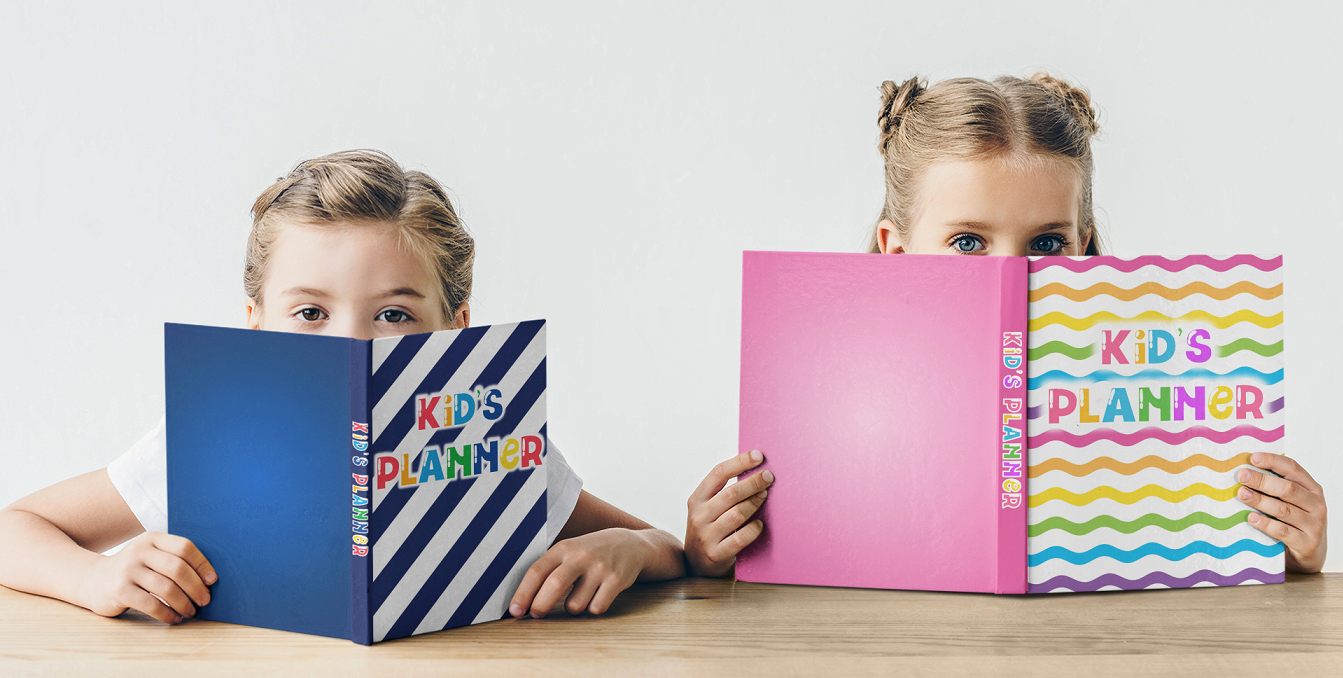 There's so much value in giving your kids their very own planners.
They'll stay on top of the many activities they're enjoying day to day. They'll take immense pride in the responsibility of planning, executing, and celebrating their goals. And they'll learn critical skills that will carry them through childhood, adolescence, and well into adulthood.
Looking for a powerful, comprehensive, and fun planner for your kid? Check out the Kid's Planner from Prioritized Living!