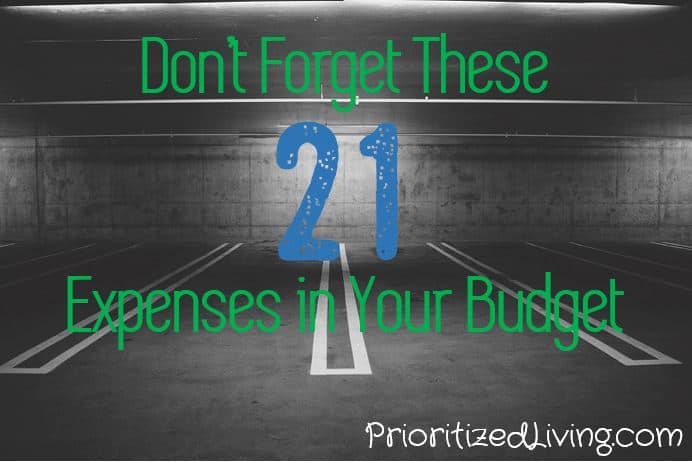 Note: This post contains affiliate links. Read my policy here.
Just as there can be easily-forgotten activities that suck up our time, there are some expenses that are frequently overlooked but can really add up. Sometimes we neglect them because they're infrequent and sometimes because they're small costs that we pay mindlessly over and over.
Have you remembered to include these 21 expense items in your budget?
Car registration, driver's license, and inspection fees
Car services (oil changes, alignments, new tires, new batteries, etc.)
Auto club memberships (like AAA)
Highway tolls and parking fees
Home maintenance and repair costs
Paid home services (HVAC tune-ups, lawn care, maid service, etc.)
Pet care (food, toys, supplies, vet bills, medications, grooming, etc.)
Shopping club memberships (Sam's Club, Costco, Amazon Prime, etc.)
Dry cleaning & clothing repairs (hemming, patching, fixing buttons and zippers, etc.)
Tax preparation fees (do-it-yourself software or accountant)
One-off gifts (bridal showers, baby showers, weddings, graduations, etc.)
Party-throwing costs (supplies, rentals, food, games, entertainment, goody bags, etc.)
Allowances
Baby-sitting expenses
Tuition and fees for sports, clubs, music/dance lessons, camp, and other activities
Magazine and newspaper subscriptions
Insurance costs (auto, home/renter, life, health, dental, disability, flood, etc.)
Gym memberships
Digital purchases (Kindle books, audio books, streaming music, streaming video, etc.)
Charitable contributions (church, school, walk-a-thons, disaster relief, etc.)
If you're looking for a comprehensive, editable, and printer-friendly budget template, grab your copy of My Budget Binder!