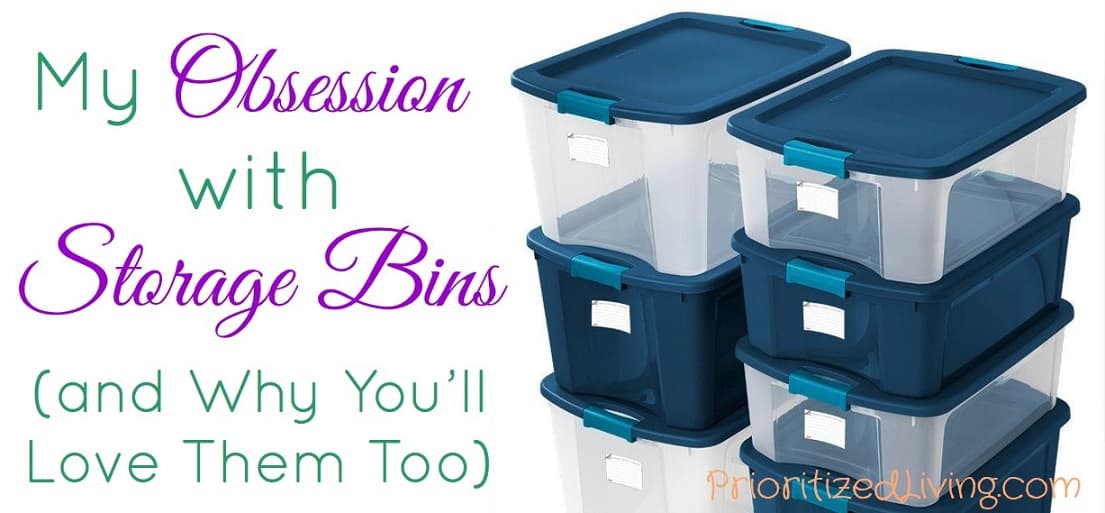 Photo courtesy of Home Depot
Note: This post contains affiliate links. Read my policy here.
Some women obsess over shoes. I love storage bins.
I don't know how many we have, but we've got those suckers everywhere. They're in the basement, the garage, the play area, and our closets.
They're a beautiful thing, but bins can provide only the illusion of organization if you're not careful. After all, you accomplish nothing if you lob piles of garbage into bins, slap the lids on, and hide them away until you have your own personal landfill. Used as an organizing tool instead of a dumping ground, however, sturdy bins give you clean-looking, element-proof storage of the items that matter to you.
I always opt for super-sturdy bins with durable latches and easy-to-grab handles. Plus, different totes have the exact same footprint size, so I can stack them or slide them onto the same shelf. Sizing is critical to smart storage. Choose just enough bin for what you need to pack away.
My favorites are these bad boys:
(Note: Don't hyperventilate. Prices shown are for a 6-pack of the storage containers — not a single container!)
Once you box up your items, add some labels. The boxes I buy come with dry-erase labels right on them, but you can also type or write your own removable label stickers.
So try out some storage bins! Here are just a few ways to use them around the house:
Sports equipment
Holiday decorations
Clothing (stored by age/size and gender)
Party supplies
Travel gear
Plastic blocks
Infrequently used dishware
Bulk purchases of paper products or diapers
Extension cords
Memorabilia
Grilling gear
Sleeping bags
Bags of mulch
Collectibles
College supplies (that need somewhere to live during summer break)
Picnic or beach necessities
Cake decorating tools
Sheets and towels
Gift bags, tissue paper, and bows
Outdoor pillows and chair fabrics
Pieces of large kid toys (Exersaucers, baby swings, etc.)
How do you organize your life with storage bins?