Note: This page contains affiliate links, so I may receive a commission — at no additional cost to you — for purchases you make through these links. (Read my policy here.) However, every product and service I recommend is one I've vetted and/or used myself, so it's something I truly do recommend!
When it comes to making bread, a quality bread machine is a major time-saver in the kitchen. And it's not just bread! Use it for pizza dough, fruit loaves, cakes, even jellies.
Our family uses the Zojirushi Home Bakery Virtuoso Plus Breadmaker. Are there cheaper bread machines out there? Absolutely. I've tried them. But this one is hands-down the winner in my book. Even cooking, perfect rising, customizable features, near-silent mixing, easy cleaning, and built to last . . . it's absolutely a keeper!
We upgraded to this model just a few months before COVID-19 forced us all inside, and it was invaluable in cranking out sandwich loaves, herbed breads, and delicious doughs for our family.
I'm not one to let my food processor gather dust. My Cuisinart 14-cup food processor is a major workhorse in our kitchen!
With it, I chop herbs, dice vegetables, mince garlic, thinly slice cucumbers, thickly slice potatoes, shred carrots, grate cheese, and pulverize just about anything into delicious homemade baby food. All in seconds. It's perfect for making dinner prep a snap.
And it's incredible for stocking up in my freezer on the cheap. Instead of buying bags of ready-shredded mozzarella, for instance, I'll buy a few blocks on sale, zip them through the food processor, bag them up, and toss them in the freezer.
A great food processor is a huge time-saver and money-saver!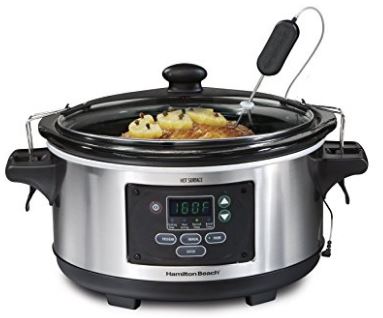 What's one of the biggest time-saving and money-saving devices you can have in your kitchen? It's definitely a slow cooker. I love the capacity and features of my Hamilton Beach 6-Quart Programmable Slow Cooker.
Slow cookers are perfect for dump-and-go freezer meals. But they're invaluable for so much more as well!
Mine comes with a temperature probe. So I can poach an entire vat of chicken to the perfect temperature, shred it up, freeze it in batches, and save hours of time in dinner prep for a dozen meals.