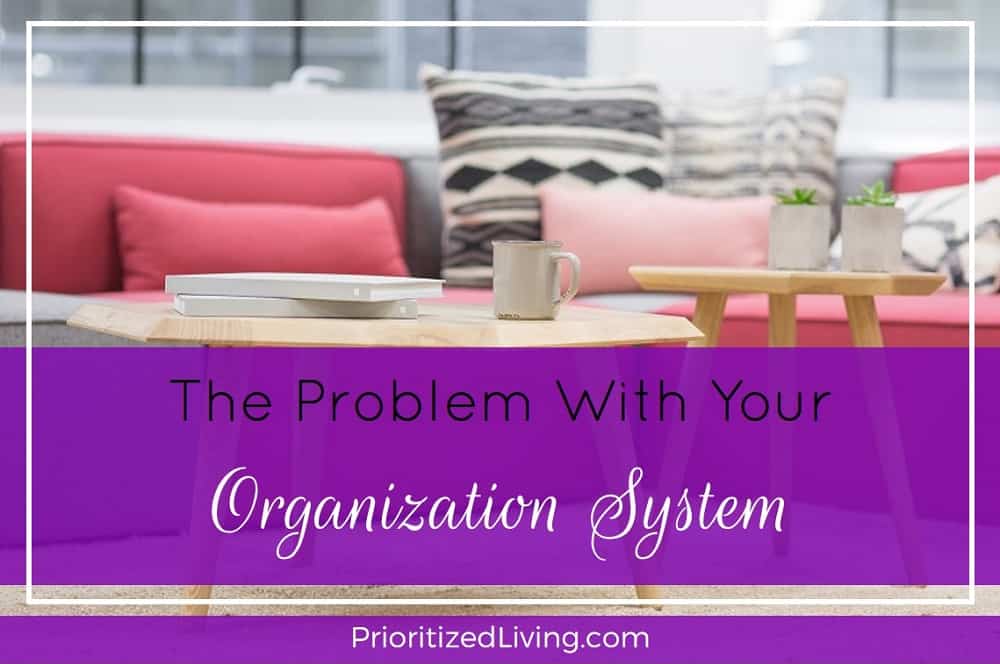 Note: This post contains affiliate links. Read my policy here.
You know in your soul that you are an organized person. Your home, regrettably, paints a different (and messier) picture.
However, the problem is probably not you.
The issue could be the system you are using to organize your stuff. Before beating yourself up over your disorganized space, consider these technical — and easily fixable! — issues that could be the culprit.

Your stuff is homeless.
It's impossible to put your belongings away when you haven't defined what "away" is. Until you designate a place for these things to live, your incoming mail will be scattered across the surfaces of your home and your car keys will wind up somewhere different every day.
Create homes for your stuff. Place an inbox by your garage door so that you have a place to drop the mail when you return from work. Leave a tray in that same spot to corral your keys.
Your stuff is scattered.
Let's say you want to clean your bathroom. Before you can begin, you have to get some cloths or paper towels from your kitchen, glass cleaner from the garage, bathroom cleaning solution from an upstairs closet, the toilet bowl brush from under the bathroom sink, and the toilet cleaner from your pantry. Then you spend 15 minutes trying to track down your scrub brush and bucket.
By the time you've gathered everything you need, you're already longing for a break.
In order to make your stuff easily accessible to you, store items frequently used together in the same place.
If you stash your bathroom cleaning products in a single closet or cabinet, you never have to go on a scavenger hunt for all the tools you need to complete a task. If you want to make your life even easier, put your bathroom cleaning products into a caddy. You can grab everything you need and head directly to your destination.
You've got too . . . much . . . stuff.
Maybe your stuff is homeless because you've simply run out of available living space for it. Every drawer you have is packed to capacity and you're afraid to open the closet doors you've just barely managed to close.
You've got two courses of action you can take at this point.
First, cut down on the amount of stuff you have. Sell, donate, recycle, and trash those possessions that are detracting for your home instead of adding to your enjoyment.
Second, get creative in your storage. Take advantage of unused areas of your space by setting up over-the-door organizers, free-standing or wall-mounted shelves, under-sink racks, under-bed boxes, and heavy-duty bins for use in attics, basements, garages, and sheds.
Your system doesn't mesh with the way you live.
My family used to keep our umbrella holder by our front door. It was a fine place to put it except for the fact that we most often use our garage door when leaving the house. Consequently, our umbrellas always landed in the laundry room (which connects to our garage) and stayed there — temporarily homeless — until someone went out of his/her way to transport the umbrellas to their home by the front door.
After too long engaging in this nonsense, we simply moved our umbrella holder to our laundry room. Problem solved. Now our umbrellas are always put away when not in use.
Stop fighting your natural tendencies and make your organization system convenient.
If your item's home is inconvenient because it's too far from where you'd naturally want to drop or use your item, it's time to create a new home. Put a tray or shoe rack where your kids take off their shoes instead of making them haul the shoes up to their rooms. Place frequently-used pots and pans near the stove instead of on a shelf across the kitchen.
Build your organization system around your life instead of trying to force your life to align with your system.
Your organization system takes too much work.
If you have to climb a ladder, move around storage crates, or dig through a deep bin in order to get your hands on something, you probably spend more time coming up with reasons not to get it than actually using the item.
Don't make yourself do a lot of work just to access your stuff.
Instead of stacking storage totes four high — making it undesirable to access the second one in the stack and nearly impossible to get to the one on the bottom — place each tote on part of a sturdy shelving set. In lieu of shoving dozens of spice jars into a cabinet, stow them in a compact spice organizer.
Identify the pain points in your organization system and eliminate them.
What technical difficulty is holding you back from your organized bliss?