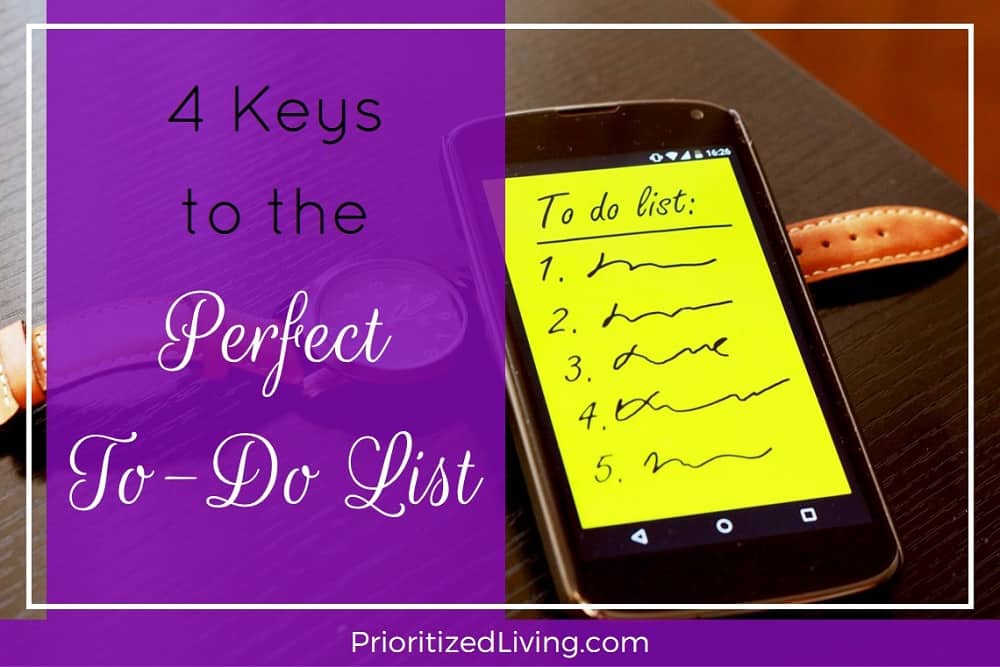 If you pick up your to-do list, does it cascade down toward your feet . . . and then keep unrolling all the way out of the room? If so, you likely have a "master to-do list" of which you are decidedly not the master.
The idea of a gigantic to-do list is to keep all of your tasks in one place. While that sounds good in theory, a master list quickly turns into a never-ending sequence of unconnected, disjointed tasks. Worse, those tasks eventually get lost in an ever-growing list.
Plus, how motivating is a gigantic list of things to do? How good do you really feel about tackling one item on a list of 50?
Throw out your confidence-crushing, massive list! Here are the 4 essentials to crafting a to-do list that gets things done!
1. A Specific Task
In order to cross an item off your to-do list, you have to commit to writing down concrete, achievable tasks.
For instance, if your closet is filled with 20 years of clutter, don't put "Clean closet" on your list. It's a monstrous, amorphous chore that you will never be motivated to tackle.
Instead, if a clean closet is your goal, write down each element of a step-by-step plan for organizing your over-stuffed closet. Donate unused clothes, relocate books to shelves, vacuum floor — these are all individual, specific tasks that contribute to a clean closet and fit beautifully on a to-do list.
2. A Time Estimate
A task without a time estimate is meaningless. A number in black and white however makes your activity tangible and finite. Instead of being a concept you can't grasp, your task now has a specific size.
Let's use the closet as a metaphor. You know you have stuff in your closet, but it's dark in there and you're really not sure what you're dealing with. Once you pull everything out of the closet and spread it on the floor, you can clearly see the size of each item you want to organize.
When you write down an activity to complete, include a guess as to how long your task will take. Estimating time is a skill that improves with practice (the old trial-and-error routine), so don't worry if your initial attempts are way, waaay off.
Only once your task is attached to a specific amount of time — 5 minutes, 1 hour, 3 hours, etc. — can you make a plan for accomplishing it.
3. A Priority
Back to the closet we go! You can now see at a glance the size and shape of all of your possessions. You've got some tiny trinkets, some medium-sized linens, a massive pillow, and more.
Your to-do list is the same after you assign a time to each task. You've got some 5-minute items, some 30-minute activities, a few multi-hour projects, and everything in between.
Now it's time to assign priorities with the knowledge you have. You likely won't want to prioritize all of your multi-hour projects as Priority 1, since there's just not enough time in the day. You can, however, easily rank a slew of tiny tasks as very important.
Assess your list carefully and rank according to whatever system make sense to you. I find that a 1-to-5 system (1 being the most pressing task) works great for me.
4. A Date
It's time to get real.
Flip open your calendar or planner and start writing down your tasks on specific dates. Priority 1 tasks should obviously happen soon, whereas Priority 5 tasks might easily wind up several months down the road or even next year if you have a lot on your list!
When choosing a date, keep in mind the deadlines that may be attached to particular tasks. If your electricity bill is due in 5 days, make sure "Pay electricity bill" is penciled in to your planner before that date.
If you want a bit more flexibility, you can assign a block of tasks to a whole week and then figure out what to do once you're actually in that week.
Choosing a date for each activity can easily be the most time-consuming part of transforming a master to-do list into an achievable plan, but the rewards are worth the effort. Each day, you'll have a finite number of tasks to complete while knowing that the other tasks can wait until their assigned days.
It's incredibly freeing!
How has this four-step process revolutionized your to-do list?