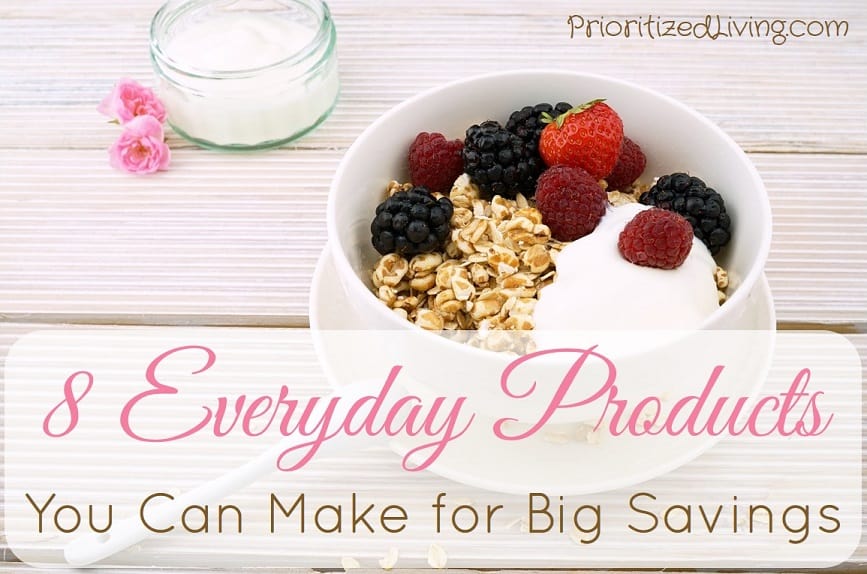 There are some things you buy over and over again. And every time you buy them, you're handing their manufacturer and your retailer a nice profit.
So it stands to reason that you can save a nice wad of cash by skipping the middle men and making those items yourself!
Think you can't do it? These 8 everyday items are not only inexpensive but easy to make right at home!
1. Address Labels
We all get those mailers advertising customized address labels — the cutesy ones, the patriotic ones, the ones that think you want a moose next to your name, and more.
But making your own address labels at home will run you only about 1¢ per sticker . . . and it couldn't be easier.
2. Greeting Cards
I've gotten some beautifully drawn cards from my brother and some expertly crafted greetings from my husband's cousin. I'm always impressed and inspired.
But I can't draw a decent stick figure or cut a straight line.
I can, however, create fool-proof, professional-looking greeting cards with my computer and some card stock. And I can do it all for roughly the cost of a stamp.
3. Granola
I love a good granola. It's crunchy, comforting, and delicious. A bowl of granola with milk, some granola topping a yogurt parfait, or just a handful of the stuff is intensely satisfying.
But good granola doesn't come cheap.
Skip the grocery store! You can whip up your own amazing granola in a snap for a mere $0.11/oz.
4. Yogurt
If you think the process of making yogurt is mysterious and needs to be done in a Dannon or Yoplait factory, check this out. You can make yogurt — even fancy, typically pricey Greek yogurt — easily at home.
And you can whip up a vat of the stuff for the cost of a half-gallon of milk.
Did I mention it's just two ingredients for luscious, plain yogurt?
Of course, if you want some tasty fruit flavoring to your yogurt, I've got you covered there too.
5. Croutons
There are a lot of sad, boxed croutons in the world. Those tragic, tiny, tasteless cubes of something vaguely breadline. Bleh.
Then there are restaurant croutons that you could eat by the handful.
You can have spectacular salads with restaurant-quality croutons for your next family dinner or party. And you can do it for the cost of a few slices of bread.
6. Baby Food
Now that my son is a toddler, he eats what we eat. When he was just getting into solid foods however, he was all about the purées.
Now Gerber was happy to accommodate his baby food needs, but what a pricetag!
In some cases, I found that store-bought baby food was 15 times more expensive than my homemade variety . . . and the store-bought stuff tasted gross!
Make easy, fresh, freezable baby food of every variety instead.
7. Bread
Making bread from scratch sounds like something that pioneer women and Martha Stewart do. (Goodness knows I've seen Martha whip up more sandwich breads and ciabbatas than I would know what to do with.)
Bread requires just a few, inexpensive pantry ingredients however . . . and you can keep it simple or make it super special.
Making a standard sandwich loaf at home is ridiculously easy and costs you only about $0.60 to pull together.
8. Tomato Sauce
Can't stand the sugary sweetness of jarred sauces? Tired of spending $4, $5, or even $9 for a jar of what's basically squished tomatoes?
You don't have to be an Italian grandmother to whip up your own tasty marinara sauce. Grab a big pot, toss in a few ingredients, and save 50% at a minimum on your next pasta family dinner!
What everyday item do you make at home? How much do you save by going homemade?