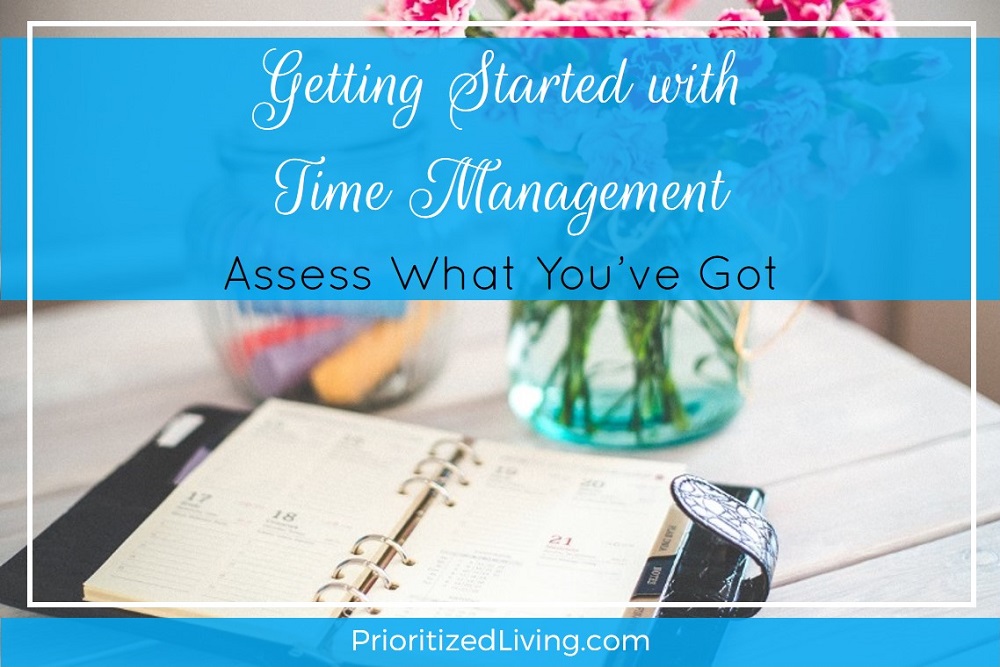 Maybe you're new to the concept of time management. Maybe life has suddenly become more busy with a new career or a new baby and you need some tools to get on top of your schedule. Maybe you've been drowning under your to-do list for a while and are looking for a way out. Time management is the answer, and here are the first steps to getting started with conquering your schedule.
Getting started with managing your time is remarkably similar to the way you would start organizing your finances or your living space. It's all about transparency. To wrangle your bills, you absolutely need to know how much cash you have in your checking account. If you dream of tackling the clutter, you can't close your eyes every time you chuck something into your storage space. Likewise, to get on top of your schedule, you need to know what you have, what you don't have, and what you need.
Step 1: Dump everything where you can see it.
Before you can get your money in order, you need to spread out all of your sources of income and expenses. If you want to organize your closet, you have to pull everything out of the dark corners. Managing your time first requires that you dump the stuff that currently occupies your time — your fixed activities, your recurring to-do list items, your one-off activities, etc. — onto paper or into a computer document. Don't forget to jot down forgettable but time-consuming items like these:
Household chores,
Commuting,
Cooking,
Grooming,
Eating,
Sleeping.
Step 2: Include activities that get you to your goals.
Think beyond the basic things you need to do today or this week. Write down the activities that you plan to tackle in the near term to get you to your short-term and long-term goals. For instance, if you plan to run a 10k in a few months, write down training activities that you plan to do soon. If you're putting together a birthday party for your kid next month, jot down each of the tasks you'll need to complete in the near future. The goal is write down everything that's on your plate.
Step 3: Estimate how much time each activity on your list will take.
Don't skip this critical step. You can't squeeze more than 24 hours' worth of activities into your day, so you need to know exactly how much space in your schedule each activity occupies before you can create your plan.
Estimating the time that something takes can be deceptively difficult. How long do you think it takes you to shower? To get the kids in bed? To do your food shopping? Take a guess and see how close you are. Keep these tips in mind before you guess:
Don't be overly optimistic. If your commute typically takes you 30 – 40 minutes, write down 40 minutes for your commute time. You will over-schedule yourself right off the bat if you count on a 30-minute commute every day.
Don't be overly pessimistic. Sure, there might be the rare day where a traffic accident or snowstorm bumps your commute up to an hour, but that's the exception — not the rule. I'll be addressing the importance of buffer time in a later post.
Don't forget hidden time costs. For instance, your food shopping trip might include time spent compiling a list, driving to and from the store, and putting your purchases away when you get home. Your plan to change your furnace filter might necessitate a trip to the hardware store and a visit to YouTube to watch a video on changing filters.
Don't assume you'll be moving at super-human speed. This tip relates to too much optimism. Maybe you could gather the week's recycling in 5 minutes if you sprinted through the house to do it, but you walk like a normal person. Don't plan to race through each activity on your schedule. Instead, write down the time estimate that truly reflects how long it takes you to do an activity without any self-judgment.
Practice your time estimation skills, and start to be cognizant of how long new activities are taking. You'll need this information going forward with the process of managing your time more effectively.
Have you had any big surprises in trying to estimate the time an activity takes?