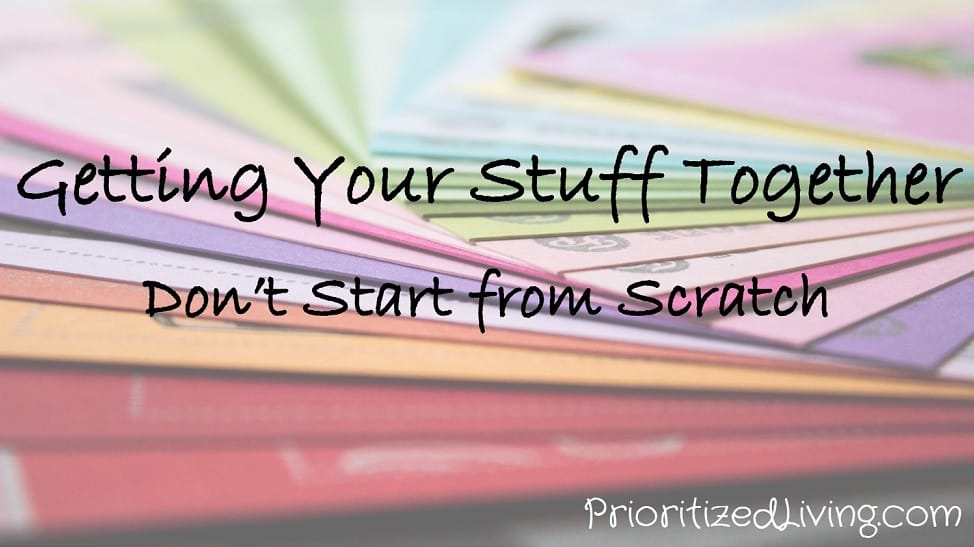 Have you ever wanted to torch your entire house so that you could start over without the mess?
Shortly after my son was born — while we were still trying to figure out which end of the kid was up — we started to get behind on the dishes. A tiny pile of used plates and pans began to turn into a full-blown mountain range of stuff. I was sorely tempted to trash everything so I could have an empty sink and clean counters again.
Do you too feel as though you've lost control over some space? Maybe it's an area of your home, your office, your purse, your garage, or your hidden kitchen counters. Whether the problem is a new one or an issue that's been plaguing you forever, you don't have to start from scratch to get organized.
Get your stuff together quickly by taking advantage of the fact that you're more organized than you realize.
Find an organized space or a well-functioning system.
A common mistake that people make when organizing is assuming that they should go back to the drawing board if some element of their living space isn't working for them. Don't assume.
Look around and see what is working for you. What do you take for granted as always being where it should be or being ready to go at a moment's notice? Here are some ideas to get you started:
Your purse is perfectly organized.
Your home office is the picture of filing perfection.
Your laundry is always folded and put away.
Your bills are consistently paid on time.
Your medical records are easily accessible.
Your bedside table is pristine.
Your toiletries all have a home.
Really search for these overlooked areas of your secret organizational skills. (Then, congratulate yourself on not being the total mess you thought you were.)
Study what's working for you.
Pick one of the organized areas of your life that you've discovered and really study it. Now answer this question:
Why does it work for you?
Is it because that area is particularly important? (You love sitting there or guests see it.)
Is it because you have some storage system that's conveniently placed? (Your shoe rack is right by the door.)
Is it because you prioritize organizing that item? (You insist on folding your laundry right out of the dryer.)
Is it because you have time carved out in your schedule for maintaining it? (You mow the lawn every Saturday.)
It is because you're better with paper files than electronic ones (or vice versa)?
Is it because someone else organizes it?
Study what it is about those spaces or your habit around them that works for you.
Apply what's working to what's not working.
Once you've identified why some elements of your living space are functioning well, see if you can apply those principles to the areas that are circling the drain.
If you always know where your car keys are because you have a dish for them by the door, consider putting a tray there also to catch incoming mail that gets lost otherwise.
If your bills are always paid on time because you make time every Friday afternoon to tackle them, consider setting aside an hour each week to tackle your untamed backlog of family photos.
If your desk at work is always clear to make a good impression with clients, consider attaching the same importance to your cluttered foyer where guests enter your home.
What's your organized oasis in a sea of chaos?