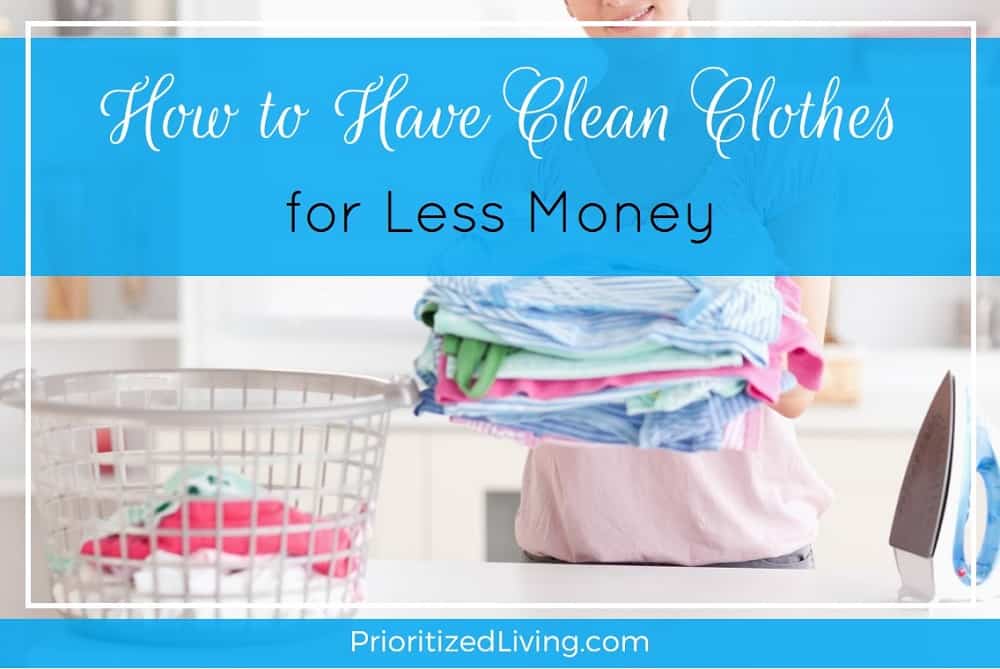 Ahh, the laundry. That never-ending chore that no one loves to do. It feels as though you need to do it . . . all . . . the . . . time.
And that can add up to a lot of money.
You don't always see the cost of doing laundry, since it's hidden in your budget:
Water costs get absorbed into your water bill.
Power costs go into your electric or gas statements.
Detergents, fabric softeners, dryer sheets, and perfumed beads show up on your grocery store receipts.
Maintenance costs . . . well, those you might see!
If you're looking for an easy way to save every single week, take a look at your laundry habits. Let's see how we can spend less money getting your clothes clean and smelling great!
1. Skip the fussy clothes.
Got diva clothes?
You know them — the kinds that turn their noses up at a basic wash and dry. The ones that demand, "Dry clean only!"
Break up with your dry cleaner.
Whenever possible, choose clothes that you can care for at home. Ideally, your garments should go from washer to dryer. But — if you're willing to invest the time in a handful of special items — you can still easily clean clothes that are hand-wash only or that require 100% air drying.
2. Switch to cold water.
At some point, I realized that if I washed my whites and lights in cold water, the world wouldn't end.
Naturally, you'll need to crank up the heat every once in a while, particularly if you've got to contend with big messes or eruptions from newborns.
But the rest of the time, cold water works out perfectly.
Your clothes don't get dingy, and they do get clean. You no longer have to pay for the pleasure of filling up a huge machine with screaming hot water.
Best of all, you get to . . .
3. Quit sorting.
No more darks, lights, and whites. Everything goes in one load!
This one's a huge sanity-saver and time-saver . . . and time is money.
You'll want to be careful here with dye-heavy clothing of course. If you buy a new pair of dark-wash jeans, don't let its first wash be alongside your crisp, white blouse.
Instead, take the time to wash it solo or with other dark clothing before you ever wear it. (A pre-wear wash will not only save your blouse but your light-colored furniture as well.)
Also, every once in a while, you may want to run a whites-only load with bleach or your favorite brightening detergent to perk up your fabrics.
Once you stop sorting, you'll never want to go back to that regular hassle. Plus, it'll enable you to . . .

4. Fill 'er up.
Skip the skimpy loads!
Every load of laundry requires you to pay up for powering the machine, using the water, heating the water (if necessary), running through detergent, and getting yourself one step closer to the day your machine needs maintenance. Or a replacement.
So stop washing two shirts or just your baby's clothing. (It's tiny, even if he goes through three outfits a day.)
Save your money by maximizing the washing power of every load you do.
5. Be smart about your drying.
If your clothes tumble until each one is bone dry, you're not only killing your clothes but your wallet as well.
It takes a lot of expensive energy to heat and toss your garments for a half hour, an hour, or more every time you do the laundry.
Invest in an inexpensive drying rack (or two). You can chuck your clothes over the rack directly from the washer or toss them briefly into the dryer for a little drying and fluffing first.
If you've got a yard or even a balcony, string up a clothesline and allow everything to go from wet to dry in the sun. Then just toss your laundry into the dryer for a few minutes to fluff them up . . . and remove (and kill) any insects.
6. Stop pouring money into the washing machine.
Do your research when it comes to your laundry detergents.
You definitely don't want to pick up the cheapest brand you can find. It might not get the job done, or it could wreak havoc on your fabrics . . . costing you more money in the long run.
On the other hand, experiment to see whether you really need a special detergent for your baby. (Probably not.) Whether you truly require fabric softener or dryer sheets. And whether your fancy soap gives you a better clean that the stuff available at your supermarket.
Once you find the best brand for your buck, make sure you stock up when you find great deals online, in store, or with your coupons.
Sure, you'll still be doing the laundry. But you can take comfort in the fact that you're doing it for less!
What's your favorite trick for saving money while keeping your clothes clean?