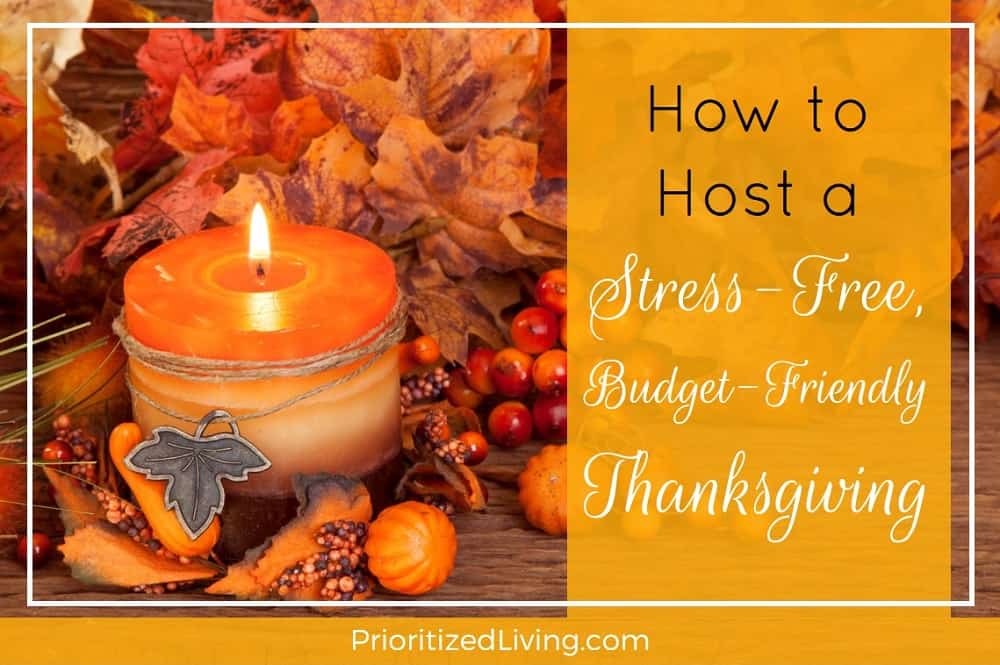 Note: This post contains affiliate links. Read my policy here.
Turkey time is almost here! And this year, it's you who's doing the hosting.
Maybe it's your turn in the family rotation. Maybe you love hosting! Or maybe, like me, it just feels easier to do the entertaining at home than to haul small children across great distances, skipping important naptimes, and hoping they'll stay entertained through a long event.
Hosting Thanksgiving can be wildly stressful and expensive . . . but it doesn't have to be! Let's make this year's turkey feast a relaxing, wallet-friendly celebration! Here's how . . .
Make a plan . . . like now.
Here's what you don't want: It's Thanksgiving Day. You're about to serve your meal only to find that you have six dishes but only four serving bowls and two serving spoons. Or you forget to defrost your turkey until the day before. Or you forget to pick up your turkey until the day before!
So make a plan, write it down, and quadruple-check it.
Figure out your budget.
If you want, break it down by food, decor, dishware, etc. (Grab a copy of My Budget Binder if you want to make your budget quickly and easily!)
Make a menu.
And stick to your budget. If you go for a pricey, saffron-infused dish, you may want to balance that out with some inexpensive, roasted vegetables. Plus, you'll need a menu to plan out your prep schedule, cooking schedule, and dish allocation.
Accept help.
There's no medal for being a Thanksgiving martyr. Got a relative who offers to bring a dish? Say yes! No patience for making your own rolls or pie? Go ahead and pick them up from the supermarket.
Do a dish review.
Once you have your menu worked out, figure out which pans, bowls, spoons, Tupperware, etc. you'll need to use for each one. Remember: If you make some foods in advance, you'll free up those baking dishes the day of . . . but you'll need to use microwave-safe, oven-safe storage containers for holding and reheating them.
Be sure you physically locate every dish you plan to use well in advance of the holiday. It's easy on Thanksgiving day to think you've got a serving platter lying around but not be able to find it!
Make a plan to buy what you need.
When I hosted my first Thanksgiving and did my dish review, I came up short. So, I found some great serving spoons and prep bowls on Amazon, had them shipped to my door, and was ready to go!
Make a schedule for your holiday prep.
Be realistic here. If you've only got one hour for prep work the day before, don't plan for three hours of holiday mania. And spread out your schedule as much as you can so you reduce your stress.
Enlist your army.
It's not just your party! Your husband and kids are hosting too, so get them in on the action. Assign age-appropriate cleaning, cooking, and decorating tasks. You can even have the kids get crafty and create some cute centerpieces or place cards!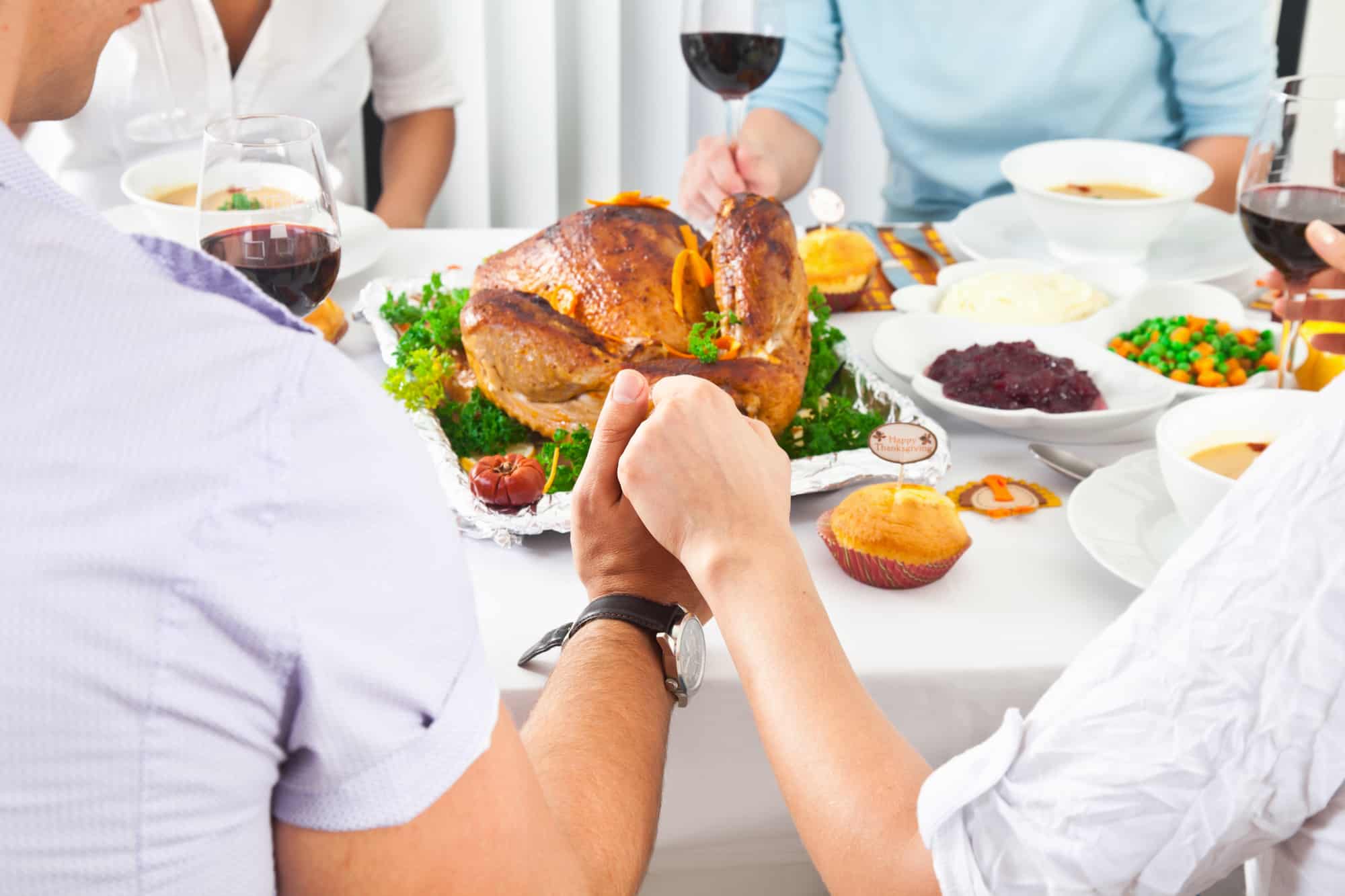 Do as little as possible the day of.
Whenever you can, choose recipes — or rework recipes — so that you can minimize your Thanksgiving day to-do list. Here are a few ideas:
Decor
In most cases, your Thanksgiving decorations can go up super early . . . even right now! And consider setting your dinner table the night before Thanksgiving when you have time to arrange the dishware and position any place cards.
Stuffing
Cut the bread for your Thanksgiving stuffing the day before . . . or cut it way in advance and freeze the cubes in a Ziploc freezer bag. Then, a few hours before your meal, you can dump out your cubed bread and finish prepping your stuffing.
Gravy
Make your gravy — slightly thick — in advance. Refrigerate or freeze it. Then, when your turkey's done, simply reheat your gravy. Once the turkey comes out of the oven to rest, mix the gravy with the defatted turkey drippings to supercharge the flavor and achieve the desired consistency.
Soup
Serving a nice, warm chowder or broth to your guests? Choose a soup that you can make and refrigerate or freeze well in advance of the day. Butternut squash soup, tomato soup, and corn chowder are all great, autumnal options.
Mashed Potatoes
This one I learned just recently from Sara Moulton . . . and I can tell you that it absolutely works! (No leftover mashed potato taste here!)
Instead of cooking and mashing your potatoes at the 11th hour while your guests are eating appetizers, peel, boil, and mash (or rice) your potatoes the day before. Store them, covered, in the fridge.
When you're ready to serve your mashed potatoes, simply pop your potatoes in the microwave until they're piping hot. Then, stir in your butter, milk, salt, and pepper. Bam! Instant, fresh, delicious mashed potatoes in a minute!
Turkey
Okay, this you really can't make in advance. But you can make sure that you give your turkey enough time to defrost. Otherwise, you'll spend your Thanksgiving morning wrestling the bird in a sink full of water. (Now that's a time-waster!) If you're brining your bird, be sure to start the process with plenty of time to spare.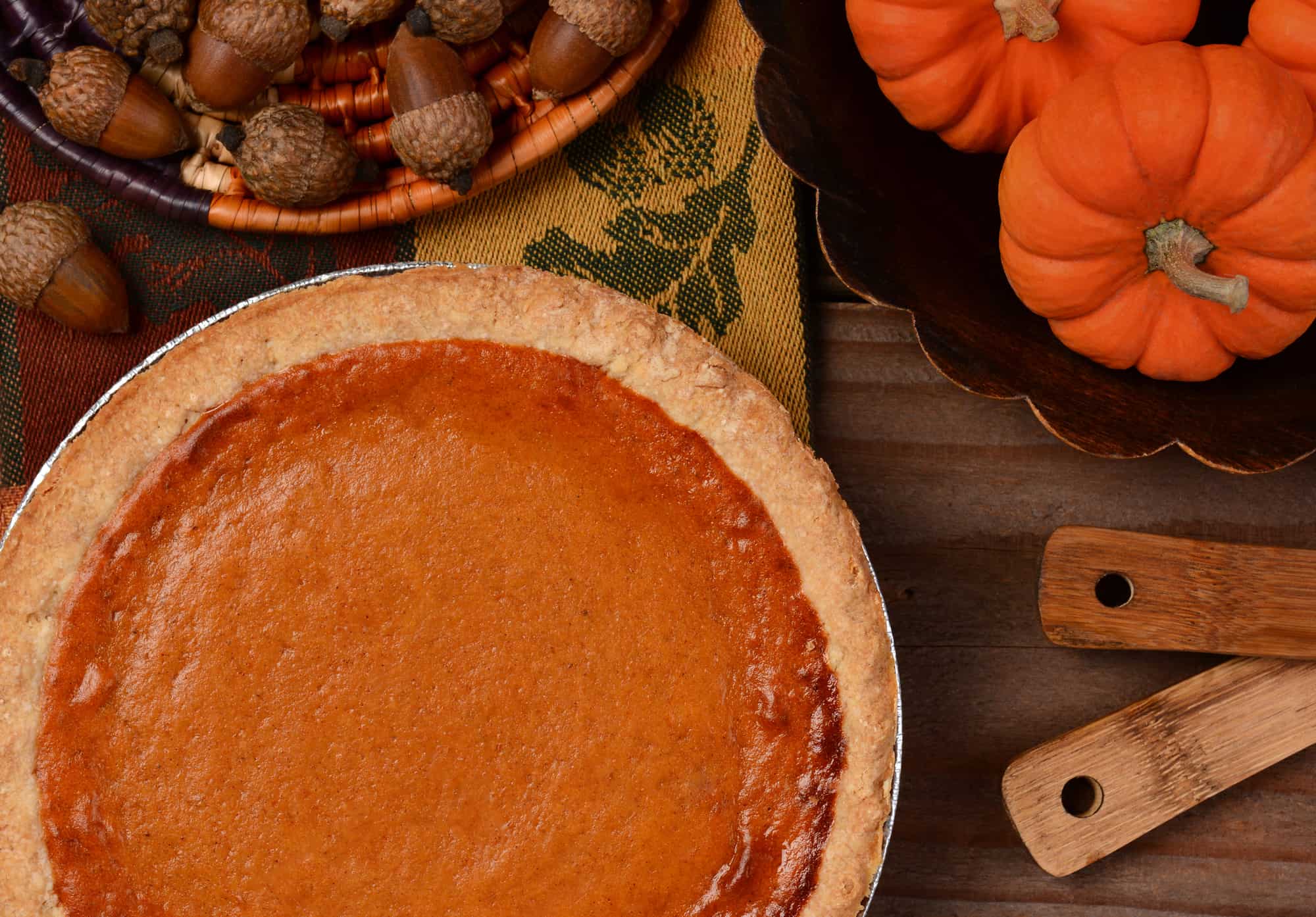 Limit the pots and pans you need to babysit.
I hate standing over the stove, stirring pots while other people relax in the next room. So I try to avoid it at all costs:
Vegetables
Instead of boiling or steaming on the stovetop, roast your veggies to enhance their flavors. Spread them out on a sheet pan, toss with a bit of olive oil, sprinkle salt and pepper, and let them cook in the oven.
Stuffing
Stovetop stuffing is a pain! You're always worrying that its components will scorch on the bottom of the pot.
Instead, break out your slow cooker! You can set it to cook throughout the day and keep the stuffing warm when it's done. Be sure to check your stuffing every few hours to see if it starts to stick, or get a disposable liner for your slow cooker.
Gravies, Soups, and Sauces
Perfect for making in advance! Just reheat in the microwave, and save yourself the hassle of stirring and scraping on Thanksgiving day.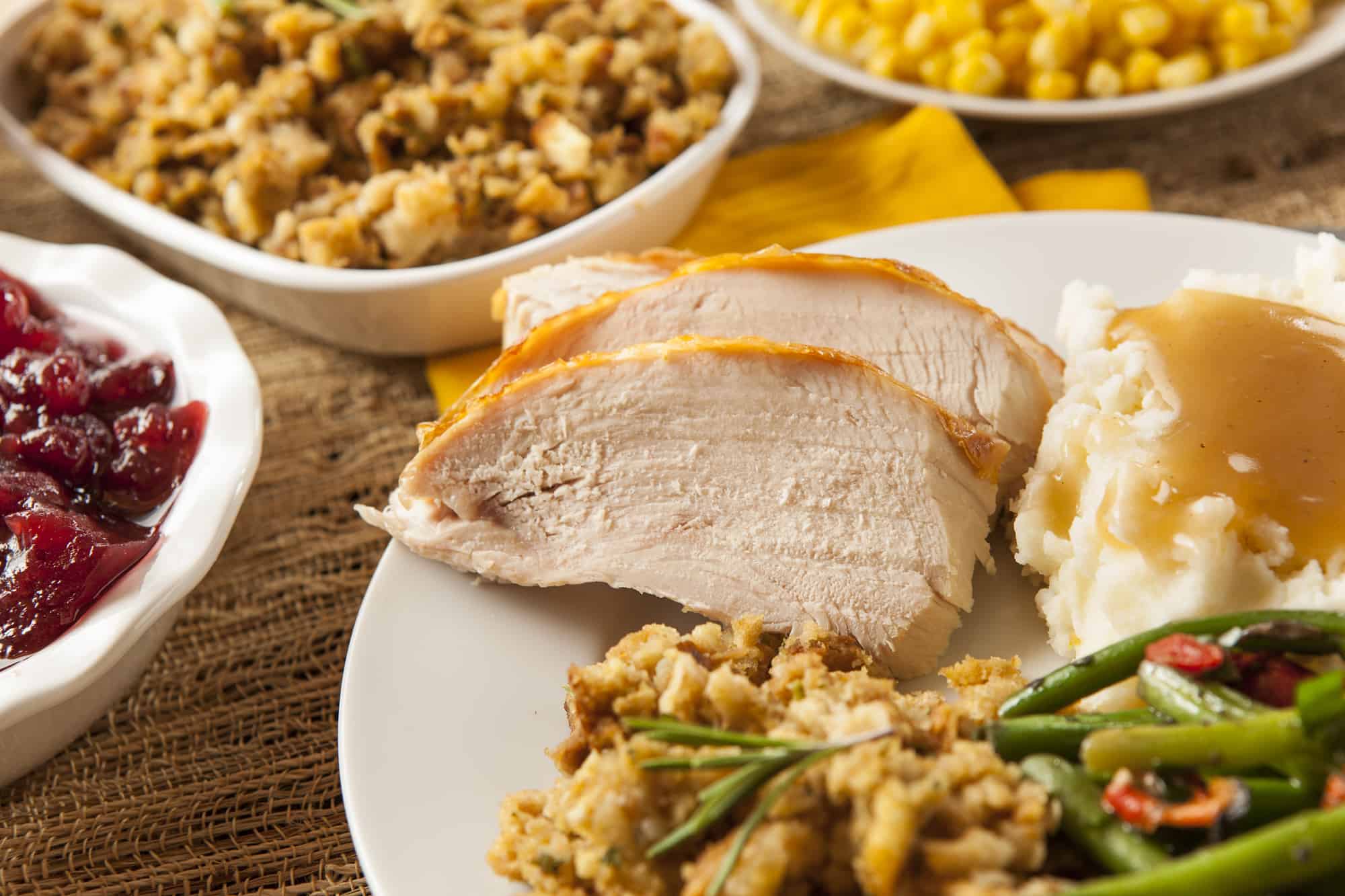 Make clean-up a breeze.
Thanksgiving invariably yields the mother of all dirty dish piles. You've got your guests' used dishes, your cookware, your serving bowls, your silverware, your glassware, and more. It can take days to dig yourself out from under that mess. So, whenever you can, cut down on the mess you're making:
These magical, inexpensive wraps and papers will save you.
Before you go to roast your veggies, line the pan with foil (to contain any crumbs and goo) and then parchment on top of it (to keep the veggies from sticking to the foil or pan).
Line your turkey roasting pan with a gigantic piece of foil to catch the juices. Don't try to use a patchwork of smaller foil pieces; the schmutz will find its way down to the pan's bottom.
Ready to reheat your gravy or soup in the microwave? Cover your microwave-safe dish with a piece of wax paper to contain the steam and stop explosions. Tip: Crumble the wax paper before you cover the dish; the paper will conform better to the dish's opening and be less likely to topple off during microwaving.
Consider disposable bakeware.
There's no rule that says you can't cook your turkey, veggies, stuffing, and almost everything in sturdy, aluminum bakeware that you toss when you're done. No scrubbing for you!
Seriously, do your prep work days in advance.
The fewer dishes you actually have to make from scratch the day of Thanksgiving, the fewer dishes you'll use — and need to clean — that night.
So dirty up your pots, pans, and cutting boards in the days beforehand — you know, when you actually have some room in your dishwasher or sink. You'll drastically minimize the eventual Thanksgiving dish mountain.
Hand out dinnertime leftovers easily.
If you think you'll wind up with way more leftover food than you want — or can easily store — plan to hand it out to your guests. But make it easy on yourself.
Pick up some disposable, plastic containers so you're ready to let your guests pack up and take their bounty home with them!
Thanksgiving doesn't have to be a miserable, marathon day of cooking, cleaning, and collapsing. This year, enjoy the holiday and stress less when you play hostess!
What's your best tip for reducing your holiday hosting stress levels?