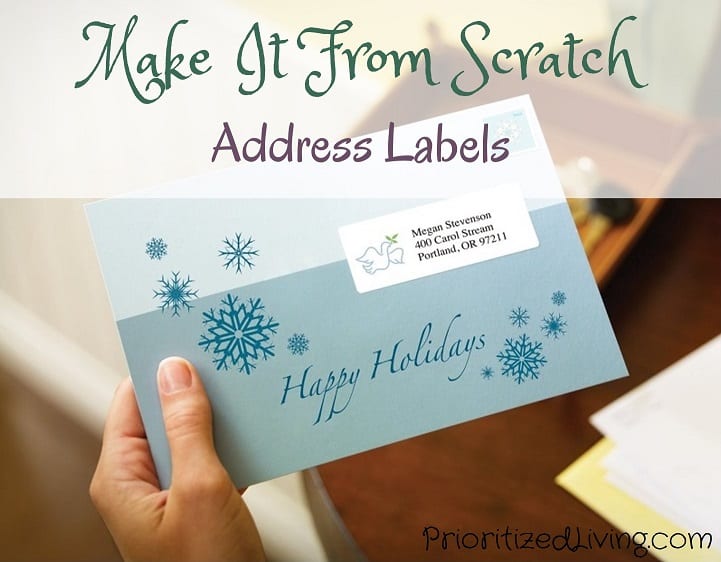 Photo courtesy of Amazon
Note: This post contains affiliate links. Read my policy here.
How much money are you spending on return address labels?
Do you spend cash again and again to order customized labels online or from a mailer? Do you use free address labels sent to you by your alma mater or charities — even though you hate the design and your name is misspelled? Do you you spend hours hand-printing your return address on Christmas cards in lieu of spending for labels?
There's a better way.
You can print your own address labels right at home.
For about 1¢ per label, you can create a peel-and-stick label with any font, color scheme, and image of your choosing. It's cheap. It's easy . . . and it's fun!
Recommended Tools
The Process
Download a template for your address labels. You can open the template directly in Microsoft Word to create, edit, and print. Grab a blank template to start designing from scratch, or customize one of the many pre-designed templates available for free online.
Enter your text. Obviously, include your home address, but consider typing in your family name or a short saying.
Pick a font that's attractive but not overly stylized. Also, be sure to choose a font color that can be read without difficulty. You want your address to be readable in case your mail really does need to be returned!
Select images. This is the creative and fun part, especially since you can put different graphics on each label if you choose!
Go for a summer theme by inserting images of beach umbrellas and smiling suns. Get ready for Christmas with Santa faces, manger scenes, wreaths, and decorated trees. Create labels for thank-you notes by including wedding bells or baby strollers.
I recommend sticking to a single image to the left of your address information. The labels are large enough to highlight a single design element but would easily look cluttered with several images or an elaborate border.
Print! Load a sheet of your blank address labels into your printer, and you can print your customized labels directly from Microsoft Word.
Stick & send!
Bonus Tip
Use your labels for sending mail too!
That's right. You can use your blank labels for more than just return addresses.
Instead of hand-writing (or chicken-scratching) the address of every single family member and friend on your holiday cards or party invitations, type those addresses directly into a copy of your template, print, and stick!
If you're handy with Microsoft Word, use its Mail Merge feature to save your buddies' contact information and make printing even easier — both now and next time!
Making your own address labels is a quick and easy way to save money!