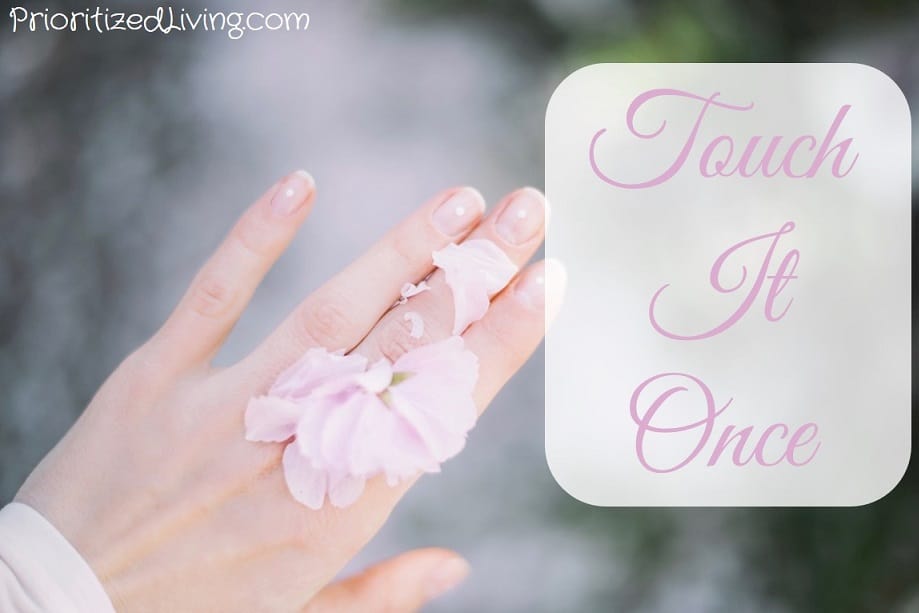 What's one of the best ways to waste your time?
Handling things repeatedly.
Here's an example:
You grab the mail from your mailbox as you're arriving home from work, and you dump it on your coffee table. Later, you open up the mail, scan it, and drop it back in the pile. Another time, you realize it's time to pay some bills, so you sift through your pile to pull out the bills you need.
You return to the pile the next day to dig out your friend's wedding invitation so that you can R.S.V.P. Finally, company is on its way over, so you grab everything off the table to tidy up and dust. Maybe you recycle the junk mail . . . or maybe you hide the papers under your bed until your guests leave.
(You might forget about them at that point.)
With this method of handling your family's paperwork, here are just some of the problems you've inadvertently created for yourself:
You've had to refamiliarize yourself with the contents of your mail every time you touch it.
You've set yourself up to miss or forget about important communication.
You've started a moving pile of clutter that invites more clutter.
So what's the solution?
Touch it once.
Just once.
Imagine this scenario:
When you've blocked out enough time in your schedule, head to the mailbox and scoop up your mail. Open each piece of mail and ascertain what needs to be done with it.
Trash? Chuck it right in the can, or make a pile of stuff to trash when your mail-opening session is over.
Recycle? Again, toss it in the bin or put it in a pile.
Pay a bill? Gather your bills together and put them in your bill-paying area (a file folder, an envelope, etc.). Then tackle those during the recurring time you have set aside for paying bills.
Take some other action? Grab your Post-It notes so that you can categorize and label each piece of paper. Scribble down "File," "Read," "R.S.V.P.," etc.
Then put those things where you'll need them — your magazines in your magazine rack, your reference papers in your file folder, and more.
That's it. You're done!
No more reading your mail over and over as you repeatedly handle it.
No more missed bills, missed invitations, and forgotten events.
And no more roving, silently growing clutter taking over your home.
Touch it once . . . and get back to the tackling the priorities that matter to you!
What have you gained from touching your papers (and other stuff) just once?