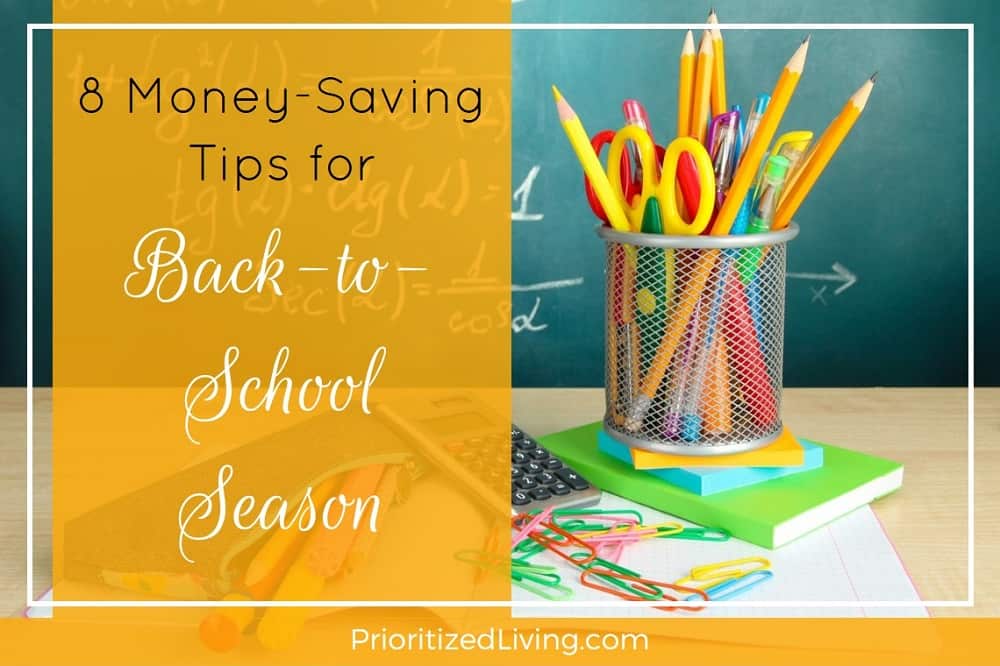 The back-to-school countdown is on!
And that means you've got a shopping list a mile long. Gear requested by your kid's teacher, clothes for the little guy who grew 4 inches over the summer, and must-haves for your home supply closet.
Here are 8 easy ways you can stock up without breaking the bank:
1. Shop your house.
Before you head to the store, look around. See what clothes your kids already have and what can be passed down to a younger school-bound kid.
Gather markers, loose leaf, and erasers left over from last year. Round up the free bank pens you've accumulated. If you have notebooks with only a few pages used, tear out those pages and give your kids some nearly-new notebooks.
2. Spot a killer deal.
You think you've found a great deal, but have you really?
Head over to PriceGrabber to find the best local prices for everything back-to-school. Download smartphone apps like ShopSavvy and ScanLife, which give you barcode scanning linked to price comparison tools.
When prices on must-have items tank, it's time to stock up. Pick up enough pencils and glue to last your family the whole year. If you spot an amazing deal on a too-large package of construction paper, split the cost and the bounty with a friend.
3. Enjoy the holiday.
Many states offer sales tax holidays for school supplies.
On those days, enjoy the rare benefit of tax-free shopping. It may not seem like much for a couple of pencils, but the savings really add up by the time you finish your family's shopping list – or when you need to make a big purchase like a laptop.
4. Play the matching game.
To get you in the door, many retailers offer price matching if you find a better deal on an item at one of their competitors. Some even offer you a discount off the matched price to compensate you for doing your homework!
Staples, Walmart, and Target are major players in the school supplies arena and all offer competitive price matching.
5. Skip the characters.
If your little one is the world's biggest Frozen fan or a wannabe Spiderman, be prepared for serious mark-ups on supplies featuring your kid's favorite characters – and don't expect great quality.
Instead of getting a sparkly Elsa bag or pencil case, find a sweet deal on a quality product without characters. Then splurge on some Olaf stickers so your child can decorate and personalize her new gear.
6. Get it free.
What's better than a bargain price? FREE.
Pair coupons with back-to-school sales to spend nothing at the register. Watch for advertised rebates that repay you for your purchase after the fact. Google local and national organizations that are committed to providing school supplies kids need.
7. Know when to spend.
Cheap supplies can wind up costing you. Your kid's gear needs to withstand a year's worth of abuse, so invest in durable products upfront.
Always opt for safety over a bargain. Lunchboxes need to keep refrigerables cold, while school bags must protect kids' necks and backs. Spring for an insulated lunch tote and a sturdy book bag with thick, padded straps.
8. Savor the moment.
No bargain discovery beats the priceless memories that back-to-school season allows you to create with your kids.
Mark the start of the academic year with a special tradition. Get ready to pose some fun dinnertime questions that beat the old "How was school today?"
Most of all, take a break from the back-to-school prep to cherish the last days of summertime with those special little people!
Don't let back-to-school season empty your wallet. With some smart buying choices, you can save on everything your kids need to conquer a new school year!
What's your best tip for saving on back-to-school supplies?