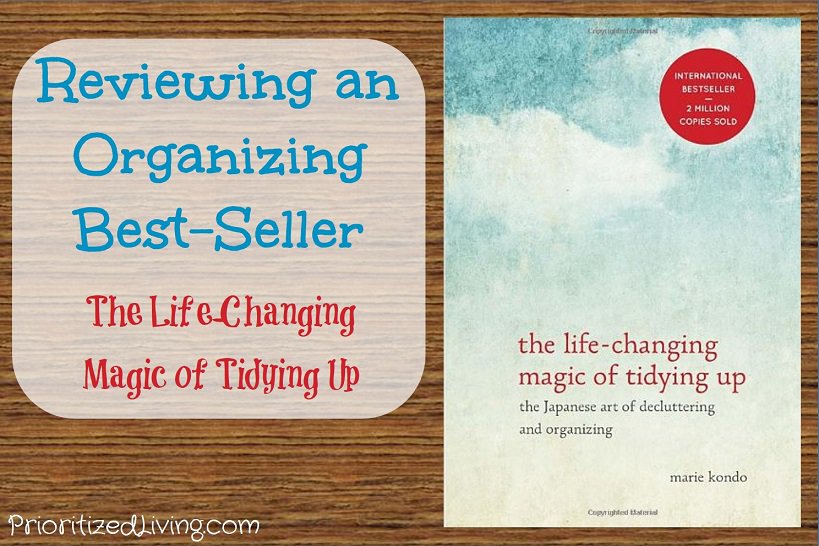 Note: This post contains affiliate links. Read my policy here.
Last year I first started hearing about The Life-Changing Magic of Tidying Up: The Japanese Art of Decluttering and Organizing by Marie Kondo. In addition to authoring this book, Marie runs a consulting business in which she teaches clients how to tidy. She's even rearranged components of her name to give a name to the method she uses and describes in this book — the KonMari Method.
At long last, my local library recently secured a copy of this hot book off The New York Times Best Seller list. I found this little hardcover parked on a quiet shelf and got reading.
Here, for your benefit, are some of the highlights of Marie's great ideas on decluttering and organizing.
Tidying has to be learned.
Marie claims that tidying — unlike other life skills — isn't really taught. You're told to clean your room and you know you want an organized home, but how do you make it happen? Plenty of older and wiser folks continue to live cluttered lives, so experience doesn't solve your problem.
Yes, tidying and organizing are skills. You don't have to be a tidy person. You can learn to become one!
Surround yourself with only the things you love.
Obviously, there are things you need that you might not love. Do I love my vacuum or my outdoor trash cans? No, but I definitely need them and I need to store them.
I can get on board with Marie's basic premise though.
What's the point of keeping a shirt that's ripped or stained, that doesn't work for your body or coloring, or that you know deep down you'll never wear again? There's no reason to hold on to something purely because it used to work for you, you spent good money on it, or it was a gift.
Let it go to someone who will love it or trash it if your item is useless now.
"Sort by category, not by location."
I am all about organizing into zones, and Marie's got it right here.
If your stuff isn't currently in zones, you need to round up everything in a given category before you can figure out what you have, what you want to keep, and what needs to go. If you organize a drawer in your bathroom only to find out later that you have duplicates of your toiletries in another drawer, you've just wasted your time.
Start with the easy stuff.
You will get nowhere first if you start organizing your home by tackling your mounds of old photos and memorabilia. Gear up by tackling clutter with less emotional value. Sift through your papers, your 80s clothes, and your college textbooks. Once you build up momentum, you can level up to sorting through your yearbooks and trophies.
Don't "donate" your stuff to family and friends.
You're not doing your loved ones any favors by foisting your unflattering clothes on your buddies or dumping your pet rock collection in your parents' attic. If you know for sure that someone would love that purse you never use, then go for it. Otherwise, drop off your donations with a charitable organization.
"Sometime means never."
There are some books you truly treasure and wouldn't dream of taking down from the shelf. Then there are the books and piles of magazines that you plan to read (or reread) "someday." Maybe years have passed since these items found their way to you, and "someday" has still not arrived.
Take an honest look at your mountains of literature and ask yourself whether you really want to house and maintain each book or magazine you come across. If not, let it go.
Designate a home for every single thing.
Yes, Marie! You can't put something away if you haven't defined where "away" is.
I recently learned that my 18-month-old can grasp the intangible concept of away. When I asked him to put his picture books away, he stood up and tucked the books back on the right shelf! The shelf was "away" for his books. Sensing a break-through, I asked him to put his toys away, and he eased those into the fabric cubbies from which they'd come.
You don't have to think about tidying up if you know exactly where everything goes. Even better, you can enlist family members to clean up quicker if they know where "away" is too.
Create a home for everything you have, and start enjoying the world of "away."
Piles are the enemy.
Piles are useful only if you want access to the first one or two things at the top of the pile. Kiss everything else in the pile goodbye.
If you've got a tower of books, a stack of magazines, or a mountain of clothes, how often do you use anything below the top layer? Plus, it just looks messy.
You've got two options really.
Marie advocates vertical storage, which is a great choice. File your books and magazines on their sides, so you can just pull one off the shelf. Hang your clothes in the closet or stand them on end in deep bins or drawers to that you can access them without excavating.
You can also store items in a faux stack. Instead of stacking boxes on top of each other, put each one on a separate shelf. You'll have the benefit of high storage without needing to work hard to get the bottom box.
Click here for some of the wackier ideas from this best-selling book. Also, tell me what you loved about the KonMari Method!