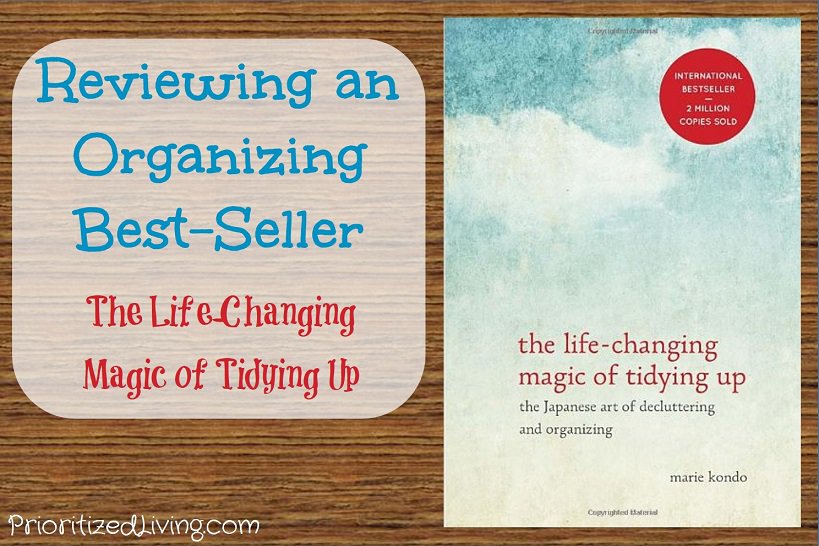 Note: This post contains affiliate links. Read my policy here.
Just recently, I shared some of the highlights of Marie Kondo's acclaimed organizing book, The Life-Changing Magic of Tidying Up: The Japanese Art of Decluttering and Organizing. Today, let's look into some of the wacky ideas and organization no-no's that Marie is pitching as the way to go.
Tidying is a "special event."
Marie states repeatedly in her book that tidying is a massive task that you do exactly once. If you get your house in order, you'll never have to do it again. It's just maintenance from then on.
I totally disagree here. While it's true that you shouldn't need to overhaul your home on a weekly basis, you're going to need to have several "special" tidying events in your life.
If you have a major life change — the birth of a child (and they always come with lots of stuff), the start of a business, the beginning of an exciting new hobby — you're going to find yourself surrounded by new possessions that you're going to have to organize. You may well need to rethink your larger system to make the new stuff fit into your life.
Even if life keeps going as usual however, you'll periodically need to review what's working for you and what isn't and adjust accordingly.
Tidying is "magical."
Marie claims that her approach to tidying is "magic." You will never revert to your old ways of clutter. You won't suffer any rebound at all because of the magical empowering quality of experiencing a truly tidy home.
While this sounds like an amazing sales pitch for her KonMari technique — or really for any product, service, or lifestyle — it's wildly over-optimistic. Don't beat yourself up if you upend your home in tidying it only to find that you've accumulated some papers or your junk drawer is filling up with who-knows-what.
Give yourself a break.
Clutter is only a symptom of a problem.
Marie claims that clutter is a symptom of some deep, psychological issue. I've heard this one from thin people who apply this concept to not-so-thin people. Yes, sometimes it's true that your issues manifest themselves in clutter or weight gain, but sometimes that's no crisis causing it.
You grew up in clutter. You hate tidying. You live with disorganized people. You have other, more important priorities that occupy your time. All of these are legitimate reasons you may be living in clutter.
Don't hold off organizing your space until you see a shrink.
Organizing your home is a life-changing event.
To her credit, Marie is a killer saleswoman for her tidying philosophy. She writes that organizing your home will start a chain reaction of big changes in your life and your perspective on life — both past and present. You'll discover your life's passion, gain confidence, lose weight, and free yourself of the burdens of your past.
If you need a chuckle, enjoy some truly awesome quotes to back up her supposition.
Hopefully this one was intended to be as amusing as it was: "Your course taught me to see what I really need and what I don't. So I got a divorce. Now I feel much happier."
Then there's this gem: "It's a very strange phenomenon, but when we reduce what we own and essentially 'detox' our house, it has a detox effect on our bodies as well . . . We may get a bout of diarrhea or break out in pimples."
You don't need to buy storage solutions.
In her book, the author states that her clients ". . . always find that they have exactly what they need to store their things. They don't need to go out and buy storage items."
That sounds spectacular, but don't count on the fact that you'll magically have the right amount of storage space for the items you decide you want to keep. Even if you have storage, you may find that your current storage solutions just aren't working.
Marie recommends used shoe boxes for storage and their lids as trays. Just don't. If you need watertight, airtight, bugproof, sturdy, stackable storage boxes, get yourself some good-quality storage totes instead.
Keep nothing in the bathroom and empty your bag daily.
These ideas just sound like an unnecessary pain.
Marie tells us that she keeps her bathroom toiletries organized by wiping them dry after each use and storing them outside the bathroom. Likewise, she removes the contents of her purse each evening — presumably only to reverse the process in the morning.
Organizing shouldn't make your life extra complicated. Feel free to leave your shampoo in the shower.
Now grab your Clearasil and Imodium, and get organizing!
What issues did you have with the KonMari Method?