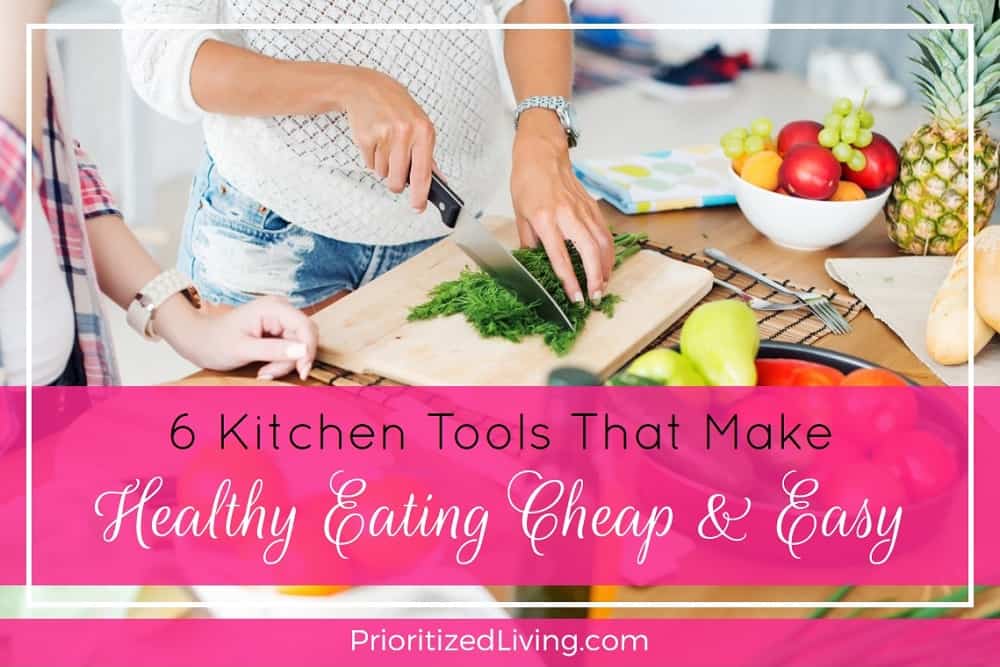 Note: This post contains affiliate links. Read my policy here.
We all want to eat fresh and healthy foods. And we want to serve them to our spouses and kids too.
But eating junk is just so much easier! There's none of the washing, prepping, slicing, cooking, and storing that you have to tackle with fresh produce, meats, cheeses, etc. Instead, you just grab and go.
And you pay a pretty penny for that convenience — not to mention the toll it takes on your health.
But what if you could enjoy fresh, healthy foods easily, conveniently, and at a great price?
Here are six of my all-time favorite kitchen tools for enjoying good-for-you foods on a budget: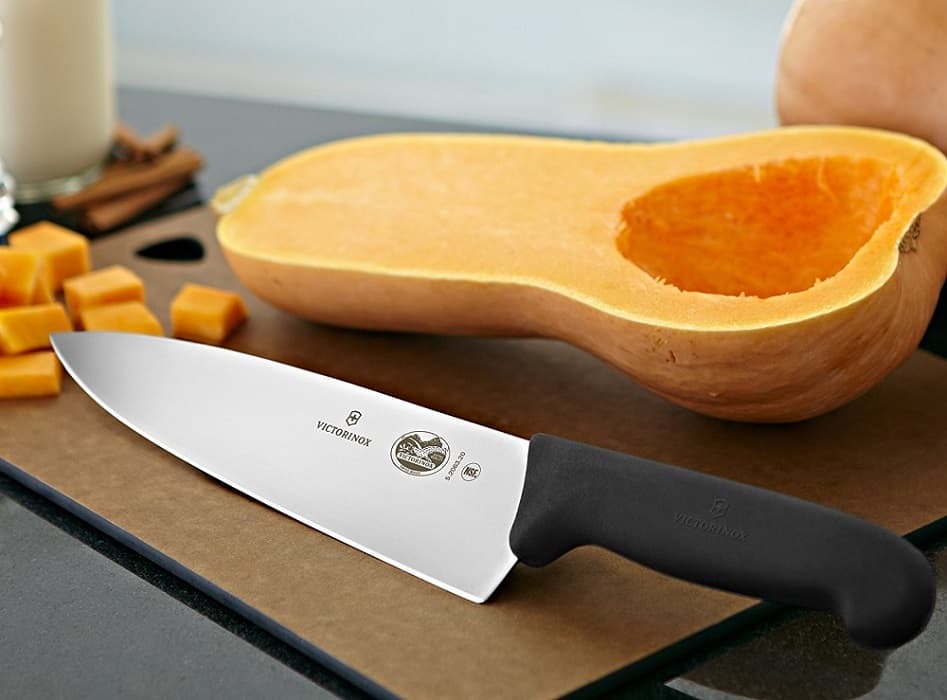 Photo courtesy of Amazon
1. A real knife
If you think that owning a chef knife is a great way to cut off your arm, I'm here as an expertly uncoordinated person to tell you that you're actually safer chopping things with a big, sharp knife.
Ever tried slicing neat chunks of carrots or sawing open a hefty sweet potato with a simple steak knife? You've probably gotten poor results at best . . . and experienced seriously dangerous cutting conditions as well.
A razor-sharp, well-made chef's knife is 100% worth the financial investment. It offers a rapid way to get controlled cuts while preserving your safety. And it's one of the most versatile and frequently used tools you've ever have in your kitchen.
Instead of paying the exorbitant mark-up for pre-cut apples, julienned carrots, and diced onions, spend less by picking up whole fruits and veggies and making quick work of them with a quality chef's knife.
And be sure to keep your knife in fighting form with frequent use of a honing steel and regularly scheduled sessions with a fool-proof electric knife sharpener.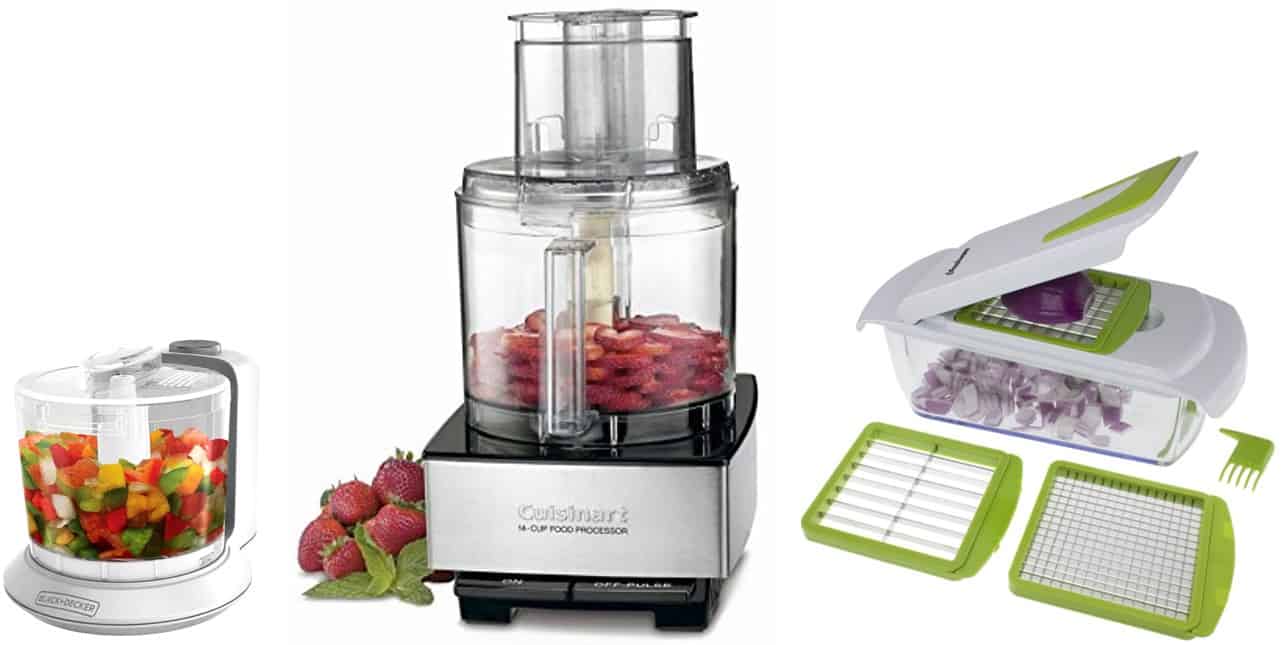 Photos courtesy of Amazon
2. An easy way to chop food quickly
Even once you've mastered the techniques of slicing, dicing, and mincing with a quality knife, you may still not want to tackle the high-volume or just plain annoying cutting jobs. And if you have enough of those, then a food processor or a food chopper is just what you need.
Each of these serves a different function, and I'm completely happy to own a full-sized food processor, a mini food processor, and a food chopper as well.
Large Food Processor
The large food processor is my favorite tool for slicing pounds of onions (mmm, homemade caramelized onions!), mixing stiff doughs, decimating Graham crackers for a pie crust, mincing garlic, whipping up homemade puréed baby foods, shredding tons of carrots or cheese in an instant, and oh so much more!
The amount of prep time it saves me — as well as the amount of money I keep since I'm not spending on pre-cut, pre-made groceries — is mind-blowing.
Mini Food Processor
The mini food processor is something my husband and I bought when our son started moving from puréed baby foods to mashed-up versions of our meals. Let me tell you . . . hacking up our foods by hand — into teeny-weeny pieces no less — got old fast! It was frustrating to chase down a few tablespoons of food with a knife and totally inefficient in our massive food processor.
But the mini processor is just the right size! And it's great for all sorts of other small processing jobs in the kitchen as well.
Food Chopper
The manual food chopper is something that's awesome for medium-sized chopping tasks. If I have to dice or slice up one onion, I'll use a knife. Ten onions and it's the food processor for sure. But three or four? Then it's time for my handy dandy food chopper.
Whip it out, slam down the lid to get perfect slices and dices, and toss it in the dishwasher. Done!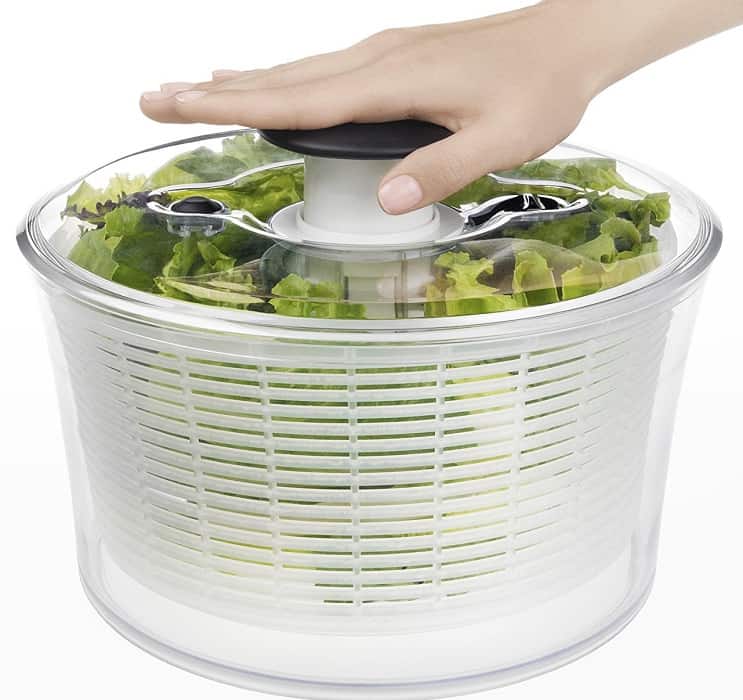 Photo courtesy of Amazon
3. A salad spinner
Washing your greens in a colander and painstakingly drying them with fabric or paper towels is an excellent way to drive yourself absolutely nuts. And shelling out for prewashed bags of lettuce instead of picking up a whole head of the stuff is money down the drain.
A salad spinner solves both of those problems. Grab a head of lettuce, quickly slice through the leaves with that awesome knife of yours, and toss them into your salad spinner's colander.
Rinse, plop into the spinner, spin (whee!), and your greens are dry. It's really that quick and easy.
Ready for more? Read Part 2 of this series here!
Share in the comments . . . what's your favorite kitchen tool or gadget for eating well on less?