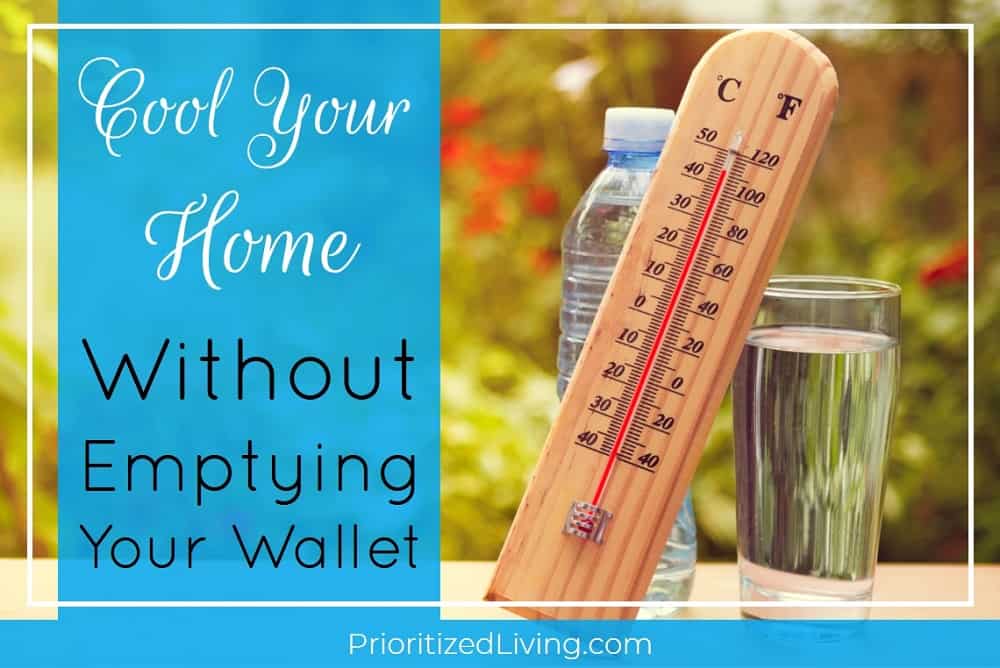 Note: This post contains affiliate links. Read my policy here.
Hellooo, summer!
The school year is coming to an end. The temperature outside is climbing. And the heat inside? Well, that's heading up to uncomfortable levels too.
Staying cool in your home this summer can, unfortunately, cost you dearly.
If you want your home to be pleasantly livable when the outdoors feels like an oven, you may think that you need to pay for the privilege. But keeping cool doesn't have to drain your wallet. In fact, here are some easy ways to stay comfy and money smart.

Install a whole-house fan.
A whole-house fan (sometimes improperly called an attic fan) sucks outside air into your house through open windows and pushes inside air out through the attic.
And it can save you a bundle.
While you may be air conditioning your living spaces, chances are that your attic is turning into a furnace on hot days. As a result, your air conditioner has to fight the hot air that's accumulating in the tippy top of your home.
Turning on your whole-house fan shoves out that hot air and brings in cooler air from outside, saving you money on chilling your home. Plus, as a bonus, turning on your whole-house fan creates a refreshing breeze through your open windows.
Sure, your whole-house fan won't replace your air conditioner, but it can save you the expense of turning on the A.C. on days when the fan's effects will suffice. And it'll lower your air conditioning costs by saving your A.C. from having to battle hot attic air.
Bonus tip: To maximize your whole-house fan's effectiveness, take advantage of the coolest times of the day. Even if the forecast predicts temperatures in the 90s, open your windows and turn on the attic fan in the morning while the outside air is 70 degrees. Your HVAC system will have to work much less throughout the hot day to maintain cool temps inside.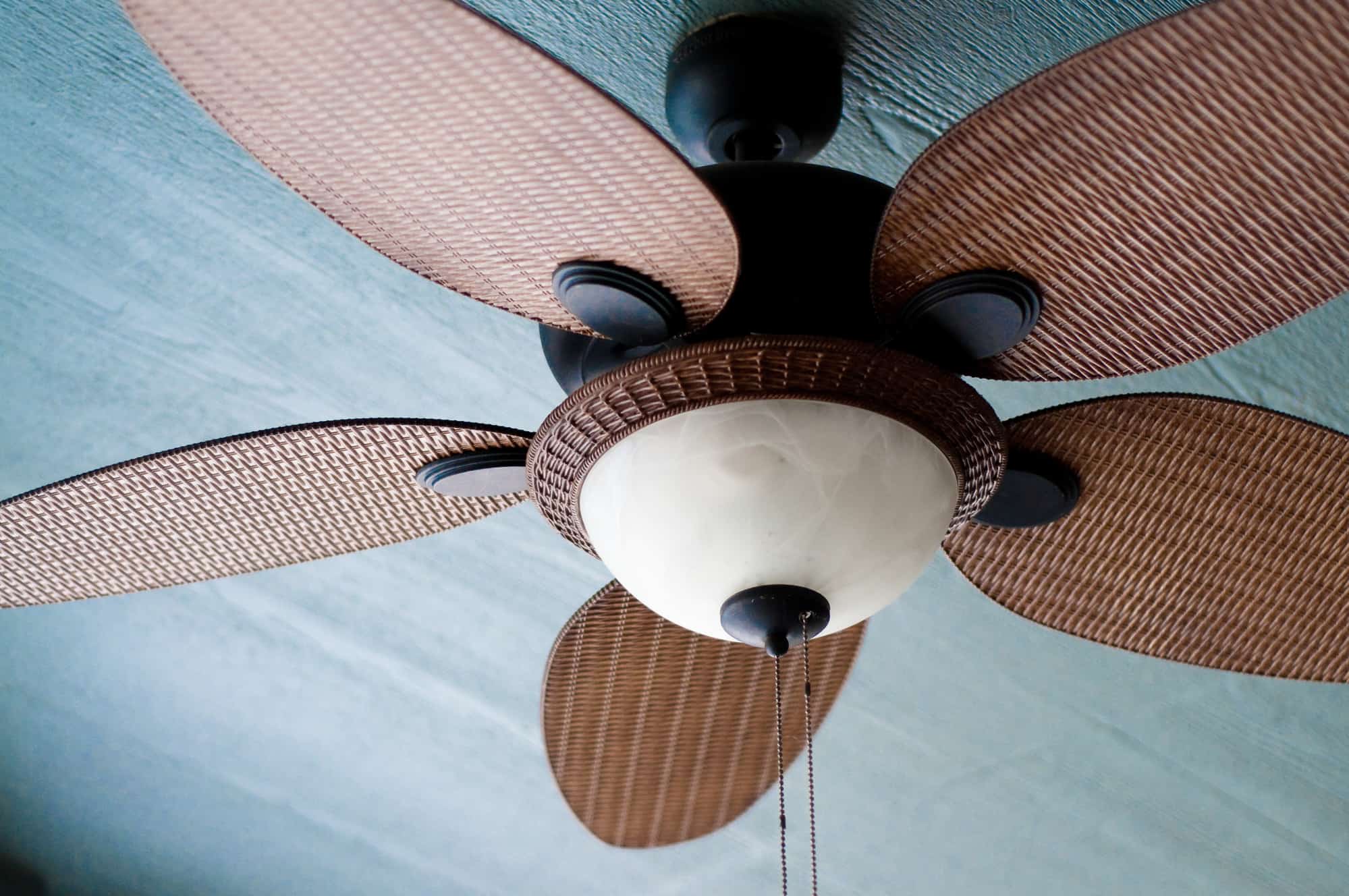 Install ceiling fans.
Ceiling fans are another excellent, low-cost way to create a cooling breeze in a room and transform a stuffy space into a refreshing one. They're perfect at nighttime for bedrooms, and many are attractive enough to place in family rooms, dining rooms, and even covered porches.
Depending on the height of your ceilings and your DIY skills in general, installing a ceiling fan can get a bit tricky. My husband and I installed ceiling fans in all our home's bedrooms shortly after our sweltering June move-in date. Installation would have been a huge project during a crazy, busy time in our lives, so we wound up outsourcing the task to a handyman. Money well spent!
Bonus tip: Keep in mind that, unlike air conditioning, fans cool people and not rooms. Your ceiling fan won't change the temperature of your room, so don't leave it on when you're not present to enjoy the benefits.
Selectively cool rooms.
It pays in real money to be strategic in your approach to cooling your home. And a massive way to save is to avoid wasting money on cooling a deserted home or even vacant rooms.
The solution? A programmable thermostat. You can go nuts with the bells and whistles by shelling out for an Ecobee or a Nest. Or you can simply spend $20 on a basic, reliable programmable thermostat.
Once you've attached your gadget to the wall, follow the instructions in the manual to set your custom schedule. You choose when your air conditioner changes temperatures. If everyone's out of the house at mid-day or is gone on Sunday mornings, tweak the temp accordingly.
If you have multi-zone cooling — like an air conditioning unit for the first floor and a second one for your upstairs level — you can take your game to the next level. Install one programmable thermostat in each zone. Then, you'll have the flexibilty, for instance, to cool just the first floor during the day and chill out the second floor at bedtime.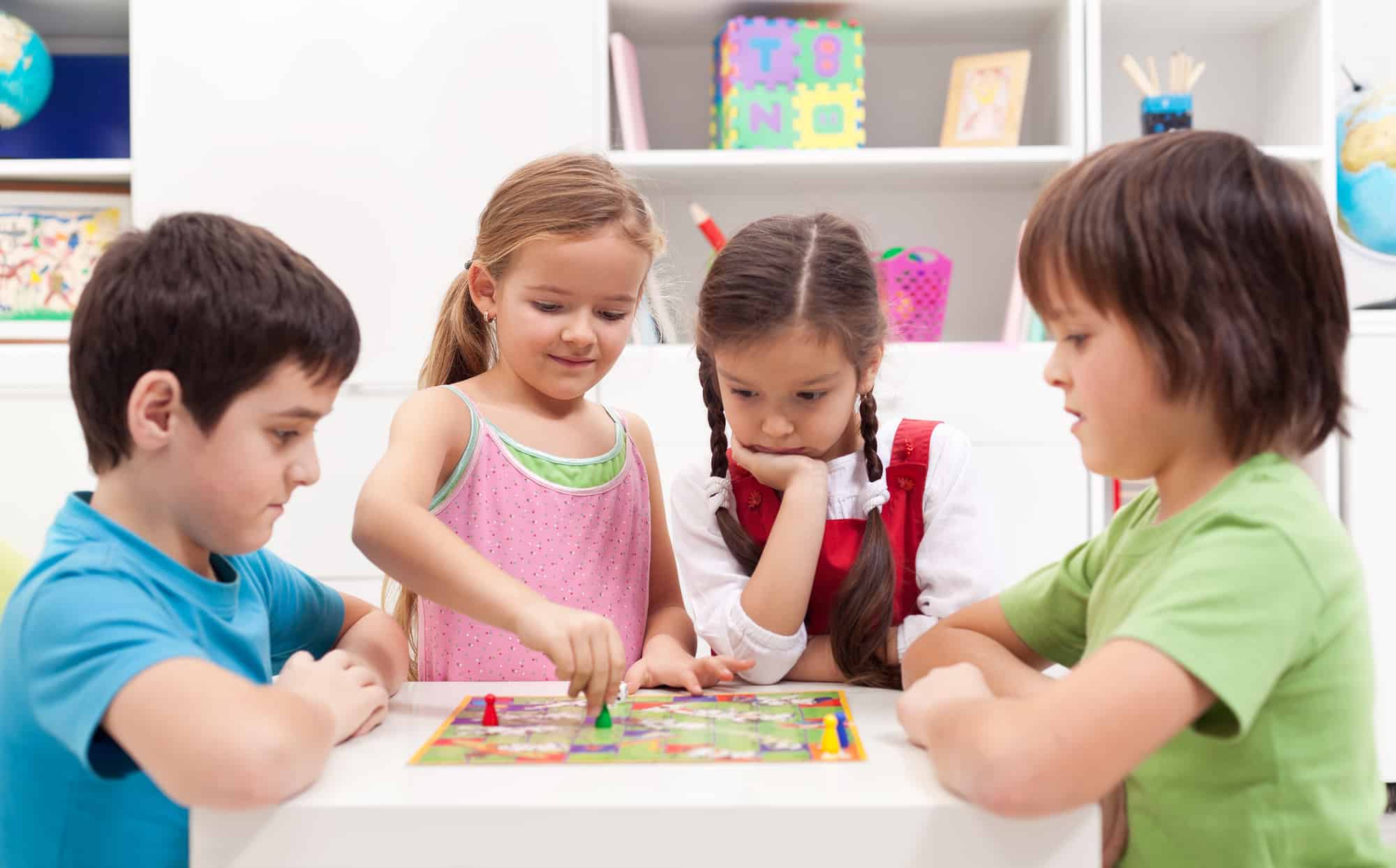 Hang out in the basement.
It wasn't until fairly late in my childhood that I experienced the joyous day my parents installed central air conditioning. Before that, my siblings and I spent a lot of time in our family basement!
Our basement wasn't even a fancy one. It was only partially finished, but we enjoyed endless summer hours playing board games, reading on cushions, battling it out in ping pong, and even roller skating down there.
Head down to your basement and see if the air isn't refreshingly cool down there. If your subterranean space suffers from too much humidity, invest in a dehumidifier to create a cozier environment.
Get out of the house.
If your air conditioner has ever broken down during a heat wave, you've probably learned that abandoning ship is sometimes the best course of action. So go ahead, give up, and retreat to a well-chilled mall, library, or frozen foods supermarket aisle!
Summer is a great time to get out and do things though, so think of escaping your home as an opportunity to save on utility bills and have fun!
Head to the pool, beach, or water park for outdoor fun. Find fun local indoor activities like summer library clubs, bowling, pottery painting, movies — whatever! And consider taking a day trip for an adventure that's farther afield.
How have you saved on your home's cooling costs?
This article was originally published on June 6, 2016 and updated on June 11, 2018.