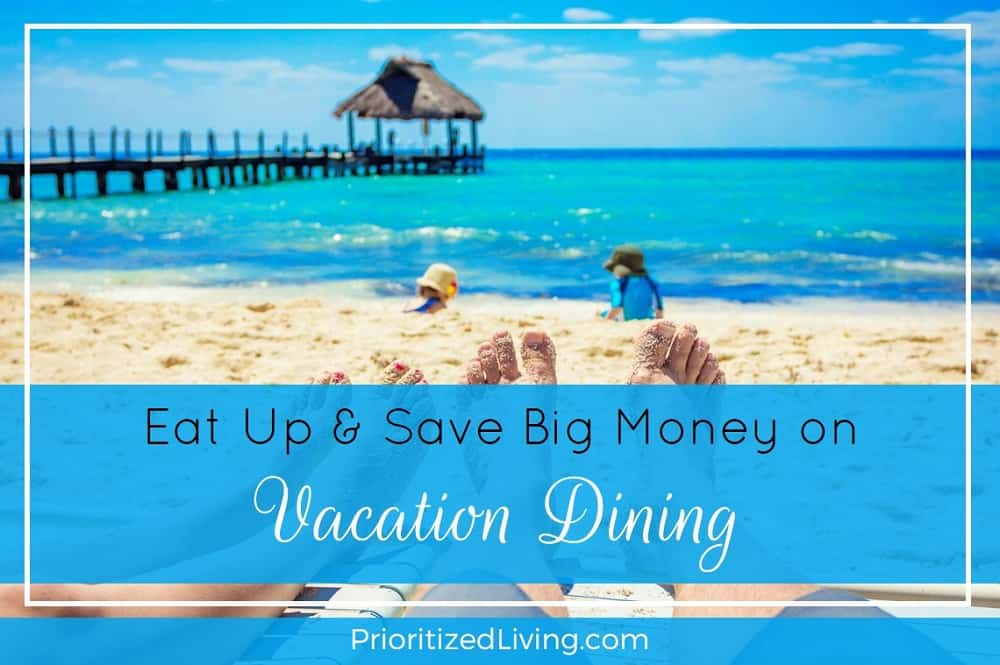 Note: This post contains affiliate links. Read my policy here.
You've got the vacation bug!
You're ready. To ride the waves, relax in the mountains, or take in the culture of a new city.
But eating out on vacation is a major expense. If you're used to planning your meals and sticking to a food budget at home, heading out to restaurants three times a day is bound to give you palpitations!
Think that you need a big budget for your family's vacation meals? Think again!
Food-related costs are one of the easiest to minimize when it comes to travel. Even better, there are some painless ways to do it without feeling as though you're pinching pennies!

Save big on breakfast.
Check out the prices for an egg and a slice of bacon on your room service menu.
Then pick your jaw up off the floor.
Even if you get your family out the door with stomachs grumbling and head to a nearby diner, you may still be paying $10+ per person — or more in a tourist area.
The easiest thing to do here is likely to find a hotel that offers a free continental breakfast.
It's simple to find which hotels offer this service on their websites and on most travel sites. If that's not an option for you or if the idea of corralling your family at a breakfast buffet gives you a headache, you can still save a ton.
In lieu of rounding up the troops to pay for an overpriced meal, keep basic breakfast supplies in your vacation rental.
Cereals, instant oatmeal, granola bars, bagels, and muffins can be picked up from a supermarket and stored on hand. If you have a refrigerator, you can hang on to milk, juice, yogurt, fruit, cream cheese, jelly, and waffles. A microwave or toaster can heat up foods, while a burner allows you to whip up vacation omelets and pancakes.
Best of all, the kids can grab their own breakfasts while you sleep in.
Find the balance.
Every meal doesn't have to be an overpriced extravaganza.
Plan ahead by consciously choosing times and restaurants for "special" meals. Maybe you'll head out for a candlelit meal at a nice Italian place and spend on the stylish new Mexican place in town.
The rest of the time, stick to thriftier meals. To save even more on your special dining experiences, visit those restaurants for lunch! You'll likely run into smaller crowds while avoiding the dinnertime markup.
Land savings on restaurants.
Do a little research before you head out to a restaurant.
Deal sites like Groupon, Living Social, and Restaurant.com may have special deals that give you up to 50% off your purchase! Buy a discounted gift card to your restaurant through a reputable site like Raise.com. Find a coupon online or pick up a local coupon book to see if you can land a printed savings pass.
Whip up a meal.
If you have access to a stove, toaster oven, or even microwave and decent cooking chops, pull together a family meal! You get the pleasure of home cooking while being able to relax in your rental when everyone is worn out.
No way to cook? Load up the slow cooker with your suitcases. Before you head out for your day's adventures, prep the ingredients for that day's dinner and let them simmer away while you're gone. Even easier, pack up some dump-and-go slow cooker meals in Ziploc bags to no-effort, delicious dinners.
Make your own takeout.
Before you leave home or before you journey out into paradise each day, put together some grab-and-go food.
Wrap up some sandwiches for lunch. Bring snack foods like cereal bars, fruit, cookies, and more. Pack up water bottles, juice boxes, and soda cans from the supermarket so you don't have to pay top dollar on the street.
With a little pre-planning and some smart choices, it's easy to save hundreds of dollars in keeping your hungry family fed on vacation! By steering clear of never-ending, over-priced menu options, you'll be able to put your cash toward memorable vacation experiences with your family.
Updated since original publication on 8/25/16
What are your top tips for minimizing food costs on vacation?