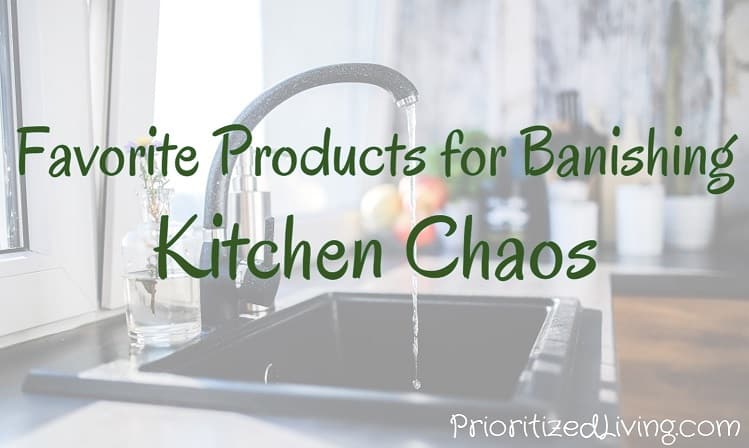 Note: This post contains affiliate links. Read my policy here.
Cooking can be a refreshing and relaxing experience . . . but not when you're pulling out your hair trying to find everything you need. Digging through a vat of pot lids, hauling everything out of the freezer to find tomorrow night's roast, and trying to get everything away so that your kitchen doesn't look like a war zone can make the process something to dread.
A disorganized kitchen is stressful and wastes your time every minute that you have to do battle with it. I've discovered and come to love the following tools for keeping my food and equipment organized, which in turn saves my time and sanity.
Vertical Storage Rack
Goodbye, pile of nested dishware!
At last count, I had five vertical storage racks in my kitchen. For many uses, those with evenly-spaced rungs are perfect. However, I love these racks have adjustable rungs. These are fantastic for accommodating large-width items or a collection of items of varying size.
Mine currently house a collection of skillets and some heavy, glass lids that I want to keep firmly secured. Other racks can separate baking dishes, cake pans, cookie sheets, muffin tins, pie plates, lids for large dishes, and more.
Spice Rack Drawers
Corralling a host of spice bottles of different size can be a challenge for many spice storage options, so I love this little rack. Two of them fit perfectly side-by-size in one of our kitchen cabinets and can handle a six-inch spice bottle in a single compartment or two stacked tiny jars. Just open your cabinet, pull out the drawer, grab your spice, and go. Spices are kept compact, easily-accessible, and out of sight.
My set of drawers came with stickers for labeling each drawer so that you don't have to remember where you put every spice. Bonus: I've found that there are a great way to organize vitamin and medication bottles.
Freezer Bins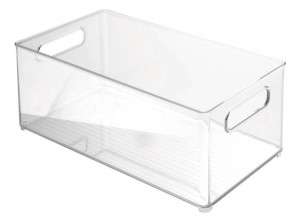 No more digging through piles of frozen mysteries or pulling everything out of the freezer to dig out that bag of corn in the back. My bottom-freezer refrigerator has separate drawers but gets a big helping hand organizationally from these freezer bins. They're deep enough to handle portions of meats and bags of frozen vegetables.
I love them for organizing my quart-sized bags of homemade baby food, which would get hopelessly lost otherwise. Plus, the handles let you take the whole bin to the counter or rearrange your freezer quickly.
Utility Tower
In our first home when we married, my husband and I were tight on kitchen space and had no pantry whatsoever. Sitting in the corner of our kitchen then and in our pantry today, his fantastic purchase is the perfect indoor recycling organizer. Generous drawers allow you to keep your bottles and cans, cardboard, and paper separate. When it's time to take it to the curb, just pull out the bin and dump it in your outdoor recycling container. The bins rinse out easily and are incredibly solid.
The version I have contains two large bins and one shallow bin but is otherwise like the one pictured. Bonus: These are also great in the garage for storing any number of items and can be wheeled around or locked in place.