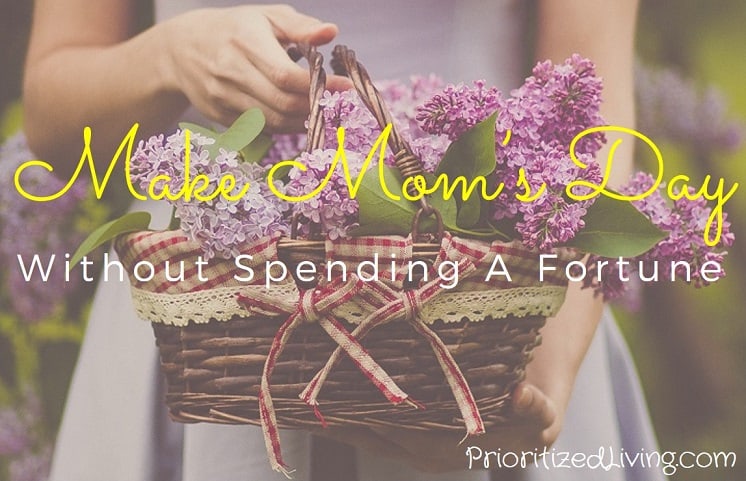 Pricey jewelry that's too nice for almost every occasion and expensive brunches at crowded restaurants aren't the things that make Mother's Day great. Sometimes less really is more. In planning to celebrate that special woman in your home, consider these low-cost (or no-cost) ideas for brightening her day:
Give flowers. (Yes, really.)
Maybe it's cliché, but how many moms wouldn't appreciate a bright and simple bouquet any day? Mother's Day is no exception. Give Mom a bright bouquet to enjoy on a sunny windowsill or on her bedside table. (Just don't pick flowers from her garden.)
Create something heartfelt.
Write a sweet note. Draw a picture. Put some time into a craft that she'll treasure. Give Mom something to smile at on those days when the kids are screaming and coloring the walls.
Fill a basket.
Think of some activity Mom likes and use it as a theme for a basket. Perhaps create a reading basket with some good books, a blanket, a bookmark, and some candles. Maybe she'd enjoy a basket brimming with chocolate goodies or movies she loves. Make sure you give her time to enjoy the basket!
Take a photo.
Get everyone smiling and snap a happy family photo. If it's been a while since you've had a professional photo taken, sneak the kids out of the house before the holiday and gift Mom a shot of the kids looking their best.
Last year, my mother-in-law sent me a card with a collage of photos of my then-infant son. (It hung on the fridge for months!)
Go out.
Everyone is wrestling their kids in overcrowded restaurants on Mother's Day, so try something different. Go for a stroll along in town. Take a family hike. Pick a location that's right up Mom's alley.
Give the woman a break.
This alone could make Mother's Day heavenly for most women.
Don't let Mom run herself ragged with a slew of chores. Divvy up Mom's usual share of effort for the day or — if you want major brownie points — for the weekend! If you want the woman to love you even more, clean the bathrooms.
Finally, forget breakfast in bed. Let Mom sleep in.
Treat her like she's more than Mom.
Create romance! Put the kids to bed early, set up a candlelit dinner, crank up the slow tunes, and twirl her around the living room. Remind her why she agreed to be the mother of your children.