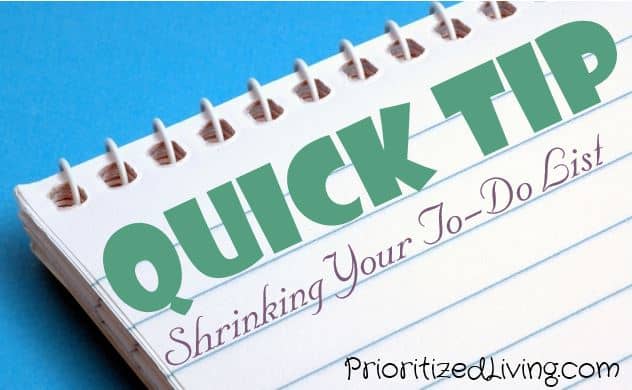 Note: This post contains affiliate links. Read my policy here.
Floating around in your head, scrawled on a scrap of paper, meticulously documented in a spreadsheet, or penned in a planner is a list of things you need to do this week. It's not a short list. There's a significant chance that's it's an unachievable list — a list that you can not complete in its entirety this week. Have you inadvertently set yourself up for failure? That's no way to start your week.
Delete something on your to-do list.
"But I need to do everything on this list!" you say. I've been there. Look again with a super-critical eye and see whether that's really true. Something has to give if you've got too much on your plate.
When your to-do list is too big for your schedule, either you pick what has to go or your schedule does. [Tweet.]
Some ideas to get you started:
Scratch off your hour-long gab fest with your friend. You can call her next week and really be present.
Give up on the deep cleaning you were planning. Do a quick wipe-down and scrub another day.
Eliminate time for making homemade yogurt or baby food. This week, grab store-bought to save time.
Cross off the lengthy trip to the store. Buy online and have necessities delivered or scheduled for pick-up.
Ditch the calculator. Use tax preparation software or an accountant to zip through your returns.
Sign up to receive blog posts E-mailed directly to your inbox!
What can you cross off your to-do list today?