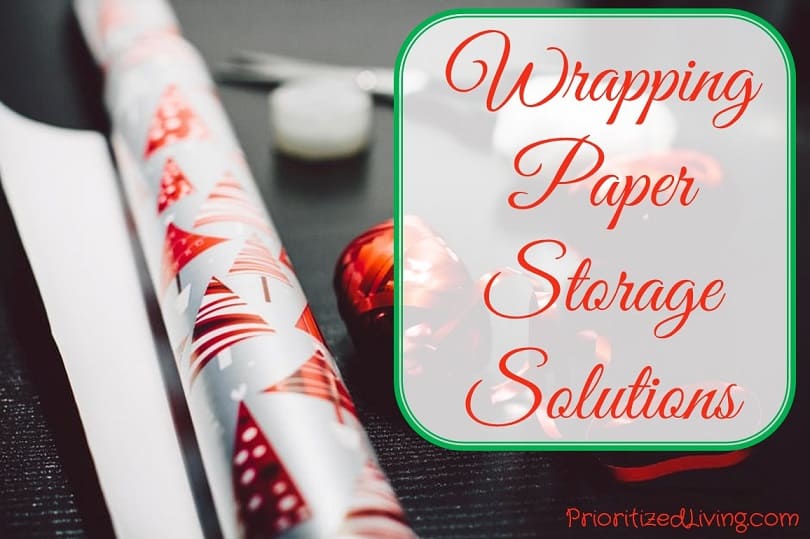 Note: This post contains affiliate links. Read my policy here.
It's that time of year again . . .
Once you've accomplished your mountain of holiday shopping, you steel yourself, open your wrapping paper closet, . . . and face the avalanche of wrapping paper tubes.
Your bows are squished and scattered. Your tissue paper is crumbled. Your gift bags and gift tags are . . . somewhere. And you realize as soon as you sit down to wrap that your tape and scissors are stashed in your junk drawer at the other end of your house.
Getting organized for gift-wrapping shouldn't take more time than the actual gift-wrapping.
Before you settle in with your mug of cocoa for this year's wrapping marathon, get the storage tools you need to go from wrapping supplies mayhem to bliss.
Here are a few ways to bring order to your wrapping chaos:
Stand-Up Storage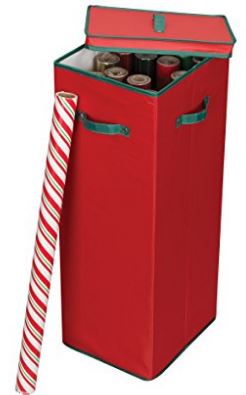 If you've only got a corner of your closet for storage, choosing a vertical organizer like this stand-up storage box is a perfect option.
This particular organizer holds up to 20 rolls, has handles so you can easily move it to your wrapping area, and even comes with an internal, removable grid to keep your wrapping paper standing upright.
Plus, the sturdy lid not only keeps your wrapping paper free of dust but also allows you to stack additional storage items on top.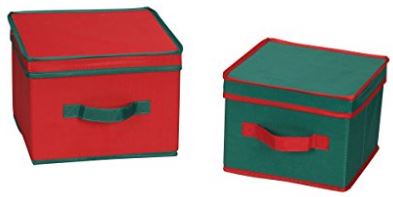 For instance, you can pick up a set of these color-coordinating, small storage boxes. Use them to stash gift wrapping accessories and tools like bows, ribbon, gift tags, tissue paper, gift bags, scissors, and tape.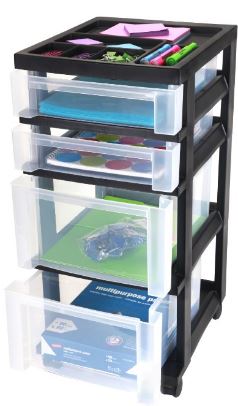 If you have tons of wrapping accessories, you may need a serious storage solution. Grab another handy vertical organizer in the form of this 4-drawer storage cart with a divided tray on top.
Use the shallow drawers for cardstock or gift tags. Dive into the deep drawers for bulky bows and to file away your gift bags and tissue paper.
Under-Bed Storage
If you want your wrapping paper out of sight and out of mind, take advantage of some often-forgotten, sizable storage area in your home — the space under your bed.
This transparent under-bed storage box holds oodles of wrapping paper. You can slide multiple boxes under the bed or stack them easily.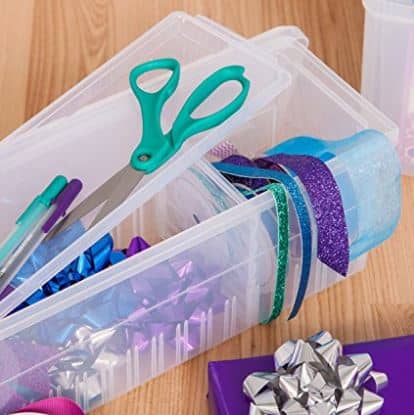 Plus, the big underbed box is perfect for creating a super-organized, all-in-one gift wrapping center. Plop one or more of these ribbon and craft organizer boxes into the big box alongside your gift wrap. These small, divided boxes make it easy to corral scissors, tape, pens, bows, and more.
Over-the-Door Organizer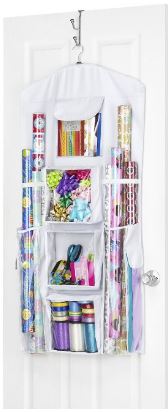 If you have zero floor space anywhere, consider a system that sits on the back of any door in your home.
This over-the-door organizer has holding areas for wrapping paper and 4 self-contained compartments for ribbon, bows, scissors, tape, gift bags, tissue paper, and more.
Plus, the hanger lets you unhook your organizer from the door and take the whole system to your gift-wrapping area with one hand.
Closet Rod Hanging Organizer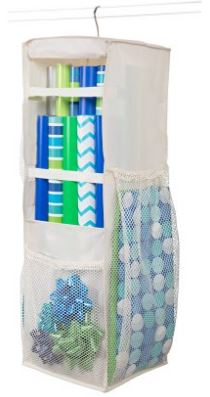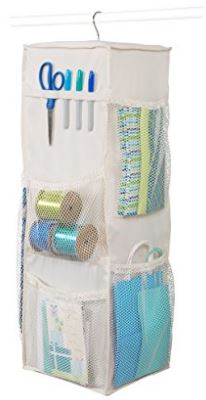 If you've recently
found some room in your closet
, check out a
hanging gift wrap organizer
. This beast of a system holds 25 rolls, boasts 6 see-through pockets of various sizes, and features a set of elastic loops (great for scissors, markers, and more).
The whole setup is suspended by a sturdy hanger that allows the organizer to rotate, giving you easy access to all 4 sides.
Happy wrapping!
What's your secret for organizing your holiday gift-wrapping supplies?