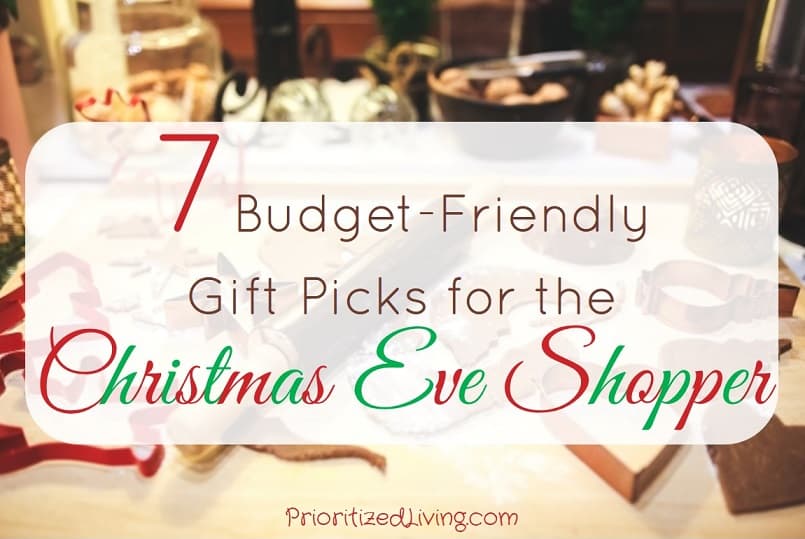 Note: This post contains affiliate links. Read my policy here.
When I was growing up, one of our annual Christmas traditions was waving goodbye to Dad for a few hours on Christmas Eve. He was off to the mall for Christmas gift shopping!
Every year, we never knew what to expect from Dad under tree. In my case, I think that was primarily the result of having a kooky dad . . .
. . . but it's slim pickings out there on Christmas Eve!
If you struggle to find great holiday gifts at the last minute, back away from the eye shadow collections and novelty socks.
Whether you're a self-proclaimed procrastinator or the holidays have just snuck up on you this year, you absolutely can get your hands on gifts that people love.
And you can do it on a budget.

The Perfect Magazine Subscription
In this digital day and age, almost everyone craves the excitement of something fun in the mailbox.
With the gift of a magazine subscription, your loved one gets something to look forward to every week or every month!
There are a ridiculous number of niche magazines out there, so think about your giftee's interests. Then click your way over to Amazon's huge supply of magazine subscriptions. (There are tens of thousands of magazines available.)
Choose your magazine and be sure to tell Amazon that your subscription is a gift. When you complete your purchase, you'll have the option of sending your recipient a gift notification E-mail on the spot or of printing a pretty gift note.
Stuff that in a card and head out the door for your Christmas gift exchange!
Easy Homemade Baked Goodies
Homemade gifts impart a warm and fuzzy holiday feeling.
That said, I am the farthest thing imaginable from a crafter. But I can bake!
Cookies, candy, breads, muffins, and other sweet treats are all perfect for holiday gift-giving.
You say you're no good in the kitchen? Cheat.
If you have a bread machine, dump in a few ingredients, push a button, and walk away. In a few hours, you'll have a professional-looking loaf to wow your giftee.
Plus, your local supermarket has ready-made doughs in the refrigerated aisle and step-by-step kits in the baking aisle. If you can follow a few directions (add water, stir, etc.), you're on your way to baked gift success.
Customized Pottery or Ceramics
For years, my big, crazy family has gathered around the holidays to descend upon a paint-your-own-pottery joint and gab while painting.
Some of my relatives can create masterpieces at a crowded table while chatting with 15 people.
Me? Still zero artistic ability here.
However, for the most part, I can color in the lines of an existing design. And I can use a stencil and stampers (with passable results) when there is no design.
Now, my home has turned into a storehouse of stenciled serving trays (useful), a cheeseburger bank (sort of useful?), and a mishmosh of other creations . . . but these pieces would make great gifts!
(My brothers are all now terrified that they'll be gifted my pastel turtle and seahorse figurines.)
For $20 or so, you too can whip up some pottery pieces at a studio and have them glazed and fired within a week.
Not enough time? Do some at-home ceramics work by glazing your own Sharpie mug.
An Amazing Photo
Major drugstore chains and mega discount retailers (Target, Walmart, etc.) offer just what you need — one-hour photo pickup. Upload a great shot to the retailer's website, pay for a photo print in a frameable size, then grab your keys.
Pick up a nice frame in the store, then nab your photo. Assemble, wrap, and done.
Stuck on which photo to give?
Consider a shot of your family (ideally with more people smiling than not), an image of a wonderful memory you share with the giftee, or a particularly nice scenery pic from a recent hike or vacation.
A Collection of Memories
Sometimes a picture won't do the justice to a memory that video will.
If you've taken some hilarious, sentimental, or memorable videos your giftee would love, share them! Burn them to a blank DVD on your computer and pop the disk into a DVD case.
To make your gift extra special, label the contents of your gift in style. Create a customized cover for your DVD case and a customized label for the DVD itself.
Music & Movies
Head over to your favorite Best Buy, Target, or Walmart and aim directly for the entertainment section.
Grab a copy of the latest blockbuster. Or dig through the discount bins for amazing classics and forgotten favorites.
Pick up a DVD of greatest hits from your giftee's favorite artist or preferred genre.
Discount Gift Cards
If you're a gift card gifter, do it better.
Visit Raise.com to nab cards for top retailers at less than the face value of the card. That's right, you can give more gift card for less money.
You'll see options to buy physical cards and have them mailed directly to you.
If you need something right now however, there's a plethora of digital gift cards available. Click to buy and then get the codes sent directly to you. You can pass those right along to your delighted giftee!
What's your favorite last-minute holiday gift to give?