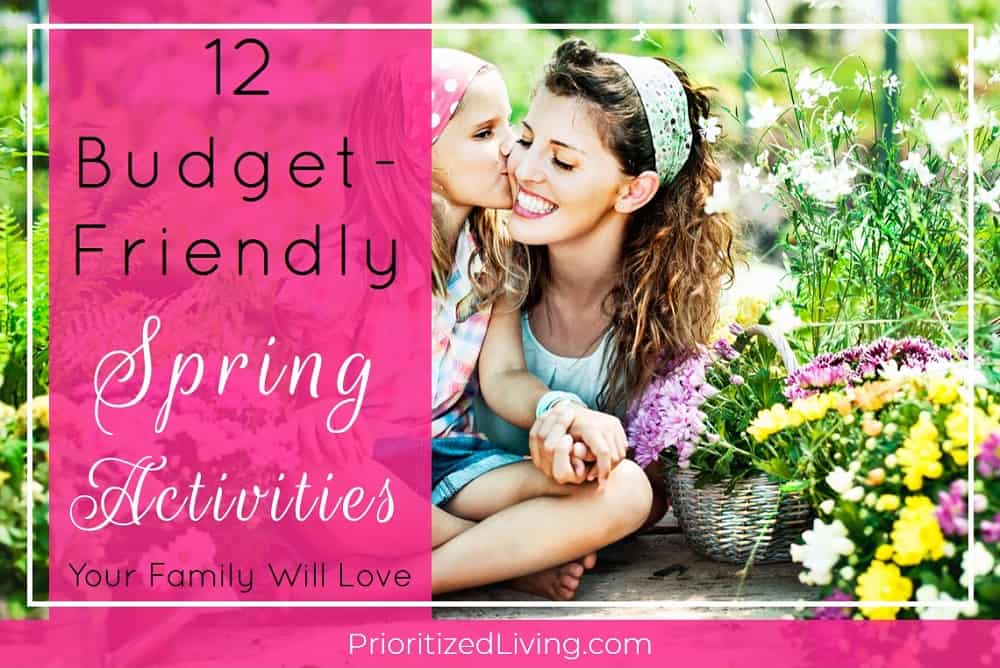 Note: This post contains affiliate links. Read my policy here.
It's almost here!
Springtime is sooo close. And, if you're anything like me, you can't wait to see the snow melt, open up the windows, and watch the world turn green again.
Plus, it's the perfect season for family fun that just couldn't happen during those chilly winter months. And getting ready to play doesn't have to drain your wallet.
In fact, here are 12 free or nearly free activities that you and your family can enjoy together this spring:
At Home
1. Dust off the bikes.
Biking has always been one of my favorite, easy ways to relax. On a temperate day, there's little more soothing than pedaling along and breathing in the springtime air.
If your kids are old enough, get everyone on a bike and explore your area. Or toss the younger kids in a wagon or stroller, so even the littlest family members can zip around.
2. Wheel around in other ways.
Got some roller skates? A scooter? One of those Flinstones-style cars for toddlers?
Pull them out of the garage or shed. And let the kids zoom around the driveway or the sidewalk.
3. Go bubble crazy.
My three-year-old loses his mind over bubbles. I love that they're inexpensive and can keep him busy for a long time. (Plus, it's awesome that he can blow them himself now instead of having Mom or Dad puffing on a wand all day.)
Of course, bubbles can get messy. So take them outside! And invest in some mess-free, stress-free bubble gear like these no-spill bubble containers and special wands that make giant bubbles or tons of little bubbles with one swoosh!
4. Bust out the sports equipment.
I'm fairly certain that my son has now been gifted the Fisher-Price or Little Tikes kiddie version of every piece of sports gear there is. Baseball tee & balls? Check. Golf caddy? Check. Basketball hoop & ball? Check. Badminton set? Check!
If you've got your own amateur sports shop in the making, take your gear outside and get a friendly family game going!
5. Color your driveway.
Sidewalk chalk — it's so inexpensive and it lets your kids have creative fun for an incredible amount of time.
Draw pictures, trace the toddler, sketch out a maze, and play tic-tac-toe. It's even fun to squirt your artwork with water guns and watch the colors swish together!
6. Try out your green thumb.
Planting a garden can be a thrilling activity for supervised little kids and independent older ones.
If your home doesn't have the the space for a garden, try a hanging tomato plant. (My husband grew some impressive tomatoes with these when we lived in a townhouse years ago!)
Or just get some seeds started in pots for indoor flowers or some windowsill herbs.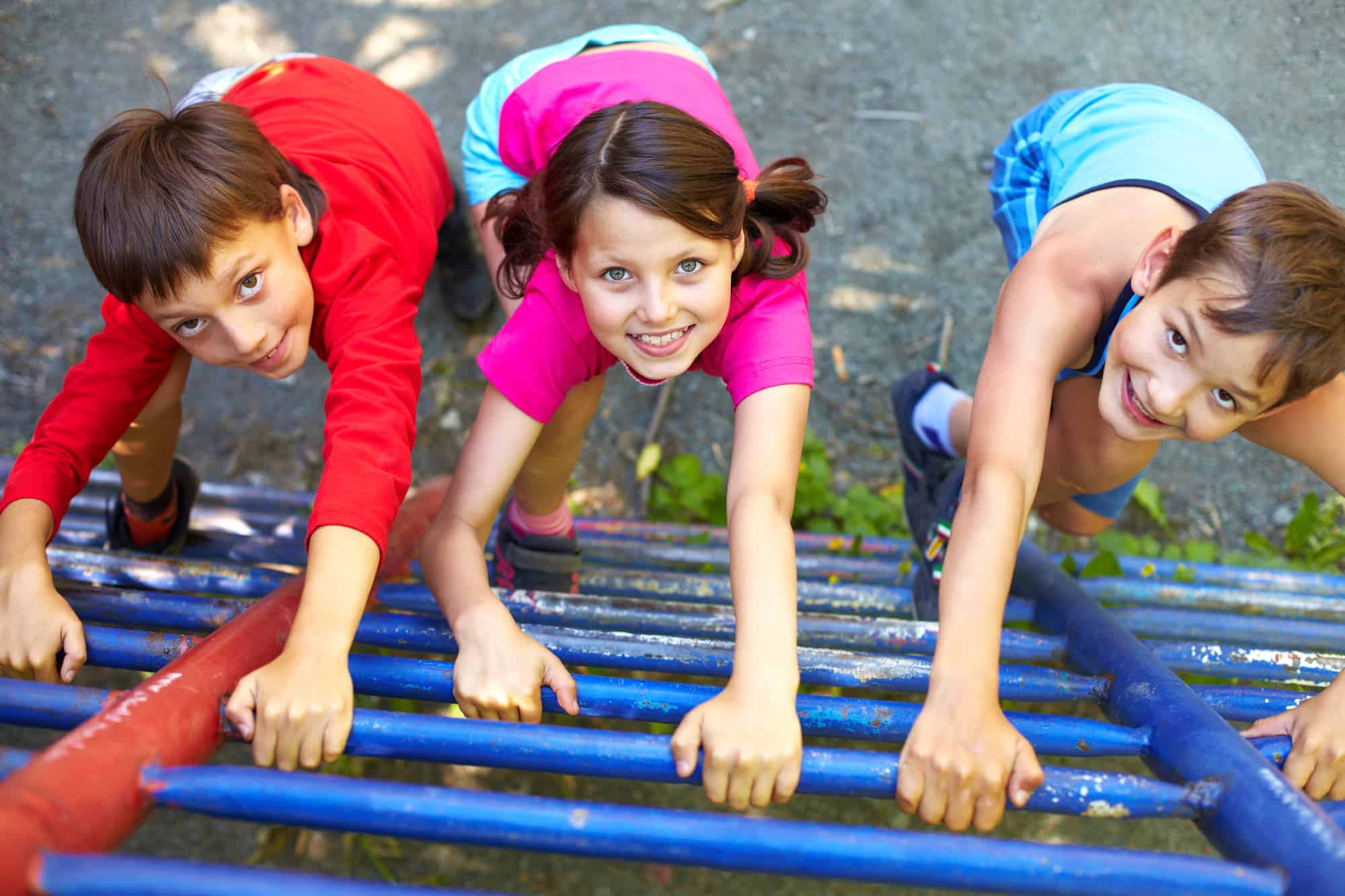 On the Road
7. Head to the park.
Back in February, there was one day when the temperature got out of the 30s and went screaming up to 80. It . . . was . . . glorious. I stopped work early, picked up my son from day care, and took him to the park.
Being able to run around the grass, whiz down the slide, and push him on a swing was utterly refreshing and fun for both of us! So if you have a local park nearby, you've got the perfect location for free outdoor fun.
8. Go hiking.
My family is blessed to live near a lovely reservoir with tree-lined hiking trails. So we're always only a few minutes away from an invigorating walk through the woods alongside the water.
Unless you live in a city, odds are that you've got your own set of hiking trails within a reasonable distance from your home. And urban-dwellers may have access to city parks or great hikes that are within easy day-tripping distance.
9. Get your picnic on.
Picnics are incredible in that they're inexpensive but can be made into really special events. Of course, you can toss some sandwiches and lemonade into a cooler and have a killer picnic. But you can also take along some special desserts, a fresh fruit salad, or a bundle of flowers for decor. Or you can fire up the grill for a bona fide family barbecue!
Whatever you do, take the time to lie down on that picnic blanket — I like one with a handle and waterproof backing — and do some cloud-gazing.
10. Throw a frisbee or kite in the car.
I'm a bit of a kite lover. So much, in fact, that — up until my mid-20s — I routinely drove around with a kite in my car . . . just in case I ever found myself with some free time and a great breeze. (I remember flying it on top of my office parking garage with some coworkers in my first real job out of school!)
So pack up your frisbee or kite and hit the road! Just be sure to invest in quality. A kite adventure gets depressing pretty quickly if you keep plummeting to the ground. And, if you find yourself at a barbecue, park, or windy field, you've got your fun ready to go!
11. Enjoy America's favorite pastime.
Ahh, baseball season! Catching a game is an incredible way to get some sports thrills, enjoy the warm air, eat some hot dogs, and even catch a fireworks show.
When I was a kid, my dad would take my sister and me on the long but exciting journey into the city to watch the Phillies do their thing. Nowadays, my family lives not too far from a minor league park, which is a great way to enjoy a game without a major crowd.
12. Look for community events.
Now that your neighbors are emerging from their homes after wintertime, you might find a great array of events on your community calendar.
In my town, springtime brings back our weekly farmer's markets, (free!) outdoor concerts, wine & food truck festivals, kid nature walks, and so much more!
What's your family's favorite activity to do together in the springtime?