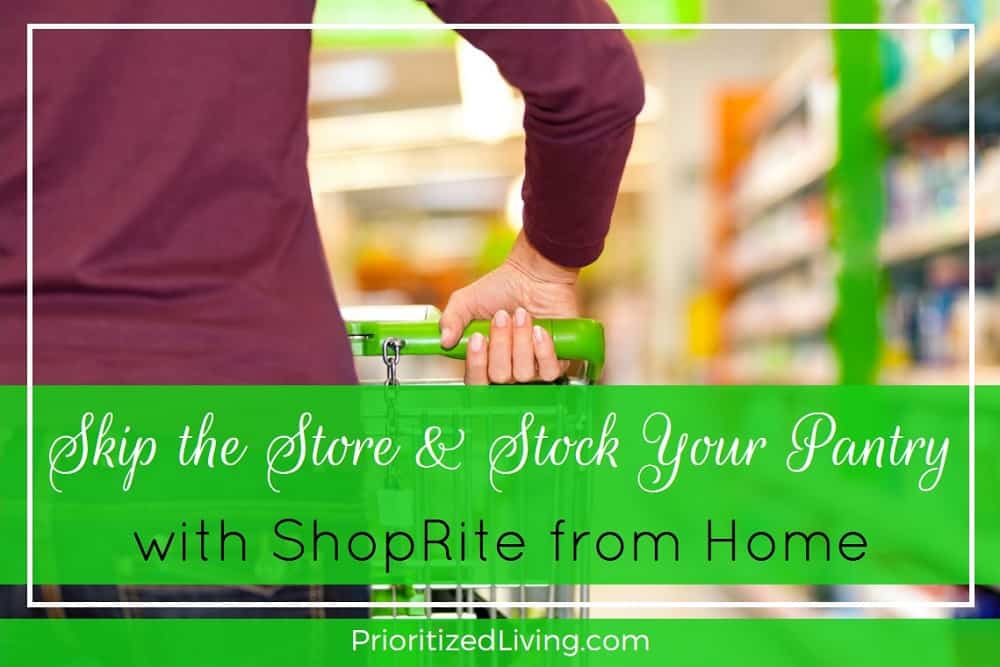 This post was last updated October 2019. Note: This post contains affiliate links. Read my policy here.
In this series, I've reviewed and spelled out the pros & cons of some home delivery and grocery pick-up services — Amazon Subscribe & Save, Amazon Pantry, Target Subscriptions, and Walmart Grocery. Today I'm sharing my review of ShopRite from Home, including how it works and how to get the most bang for your buck.
It was during a particularly challenging pregnancy that I discovered ShopRite from Home.
All of a sudden, instead of having the freedom to run off to the supermarket, I was too sick even to walk around my house. For months! But, even now as a busy mom, I'm a grocery pick-up convert.
Grocery pick-up and delivery service is a game-changer!
Part of it is the truth of my time's value. Yes, I could be schlepping around the store every week to grab food, personal care items, household supplies, baby stuff — you name it. But my time is precious. I want to spend it on my loved ones, my family's goals, and my own personal goals.
And the best part is that I don't have to sacrifice to do that.
Most days I use ShopRite from Home instead of hitting the store myself, I actually wind up saving money!
So how does ShopRite from Home work? What are the ins and outs of the ShopRite pickup service? The ShopRite delivery service? And how can you maximize your efficiency and save the most money while shopping for your groceries?
Let's dive in.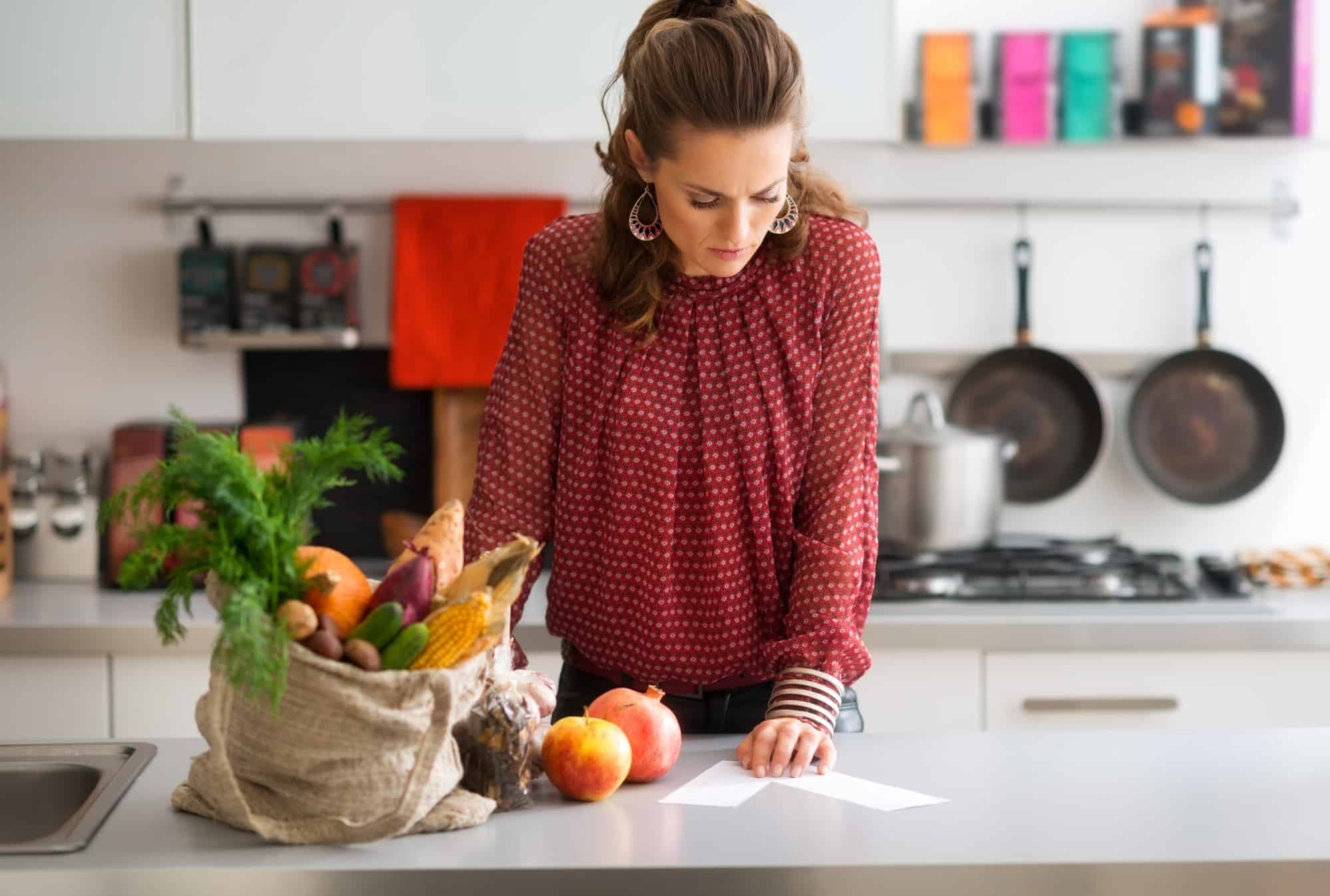 How ShopRite from Home Works
When you do your grocery shopping the "regular" way, the process goes something like this:
Write up your shopping list.
Grab your coupons.
Drive to the supermarket.
Walk the aisles, gathering and bagging the products you need into your cart.
Empty your cart onto the conveyor belt in the checkout lane.
Bag your groceries and put them back into your cart.
Hand over your coupons and form of payment.
Push the cart to your car.
Load the bags into your car.
Drive home and put your groceries away.
ShopRite from Home, however, gives you two sweet alternatives to your regular process:
CLICK HERE to grab a FREE FOOD BUDGET CALCULATOR for your family's groceries!
Option 1: ShopRite's "Pick Up at the Store"
When you choose ShopRite's "Pick Up at the Store" option, you can cross steps 4, 5, 6, 8, and 9 off that list! And instead of writing down your shopping list on paper, you use ShopRite's online ordering system on your computer or mobile device. Just click what you want, specify a quantity, and make notes as needed (i.e. "Please give me the ripest bananas you have!")
Then select your desired pickup date and time and complete your checkout online. You can choose to pay then and there or hand over your payment at the store.
When your pickup time arrives, the process is a breeze. Drive to your chosen store, park in the designated ShopRite from Home pickup area, and wait. Within minutes, a ShopRite employee appears at your car window to confirm your name, collect payment due, and wheel over your ready-to-go bags of groceries. The employee even loads them into the trunk for you!
In no time, you're on your way home with your grocery shopping complete and without ever leaving your car.
The cost: Typically $10 per trip . . . but keep reading to find out how you can get yours free!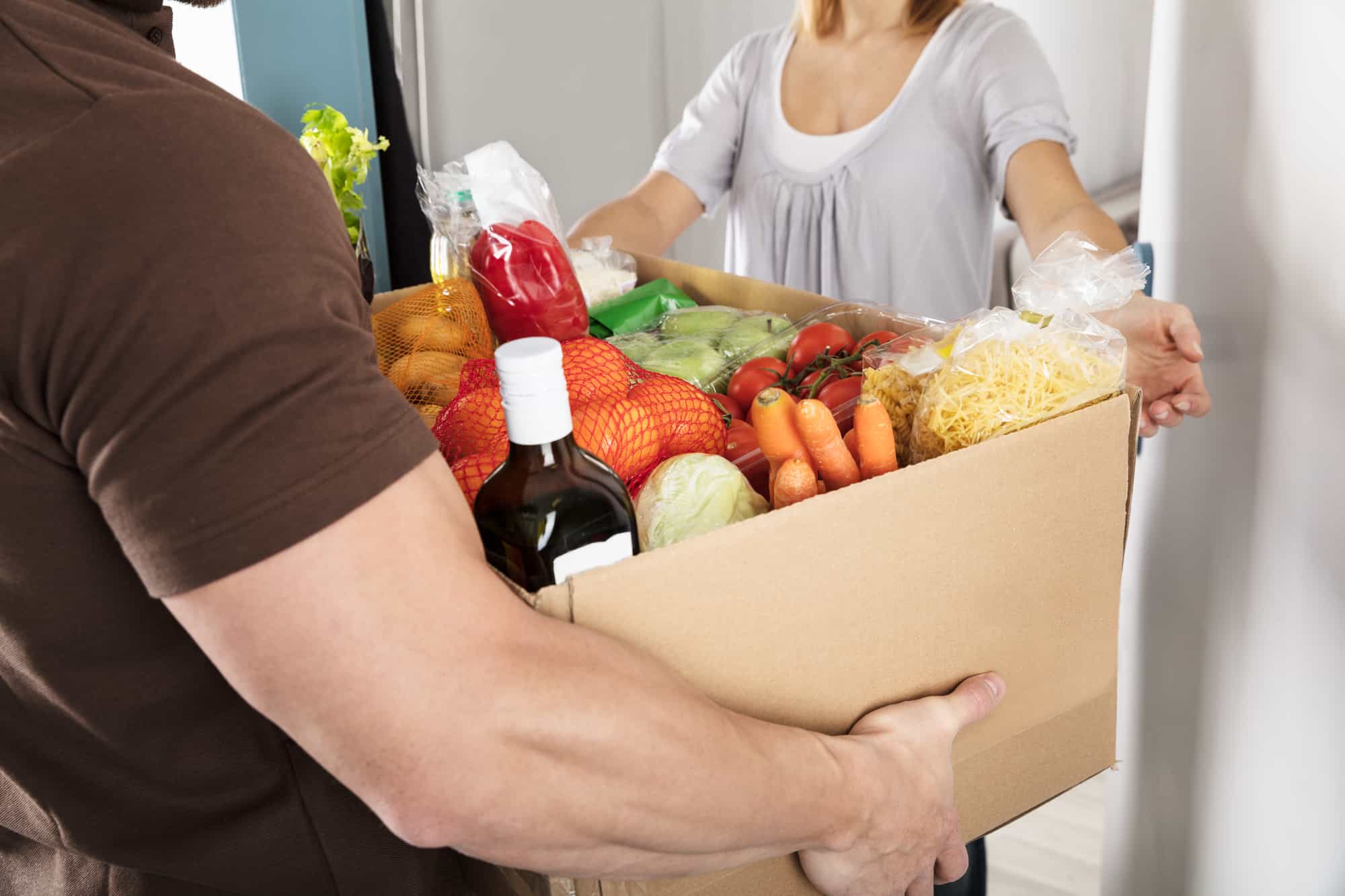 Option 2: ShopRite's "Delivery to Your Door"
In select areas, ShopRite from Home lets you skip out on the entire drive to the store.
The process for ordering groceries via the ShopRite from Home delivery service is exactly the same as it is for the pickup service. It's only when you go to check out that you select a different option.
Instead of choosing Pickup, click on Delivery instead. Then, you'll grab the two-hour delivery window that best works for you. And, when that blessed time arrives, a refrigerated truck pulls up to your door, and a driver brings the bagged groceries directly to you.
This service is amazing, particularly when you need fresh foods but can't even leave the house. (Maybe you or your kids are really sick, for instance.)
The cost: Typically $15 per delivery
Hot tip: This service is an awesome, inexpensive way to send a care package to someone! Instead of overpaying for a puny food gift and its delivery, you can use ShopRite from Home to deliver a whole meal — or a few days' worth of needed groceries! — to a friend who's sick, grieving, or in need of some help.

How to Save Big with ShopRite from Home
First, let's talk coupons.
What's grocery shopping without some juicy coupons? I hate services that deny you the use of coupons simply because you're enjoying the convenience of pickup or delivery.
Fortunately, ShopRite doesn't make you choose between saving money and saving time.
The coupons you use in the store work equally well when you use ShopRite from Home! Just hand them off to the employee who handles your order. That person will ring them up for you before your order total is finalized.
You can also use ShopRite's digital coupons. Browse and save coupons to your Shoprite Price Plus Club Card — ShopRite's free loyalty and rewards card — on your PC or with the Shoprite app on your mobile device.
Stack those savings . . . cha-ching!
Now let's see how you can save even more . . .
It's a banner day when I can save more money using ShopRite from Home than I can by going to the store myself. In effect, ShopRite is paying me to have someone else handle my grocery shopping!
Here's how you can do it too: Before you check out, always, always visit the ShopRite from Home online promotions page. (If you're on ShopRite's E-mail list, you'll get a weekly notification of new promotions right in your inbox.) Check out the current deals being offered, and make note of the ShopRite from Home promo code you'll need to enter at checkout.
In any given week, ShopRite runs several online-only deals that save you anywhere from $5 to $25 on your order. And you can stack the promotions to save even more!
Read the details of the promotion to ensure you qualify. (Your checkout summary will confirm that you meet the criteria or tell you how much more you need to spend to qualify.) Typically, a promotion will simply require you to spend a certain dollar amount — maybe $200 or an order — or buy $30 or so of products from a particular brand or aisle.
So, when you shop with an eye to save online, you can almost always save yourself the entire fee for your order or even make money in the deal.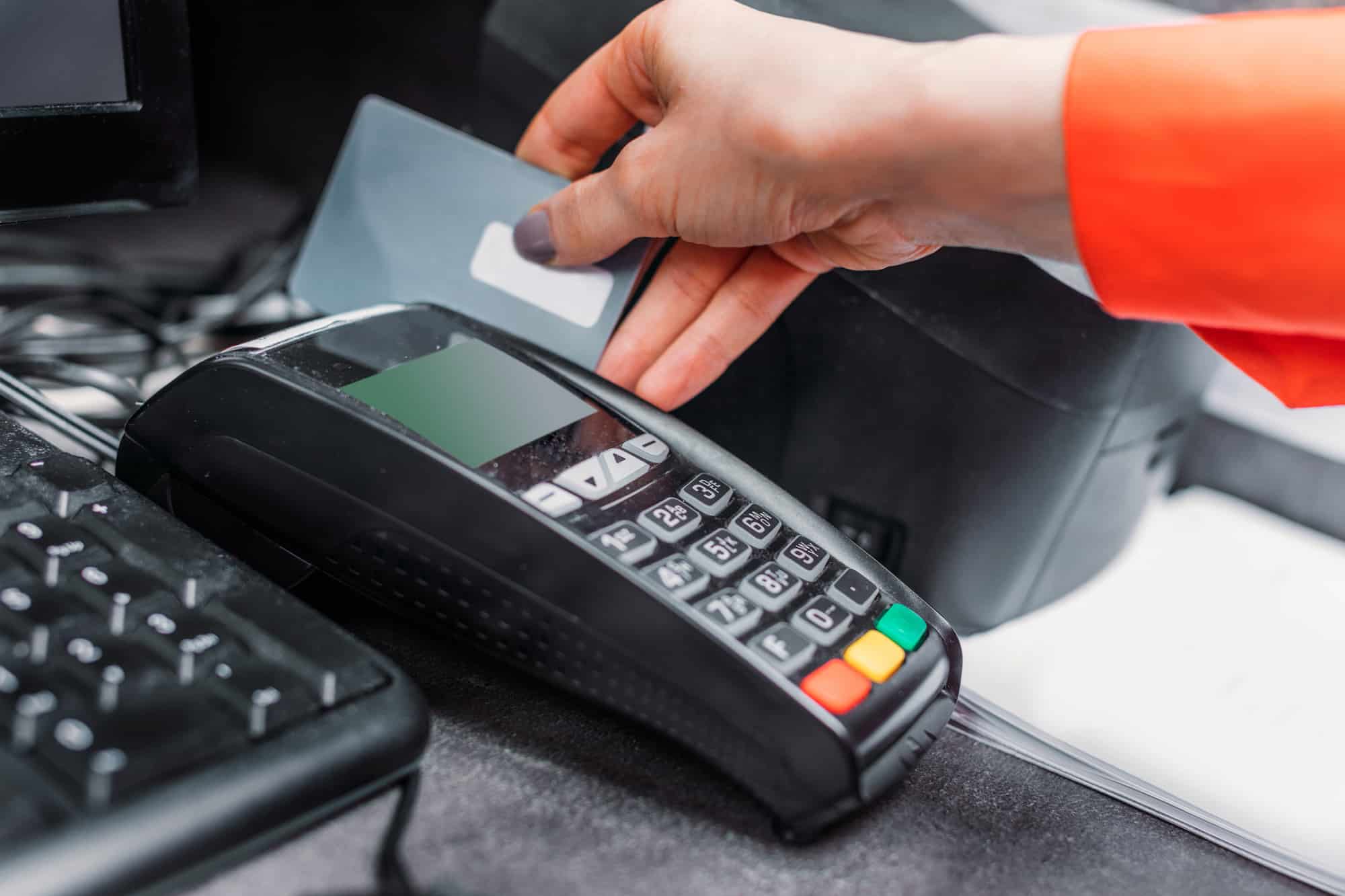 A Few Things to Know About ShopRite from Home
Same Low Prices: Besides the fee for using the ShopRite from Home service, there's no additional cost to you. Costs for items online are exactly the same as what you'd find in the store.
No Minimums: I love this. Buy one thing or buy 100. ShopRite won't ding you with a penalty for failing to meet some minimum dollar amount for your total purchase.
Perishable Foods: Let's talk about perishable foods, which is one of the places that ShopRite from Home shines. Good luck getting your produce, milk, meats, and more from an Amazon subscription or Target subscription! With ShopRite from Home, you can get everything you'd pick up yourself at a grocery store. And it'll be properly stored, refrigerated, and packed for you.
Prescription Pick-Up: Have plans to pick up one or more prescriptions from the ShopRite Pharmacy? Your personal shopper will handle that for you! Look for a checkbox in your ShopRite from Home cart that gives your shopper permission to scoop up your new prescriptions or prescription refills for you.
Bagging Done Right: No one wants crushed eggs or warm milk. But ShopRite from Home, in my experience, does an A+ job when it comes to bagging food safely and intelligently. Plus, I love that my refrigerables arrive in blue bags and my pantry staples are sorted into yellow bags. (It really helps me find get those cold items out of the car and into the fridge quickly!)
Sold-Out Products: If the store runs out of a particular item on your list, they'll give you some options. A representative will call your phone to offer you alternatives. Or, if you choose, ShopRite will text you a link so you can make those decisions on its secure site. In terms of alternate products, you might be offered a different brand of soap that's available at the same price, a wedge of cheese in a smaller size, etc. If you decide you're happy going forward with ShopRite's suggestions, authorize the substitutions. Or just eliminate those products from your order.
Shopping for Items Not Featured Online: I've had it happen a few times that the product I want to purchase just doesn't show up online. I know ShopRite has a 5-lb. bag of baby carrots in store, but I get bupkis when I search for it. What I do get though is a handy solution after my fruitless search. Just click the "Can't Find It?" link that appears, and you can type in exactly what product you need. It'll be added to your order for your shopper to locate on your behalf.
Tipping Policy: My deep desire is to tip my amazing ShopRite helpers! But my store's explicit policy is that employees who take your payment, load up your car, or deliver your groceries may not accept a tip. That may not be a universal stance, however, so check with your own store about its policy on tips.
Know Your Lead Times: Finally, it's important to note that you need to give your ShopRite store some advance notice of your order. When I shop, the checkout system requires me to select a pickup time that's no less than 6 hours ahead or a delivery time that's at least 1 or 2 days down the road. So, if you plan to pick up an order after work, make sure you place your delivery before lunchtime.
Have you used ShopRite from Home or a similar service from your supermarket? What's your favorite feature?
This post was originally published in October 2017 and has since been updated.