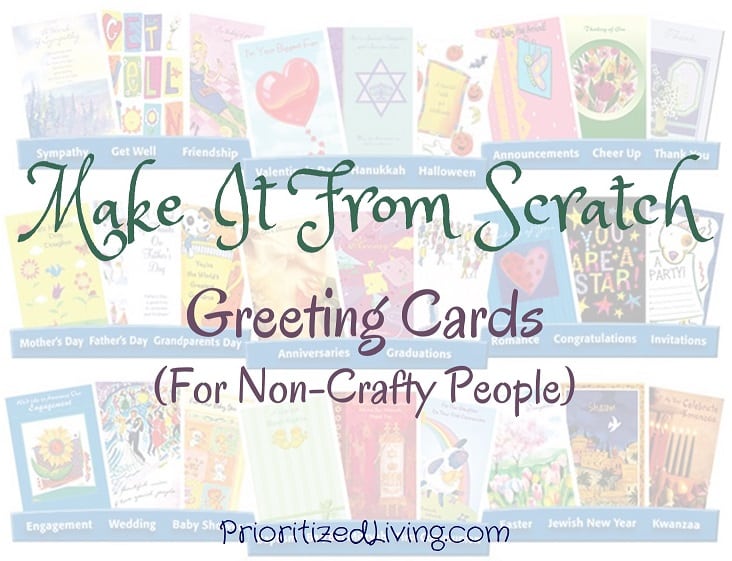 Photo courtesy of Nova Development
Note: This post contains affiliate links. Read my policy here.
My artistic skill development stopped somewhere around age five. In kindergarten, I made perfectly-acceptable, childlike drawings, but my 7-year-old niece's artwork far outpaces anything I've created since. Handmade greeting cards can be beautiful and cost-effective, but what if you're a non-crafty person like me? You can still make high-quality, printed and personalized greeting cards . . . using your computer.
Here's how the costs work out for me:
Store price: $0.99 for a cheap card up to $4.99 for a standard card
Price of computer-made: $0.55 for a personalized card
Savings: 44% – 89%
Recommended Tools
The Process
Buy some greeting card software. (Tip: If your operating system supports it, consider buying an older version of software to save even more money.)
Install your software and walk through the printer set-up in the program. The set-up process will tell the program how your printer feeds and orients paper during printing. (It'll save you the anguish of printing the inside of your cards upside-down!)
Choose from one of the thousands of templates of greeting cards to get started. Templates are typically searchable by occasion, recipient, and sometimes sentiment — funny, sentimental, casual, etc.
Tweak your template. You can print them as-is, but you can also opt to change the text to contain your loved one's name, replace images, swap out colors — whatever you want. Don't feel limited by the images that come with your software either; you can include your own photos, clip art, or any images you find.
Add some final personal flair. Consider putting a little picture — maybe a photo of you! — on the back of the card with some text: "Created by Your Name" or "Crafted with Love by Your Name."
Print!
Hand-write any additional notes on your card if you wish, and drop it in your envelope. (Tip: Most greeting card software programs can create beautiful — and matching — printed envelopes. Try these out.)
Send!
Creating a personalized, beautiful, home-printed greeting card takes less time than running out to the store and saves you the expense of a pricey commercially-printed card.
You can easily save $100 or more each year! Update your greeting card budget here!