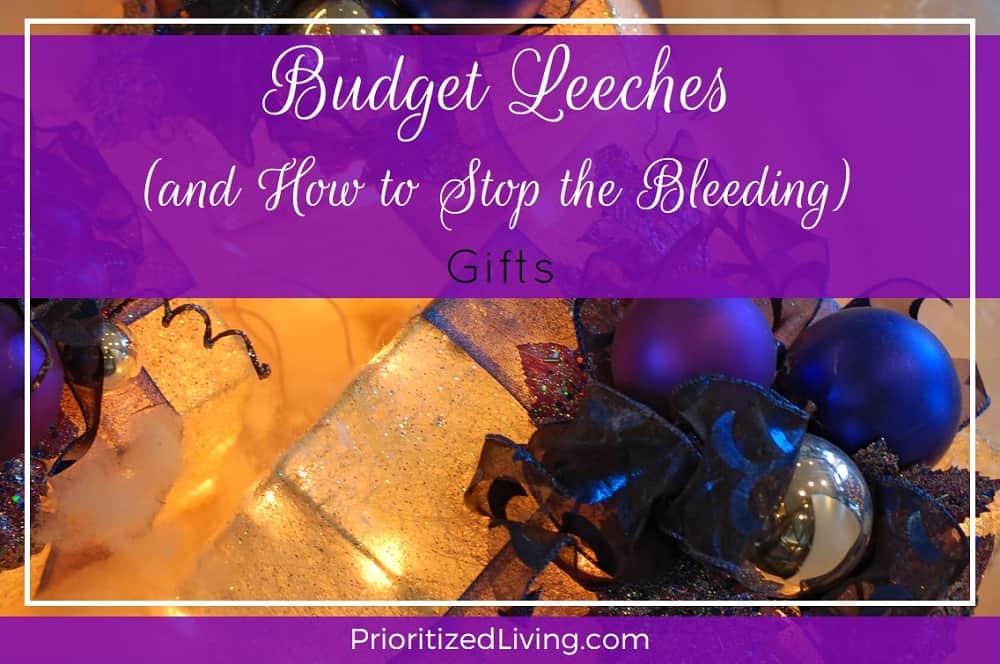 Check out Part 4 of this series
The Problem
The holidays have come and gone, and your mind is no longer fixated on the whirlwind of shopping for and wrapping presents. Just as you settle down to relax, your December credit card bill arrives, and it's a doozy!
The Solution: Make a gift-giving budget and stick to it.
At the beginning of the year, make a list of all of the events for which you'd like to give cards and gifts — birthdays, Christmas, anniversaries, Mother's Day, Father's Day, Valentine's Day, Easter, special occasions (graduations, showers, weddings, new babies, etc.), and any other occasion you might have. For each event, list the people to whom you'd like to give gifts or cards and the amount of money you'd like to spend on each person for that event. Don't forget to budget for teachers, coworkers, hairstylists, etc. if you give them gifts.
To keep it all straight, I like to make a grid with each event across the top and each person down the side. Then I can put the budgeted amount into the intersection of the appropriate row and column. You can do this with pencil and paper or on the computer if you're a spreadsheet lover like me! Sum up each row (to see how much you plan to spend on each person for the year) and each column (to see how much you plan to spend on each holiday/occasion). Add up all of the numbers in your grid to get your total gift budget for the year. Here's an example: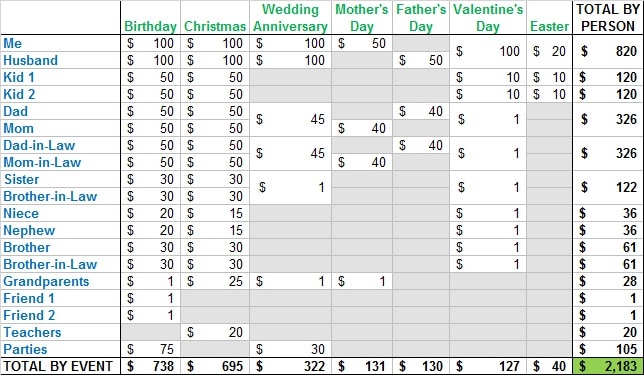 (Note: In this example, the $1 amounts reflect the cost of a homemade card and the postage to send it.)
Now you have a plan! If your total gift budget is shockingly huge, it's time cut back with a combination of the following steps:
Eliminate some of the gift-receivers on your list. Don't feel obligated to give someone a gift just because you know that person is giving one to you!
Reduce the budget for some or all of your gifts. Shop sales, make homemade gifts or cards, or just give less extravagantly. If you plan your gifts, you can give lavish gifts for a fraction of the cost.
Group people together. Instead of giving one $30 gift each to your sister and her husband, give one nice $50 gift. Now you've given a more extravagant gift than either of them would have gotten and you've saved $10 off the $60 you would have spent in the process.
Put your gift-giving budget plan into action! You'll never have that post-holiday credit card bill shock again.