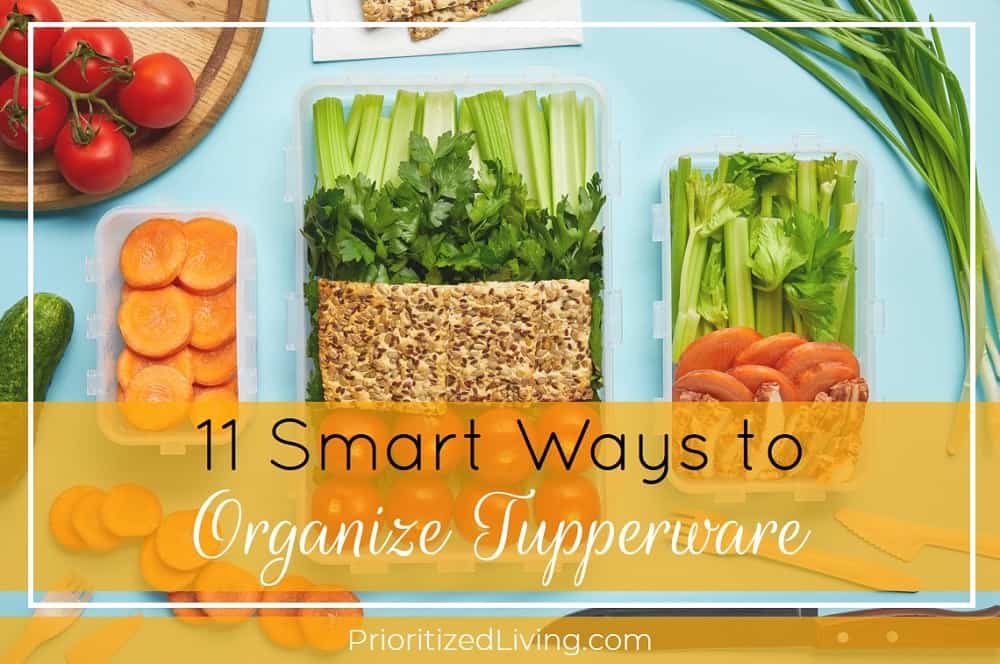 Note: This post contains affiliate links. Read my policy here.
In homes across the country, we are waging a battle against our Tupperware containers.
You know exactly what I mean! You've got that drawer or cabinet that's stuffed with toppled containers, mismatched lids, and tubs of every shape and size. And when you reach in there to grab one, you can never quite find the one you need . . . or you can never locate its lid.
But getting those food storage containers tidy and accessible is easier and less expensive than you might think. If you're looking to organize Tupperware in your home, these 11 systems and tools are invaluable.
Before you start
Having the right organizing systems and tools is key to taming the Tupperware. But — before you start buying bins and boxes — you need to set yourself up for success. Here's how:
1. Declutter.
There's no point in making the time and space to store something that's not actually worth keeping. So sift through your Tupperware and get rid of the following:
Broken containers and lids
Cracked containers and lids
Warped containers and lids
Stained containers and lids
Containers that are missing their lids
Lids that are missing their containers
Container-lid combinations that you hate for whatever reason (hard to clean, ugly, too small, etc.)
2. See what you still need.
If you're feeling overrun with food storage containers, it's hard to imagine a world where you need more Tupperware!
But you might find that you routinely run out of containers in a certain size. Or you could use a few more glass containers in place of plastic. Or you want additional containers that are transparent instead of the old, opaque ones you had.
Take note of the types of containers you'd like to add to your existing collection. If you plan to get those soon, hold off on organizing until you have all your new containers on hand.
Whenever possible, choose containers from the same product line or brand. They'll likely nest together nice in the cabinet and stack well in the fridge or pantry.

3. Group like containers together.
Okay! You're ready to get organized. Take everything — yes, everything — out of your current Tupperware storage area (or pile!). Start sorting.
Group together containers based on how it makes sense for you and your collection. Maybe you create groups of Tupperware based on the brand or product line. Or you lump together containers or lids that are all the same size. Perhaps you even pair together containers and lids that go together.
Keep in mind that some Tupperware sets have lids that fit multiple containers of different depths. So you may wind up with a big stack of identical lids for several sizes of containers.
4. Stack, file, or pair?
It's time to decide on your storage strategy. What you choose depends on your available storage space, the types of containers and lids you have, and your own preferences. So ask yourself:
Do you prefer to nest your Tupperware containers?
Do you want to file your lids vertically?
Would you rather stack your lids and grab from the top when you need one?
Do you want your lids stored alongside their matching containers?
Would you rather store all your lids together?
5. Should you store Tupperware containers with the lids on?
No, keep your lids and Tupperware containers separate. Containers with their lids on don't nest, so they occupy way too much space. And you might even get a weird smell in the container.
Some storage systems allow you to snap lids to the bottoms of containers for easy storage and retrieval. So if you want to keep your lid and your container together, look for a set like that.
Now let's get some Tupperware storage!
Now that you've got your food storage containers sorted and a strategy in mind, it's time to get the organizing tools you need to put your system into practice.
Consider these 11 smart ways to organize Tupperware and food storage containers:
1. Use a ready-to-go Tupperware lid organizer.
This food container lid organizer keeps your lids visible, grabbable, and compact. Plus, you can sort by type and size of lid. And the rack adjusts to accommodate the precise number of each lid style you have.
2. Organize lids vertically with a plate rack.
A sturdy plate rack is good for so many more things than just organizing plates. (I love using one to keep my pot lids neatly filed!) Grab an inexpensive plate rack to store and separate your Tupperware lids.
3. Use drawer dividers to separate containers.
Tension rods like these drawer dividers are inexpensive, sturdy, and lightning-fast to install. And, since there's no permanent mounting involved, you can move them around as needed. Use your tension rods to separate rows of Tupperware that sit flat on the drawer bottom or that you stand on end.
4. Attach a basket to your cabinet door.
An over-the-door cabinet basket is an excellent way to take advantage of unused real estate, especially if space is at a premium in your kitchen. Slip the basket easily the door to the cabinet holding your Tupperware. Then fill the basket with the lids for those containers.
5. Stack your food storage containers on top of your lids.
Socks in the dryer and Tupperware sets have something in common — they're forever losing their mate. So if you're tired of having lidless containers, nab a food storage set that lets you snap lids directly to their containers!
I love these Rubbermaid Easy Find containers. The containers nest, the lids snap together, and the lids snap to the container bottoms. It's a great way to keep your containers easy to access, organized, and compact.
6. Install a pull-out rack in your cabinet.
Say goodbye to fishing around the back of your cabinet for Tupperware. Try a set of stackable cabinet drawers to keep yourself organized. You can choose to install a permanent solution with sturdy hardware or slide in a removable drawer instead. Put lids and containers into the drawers, and simply slide them out as needed.
7. Slide in an under-shelf storage basket.
Here's another great way to take advantage of unused space in your kitchen! An under-shelf storage basket is a low-profile, inexpensive storage solution that you can reposition as needed. Use it to contain smaller Tupperware containers or keep the lids for the containers in your cabinet.
8. Use a large bin to corral lids or containers.
Want to create a more modular storage system? Grab some plastic storage bins. Choose larger ones for big food storage containers, small ones for tiny Tupperware, long ones for lids, etc.
Bins with handles or hand holes are amazing, since you can grab the whole box directly from your cabinet. Use clear bins to see what you've got, or choose labeled opaque bins to hide your Tupperware set.
9. Invest in a turntable organizer.
Tired of reaching into the recesses of your cabinet when you want a food storage container? Spin your way to an organized cabinet with a turntable organizer. With a flick of the wrist, you can choose the container size you want and then spin again to get your lid.
Keep in mind that most turntable organizers fit a specific brand of food storage containers. So you'll only be able to store Tupperware sets from that company or product line.
10. Customize an in-drawer pegboard.
Pegboards are incredible organizing tools. Usually seen on workshop walls, you can use a drawer-friendly pegboard organizer to section off areas of drawers and cabinets. Position or reposition pegs to create areas specifically designed to accommodate your containers or hold up stacks of lids.
11. Use a food storage pull-out drawer.
Want to go deluxe with your Tupperware storage? This snazzy pull-out drawer lets you mount an organizer directly into your cabinet. Nest your food storage containers on the bottom. And use the top to stack and separate lids of different sizes.
So what's the best way to organize Tupperware? It really depends — on what your Tupperware collection is like, on what your kitchen can accommodate, and on you. Sometimes one system is perfect. But you may find that using more than one can get an even more customized solution.
So choose what works for you! And you'll finally win the war against disorganized food storage containers.
How do you keep your food storage containers organized and accessible?