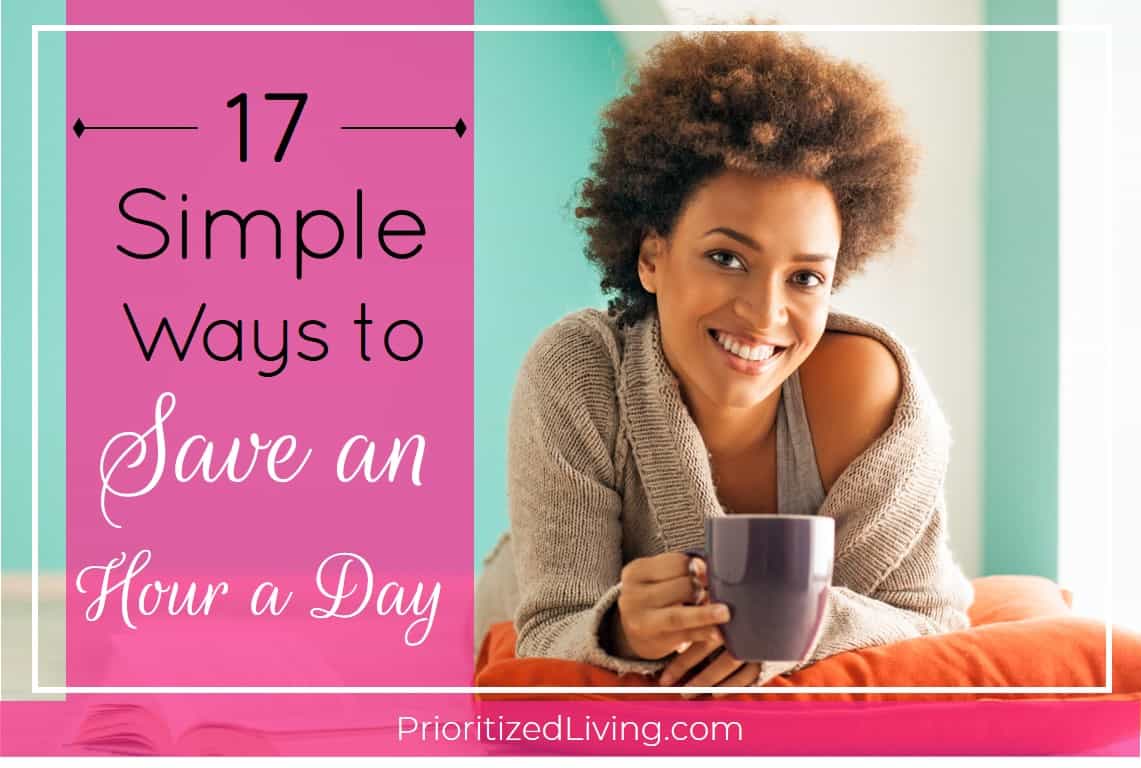 Note: This post contains affiliate links. Read my policy here.
Raise your hand if you could use an extra hour (or an extra 24!) in your day.
I have yet to meet a woman my age whose complaint is that she has too much time on her hands. And I'm guessing you're not one either. Instead, you're probably juggling your marriage, family responsibilities, household chores, career goals, and so much more.
So what would it mean to you if you accomplish what you're already doing while having an extra hour a day?
Would you use that hour to tackle some of your personal goals? To spend time with your husband or kids? To take a much-needed nap?
However you plan to use your newfound time, these time-saving hacks are sure to help. Try these 17 smart ways to save you time every day . . . and, hopefully, save your sanity too!
1. Plan your day.
If there's one way to avoid a frantic, reactive day it's this: Schedule your day. Use an app or invest in a planner that suits your lifestyle.
Create your day's plan the night before, if possible, or first thing in the morning. You'll be able to see what scheduled events are on your calendar, what your top priorities are, and how much time you need to allot for each activity. Then you can block out chunks of time to handle each task before you're in the thick of it.
Quick tip: Be sure to leave some buffer time between activities or in one block near the end of the day. Tasks may take longer than expected, throwing off your schedule. And there's always something unexpected that's bound to crop up!
2. Know when to stop.
For most of the things you need to do, it's time to give up on perfection and settle for "good enough." At a certain point of each project, your efforts fall victim to the law of diminishing returns.
Say you're hosting a family party, and things are looking good. But should you fancy up some place cards? Run streamers over the entire house? Create personalized gift bags for each attendee?
Check yourself periodically as you work through any project. Do you really need to keep fussing? Or is it good enough?

3. Take advantage of multi-goal activities.
Trying to multi-task by switching gears constantly can be a sure-fire way to get nothing done. But getting creative with multi-goal activities? That's an awesome way of supercharging your productivity!
Here's what I mean: Suppose you want to learn painting and you value spending time with a good friend. Pair up those objectives! Invite your friend to a painting lesson, so you can learn a new skill and socialize at the same time.
Get creative in finding ways to link up your goals through a common task:
Listen to your favorite podcast while tidying up the clutter.
Do some community service while spending time your spouse.
Involve your kids in occasional meal prep time as a way of spending quality time together.
Use your commute to listen to an audio book or socialize with a commuter buddy.
Fold laundry, do the dishes, or crochet while catching up on your favorite T.V. show.
4. Have designated times for E-mail & social media.
The Internet may very well be one of the biggest time sucks there is.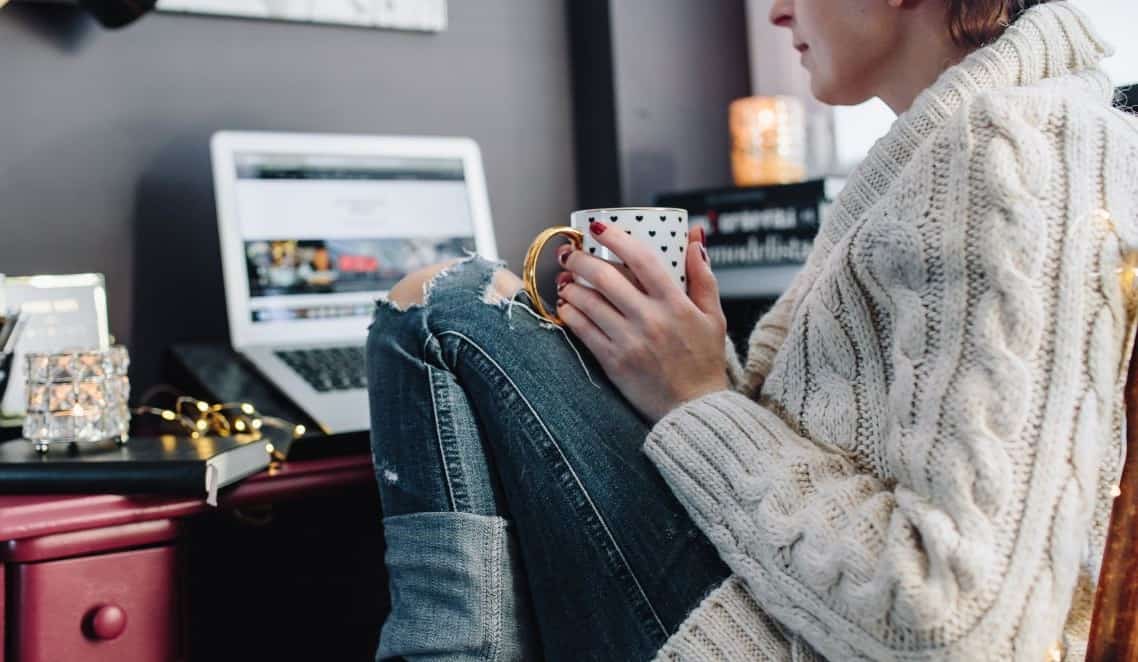 Of course, it's an invaluable tool. But how often do you find yourself just swiping and surfing? Or clicking through all 200 of your friend's vacation photos? Or losing your train of thought every time an E-mail notification pops up?
Unless your online time is being used to further one of your goals — like contacting a friend, learning how to turn off your water main, etc. — consider blocking out time specifically for reading E-mails, scanning the news, checking out social media, and more. Then do your best to stick to your self-imposed schedule and time limits.
5. Skim, don't read.
I love to read. When I was a kid with nothing but time to burn in the summers, I inhaled piles of books. These days, though, I'm lucky to finish a book before I forget what happened at the beginning!
Whether you're reading for work, pleasure, or learning, you can make the process more efficient. Learn to speed read! With a few easy techniques, you'll grab the main points and details that you need in a fraction of the time.
6. Don't sit through commercials.
Ugh, commercials. Those pesky T.V. ads that turn a 45-minute show into a full hour of your life . . . gone! But there are two strategies that can recapture that time for you:
#1: Upgrade to a commercial-free existence.
Make modern technology your friend and capitalize on one of the many tools for skipping commercials entirely while watching your favorite shows. Sign up for streaming service to watch older shows without the interruption. Look into Netflix or Amazon Prime Video. Some services, like Hulu and CBS All Access, do include commercial breaks, but you can pay a little more each month to eliminate those entirely.
Or invest in a TiVo. Record your favorite shows, watch them later, and tap the "Skip" button to jump over all the commercials. Or show up for your program 15 minutes late. Start at the beginning, fast forward past commercials, and you'll finish the show when it's ending live.
#2: Create short bursts of ultra-productivity.
If you're watching live T.V. or a commercial-laden streaming video, you're probably forced to wait out several sessions of ads. In that case, get strategic with how you use that time.
Make it a game! Challenge yourself to complete a task — stacking the dishwasher, sending an E-mail, jogging around the house — before your show comes back on.
7. Delegate where you can.
If delegating tasks sounds like something reserved for a CEO, think again. Turn your attention first to the other humans living in your house.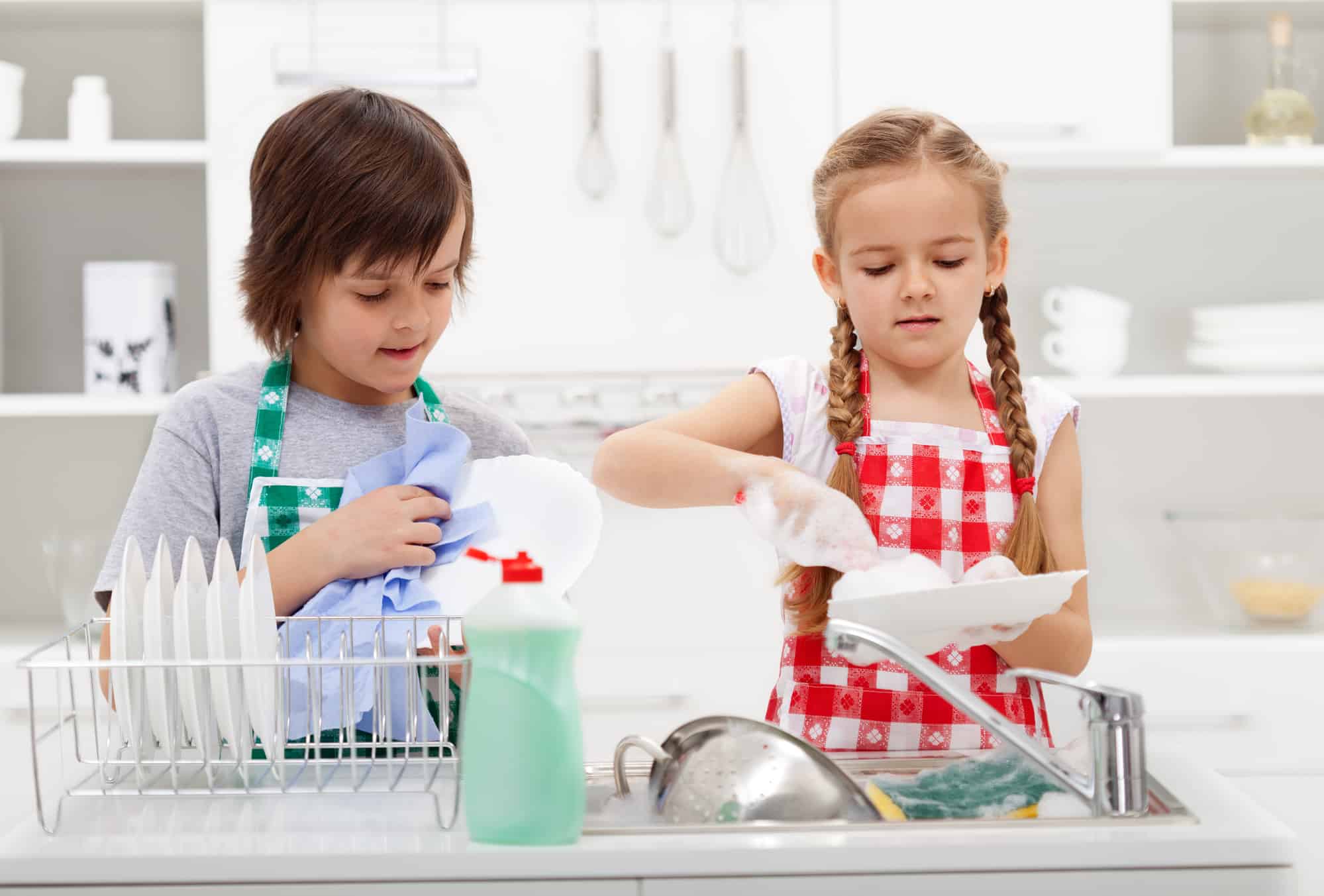 Print out a chore chart or make one of your own. Then ensure that everyone is handling their fair share of responsibilities . . . instead of taking on too much yourself.
If it's worth your time and money, hire someone to do a job. This can be something super inexpensive — like paying someone else $10 to do your grocery shopping. Shell out for one-time maid service before hosting a big event. Hire out your lawn cutting instead of spending hours dealing with it each weekend.
Look at your to-do list, check your budget, and see what time-consuming tasks you can easily outsource!
8. Schedule breaks.
What's that? Taking a break sounds as though it will cost you time? In reality, breaks can effect an amazing transformation in your productivity levels.
Take small breaks of just a few minutes when you're tackling a big task. Clear your mind and do something completely different during your break. You'll give your brain the breathing room to come back renewed and often with a fresh perspective.
When burnout or exhaustion set in, go for the big break. Give up on the to-do list and go to sleep when you're tanking. Take the afternoon off if you've been working non-stop. By taking a break, you'll transform your next chunk of working time into a far more productive session.
9. Get rid of stuff on your to-do list.
Turn a skeptical eye to your endless list of tasks. Do you really need to do everything on your to-do list? What if you could just . . . cross some things off right now?!
If you're like most people, there are probably tasks on your RADAR that simply aren't important to complete. Or maybe they aren't important to tackle right now. Plus, we've all got some time-suckers that should get moved to our not-to-do lists!
So give your day's activities an honest audit. Assess what's most critical to you, what can be deferred, and what items you can delete entirely.
10. Maintain your home.
I'll admit, unless you find home repair and housework relaxing, this one probably doesn't sound like fun — or like a great time-saver. But the truth is that big messes take longer to clean up than a bunch of little messes. And they tend to be more expensive too!
So get yourself organized in keeping your home well-maintained. Schedule regular maintenance for your car, HVAC system, etc. Stick to a cleaning routine so you can wipe easily instead of scrubbing relentlessly.
As a bonus, you'll have the peace of mind of knowing that your house is safe, sanitary, and welcoming to loved ones.
11. Skip the store.
Do you find yourself running to the store when your sick kids have just one box of tissues left? What about spending hours every year schlepping dry foods, paper products, dog food, and more from the supermarket to your home?
Stop the madness! With the tiniest amount of legwork upfront, you can set up automatic subscriptions to keep your pantry staples coming month after month. Delivery to your door and hours saved every single month? Done!
12. Say goodbye to the post office.
Waiting in lines is definitely a waste of time. And I have yet to visit a post office with zero people between me and the post office employee. Plus, there's the time cost of schlepping to and from the building itself.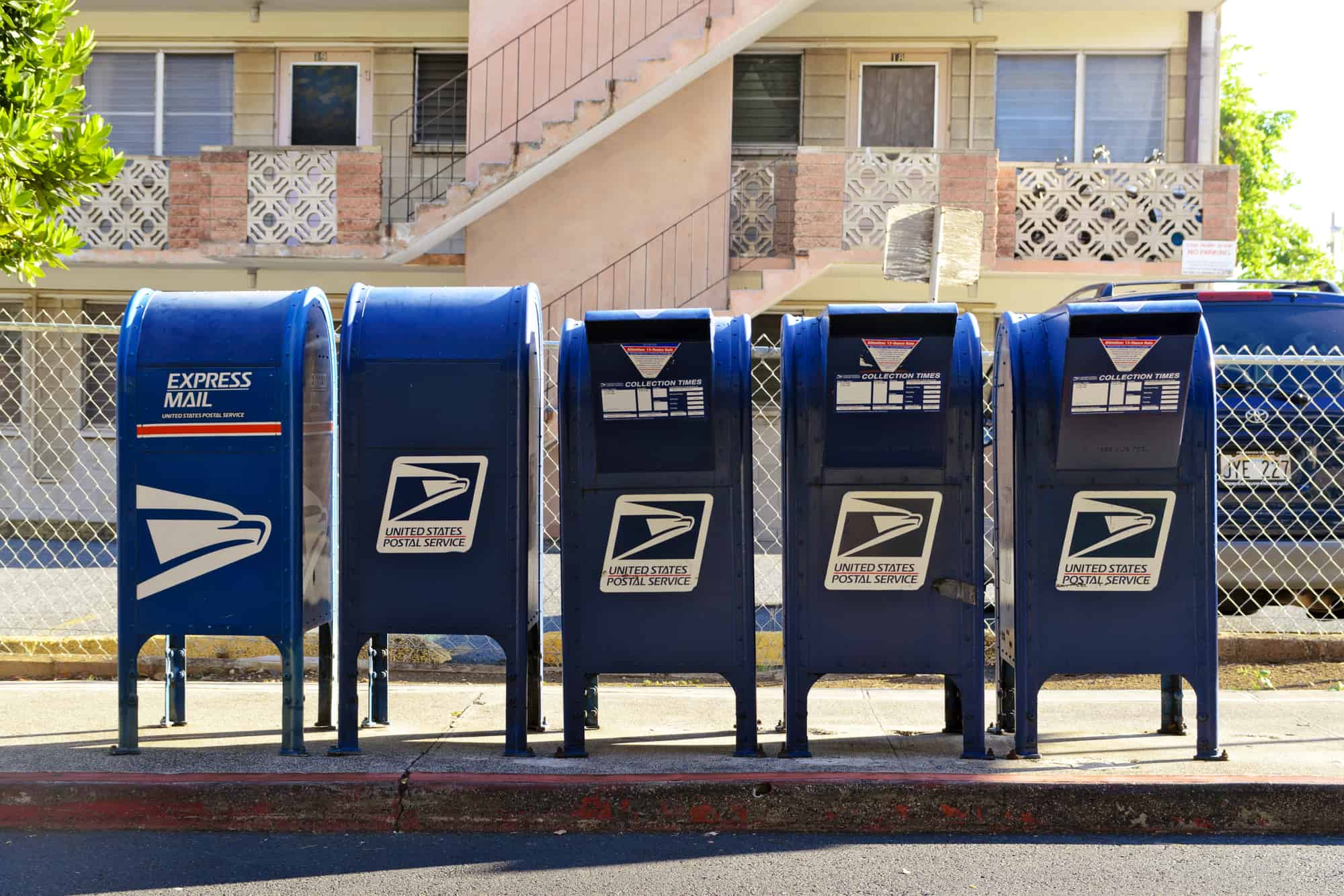 So how can you get the postal supplies and services you need? Or mail your packages to their destinations?
Buy stamps online.
Need a pack of Forever stamps? Looking to pick up your holiday stamps? Order a bunch of sheets online. They'll last you for ages and maximize the benefit of the shipping cost.
Get your boxes for free.
When you send your packages via Priority Mail, the U.S. Postal Service provides completely free boxes for the shipment!
You can stop by the post office to pick up individual boxes. Or visit the USPS site to get bundles of boxes sent — for free — directly to your home. Order some shipping tape for your supplies, and you can assemble all your boxes right at home.
Print your shipping labels at home.
Ready to ship? Check out the USPS Click-and-Ship service to print out a prepaid shipping label at home. You don't need specialty sticky labels for printing. Just use a standard 8.5 x 11 sheet, cut, and tape to your box.
Quick tip: You'll likely need a scale to weigh your package and buy the correct shipping label. But you don't need a postal scale at all. Use a basic bathroom scale for big packages or a food scale for the small stuff!

13. Designate an errands day.
Task batching is a superb way to save time.
Instead of stopping at the grocery store three times a week or even every day to pick up dinner ingredients, tackle your shopping on a single day. Loop in not just your food purchases but that trip to the drug store, that clothing exchange at the department store, and so on.
14. Keep your favorite foods at home.
When my son was just a baby, those long nights transformed my husband into a coffee maniac. Armed with a bundle of gift cards from sympathetic relatives, we constantly found ourselves stopping at — or making special trips to — whatever Dunkin' Donuts we could find.
So, for his first Father's Day, my husband received — from our son! — a home coffee machine. Nothing fancy, but it saved us tons of time in coffee runs.
Instead of running out to grab your favorites, make or keep them at home whenever possible. Stock up on pantry staples. Keep a box of brownie mix tucked away for that sudden sweet tooth. And freeze that leftover pizza to enjoy later.
15. Use a meal plan.
If order to make your food shopping a once-a-week activity, it's essential that you have a plan for the week before you go.
Creating a weekly meal plan doesn't have to be complicated or include fussy foods. Instead, use it to maximize the benefit of your grocery store's sales and have a ready answer to the "Mom, what's for dinner?" question.
Plus, knowing what meal is coming down the pike will give you plenty of time to defrost or pre-prep necessary ingredients. So you're ready to cook quickly when it's time to eat!
16. Love simple meals.
When my husband and I were first married, he spent a ton of hours studying for professional exams while I handled the lion's share of the meal prep. With plenty of time on my hands and a love of cooking, I made it my mission to whip up one brand-new (and usually time-consuming) dish every week.
It was fun while it lasted. But, these days, I limit my fussy meals whenever possible. Instead, our family opts for quick, delicious, and healthy foods.
Simple doesn't have to be boring! In fact, if you're a foodie, you can absolutely designate days when you'll enjoy more elaborate meals. But 30-minute meals, slow cooker dinners, grab-and-go breakfasts, and pre-prepped ingredients can easily save time every day!
17. Make leftovers on
purpose

.

Hands down, leftovers are one of the biggest time-savers we use at my house.

The key is knowing what foods and reheating methods to use in order to make your foods taste fresh and not like dry, day-old cardboard.

Poultry, for instance, transforms into inedible rubber when nuked in the microwave. Instead, cover your oven-safe dish with foil and pop it into a low-temperature oven — 200 to 250 degrees — until your meat is warm but still juicy.

See if you can double almost every meal you make, so you have to cook for only half the week!

What's your best tip to save an hour a week?